Description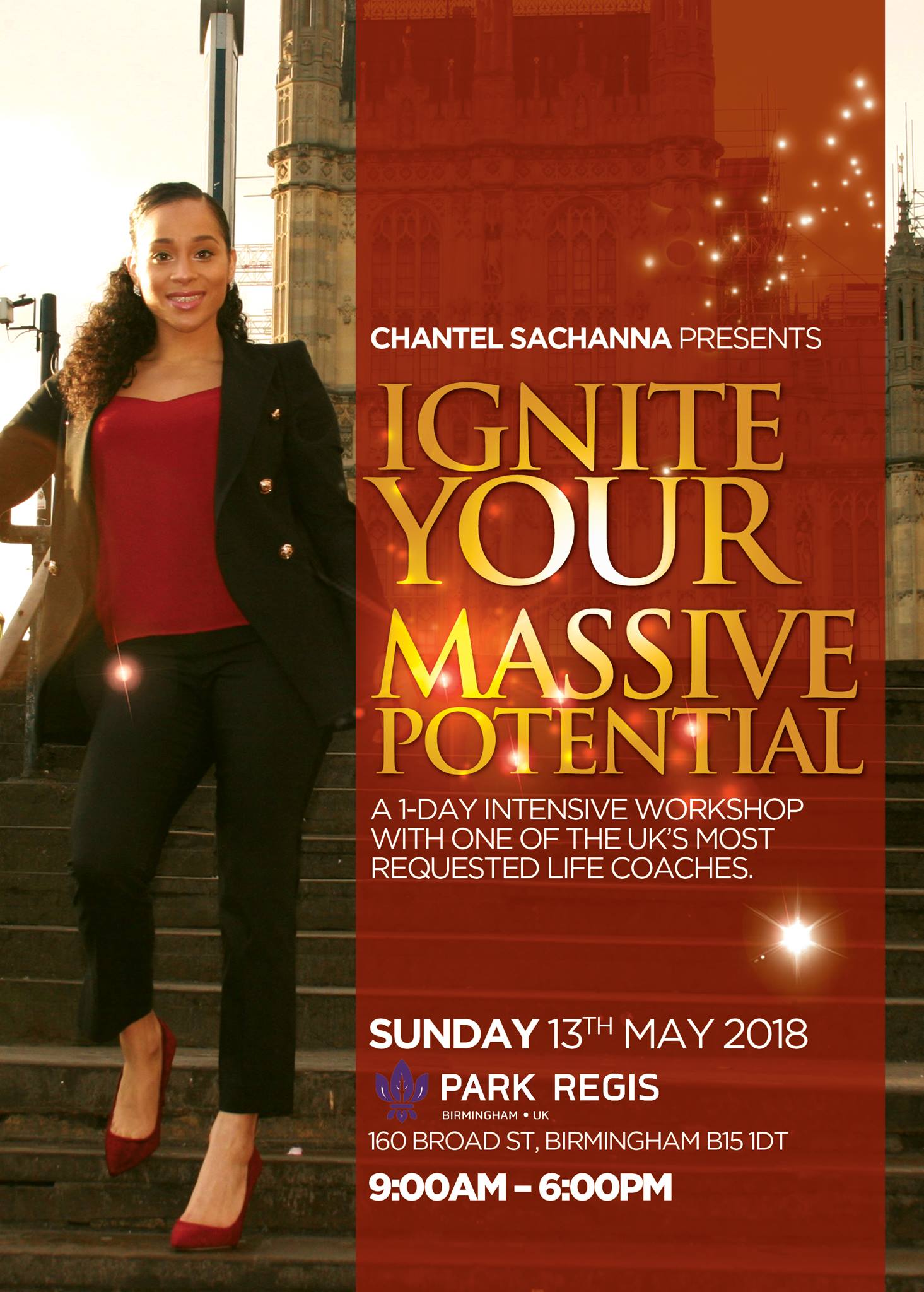 Chantel Sachanna presents IGNITE YOUR MASSIVE POTENTIAL.
A 1-Day intensive workshop with one of the UK's most requested life coaches.
PLUS! A FREE 4-week accountability programme with Chantel Sachanna.
IGNITE YOUR MASSIVE POTENTIAL is an intensive 1-Day coaching experience, facilitated by Chantel Sachanna. The workshop will enable you to tap into your huge potential, refocus your mindset, learn new skills and remove limitations.
During your 1-Day session you will cover:
Mindset resilience required for success
Realise and ignite your potential
Daily routines of top performers
Turn your passion into profit
Collapsing Limiting Beliefs
Goal Setting
Also included:
A FREE 4 week accountability programme where Chantel Sachanna supports you for 4 weeks to reach your goals.
A delicious two course lunch
Unlimited refreshments, teas and coffee
Pastries and cakes
Stationary
Bottled water
LIMITED SPACES AVAILABLE
TOTAL COST: £199 + booking fee
BE WARNED - This is an intensive, luxurious and powerful day designed to create fast and sustainable results for you, your life, health and finances. You will dig deep into the above subjects and Chantel Sachanna will share her potent tools to help you leave the day with an actionable, tangible and usable plan which will transform your results by simply consistently implementing. Chantel Sachanna's coaching model has vastly improved the results of successful entrepreneurs, business owners and ordinary people wanting to live a more fulfilled life. On Saturday 13th May at Park Regis Hotel, Chantel Sachanna will share this exact process with you.
Visit: www.chantelsachanna.com
Email: chantelsachanna@gmail.com

Instagram: @chantelsachanna
Please note that tickets for this event are non-refundable.