Description
It's Glow Time! Join us on December 6th for a night of spirituality, love and healing.
Our non-denominational workshops are designed to guide individuals who are going through spiritual awakening and becoming self-aware. Spirituality is the essence of who and what we truly are. Everything that happens in our lives has purpose, and that purpose is to help you re-connect with your spiritual self and become conscious of reality. We are more than just a physical body - complete alignment, union of yourself in physical form with yourself in spirit form, means becoming self-realized and enlightened. The more we connect with our souls, the more we experience transformation, the more we taste true and lasting joy, peace, fulfillment, freedom, and love.

On our very first and Holiday Edition workshop, for the entrance fee, we are asking for an unwrapped toy to support our Holiday Toy Drive. More information at check-out.

This is a sacred space where we come together with no judgement, only support of Love and Compassion.We reserve the right to reject any registrations. Doors will close promptly at 7:00PM. Tea and snacks will be served. Must be registered to attend. Seating is limited.
VERY SPECIAL GUESTS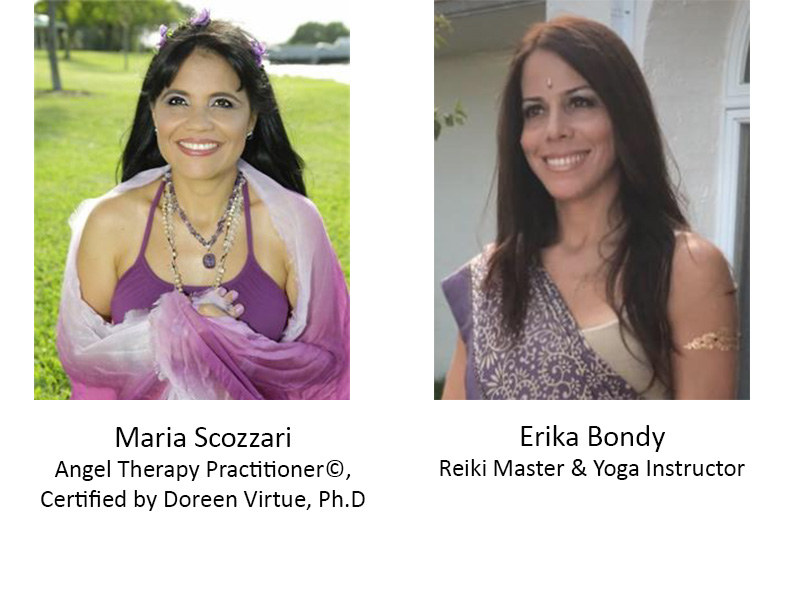 AGENDA
6:30 – 7:00PM Welcome and networking
7:00 – 7:05PM Group guided meditation (by Fabiana Carpio)

7:05 – 7:35PM Intro to Angelology and how Angels communicate with us (by Maria Scozzari). We are always surrounded by angels. We swim in a sea of unlimited, unconditional love filled with celestial beings of light that are more than willing and able to help us.
7:35 – 8:05PM Intro to Reiki Healing and warning signs of unbalanced chakras (by Erika Bondy). Reiki is a Japanese technique based on the (scientifically proven) premise that there is a Universal Life Energy in all living things. Reiki helps align your chakras when they are found to be unbalanced due to physical or emotional pain.
8:05 – 8:30PM Aura colors, meanings and exercises to help you see your own Aura (by Fabiana Carpio). Nature gave us all we need to see Auras. All is required is the knowledge how to use your senses together with your conscious effort. When you learn to see something for yourself, you will no longer need to rely on believing someone. You will KNOW. And you can use your knowledge to learn more.
8:30 – 8:45PM Open Q&A and closing
www.angelsoultherapy.com