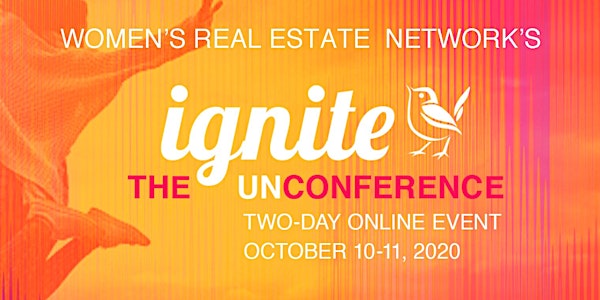 Ignite Your Fire Within 2020 UN-Conference
Two Day Event to educate and give women the resources to achieve financial freedom through real estate.
Refund Policy
Contact the organizer to request a refund.
Eventbrite's fee is nonrefundable.
About this event
Communities are not produced by sentiment or mere goodwill. They grow out of a shared struggle… — Larry Harvey
Women, want to learn to take control of your financial future with real estate investing? Do you feel lost? Are you struggling? Don't know where to start? I mean women should be able to do well in real estate, right? Let's face it, we are living in a time of tremendous uncertainty. Let's acknowledge the roller coaster of emotions that we've been on. The new stresses we are under. And the season of change we are in.
That's why WREN has re-branded our Ignite event to "Ignite the UN-conference." As the term suggests this UN-conferences is intended to escape the static format of traditional conferences. What does that mean? We are going to meet women where you're at. Not following the "norm" of virtual conference delivery. Yep, that's more us.
Ignite the UN-Conference is an opportunity to get in touch with the forces inside you that can help you to break through any limit and create the quality of life that you desire and deserve. Let's get in a good space…then deliver business resources. It's only when we are in a grounded space that we can move forward with speed and ease in our businesses.
The truth is WREN doesn't do things like everyone else. We have been equipping women to succeed in the male-dominated real estate world for years.
At Ignite we will explore new mediums to better connect! We have engaged Whova, an event technology company, that promises to give us more connectivity before and during Ignite.
Join us in embracing the rhythms that move us forward at "Ignite the Un-Conference" October 10-11. Oh, and have some fun at the same time.
Here is what you can expect at Ignite the Un-Conference:
Start our days with meditation and movement
Reconnect with your power centers: body, mind & spirit
Relaxed schedule with large breaks for resting or networking
Amazing, wonderful & applicable Real Estate business education (this is not a pitch-a-thon)
Videos of Word of Encouragement from other Women RE Pro's as well as connecting with them
Networking pajama party… and more (take a look at the agenda)
Grab your ticket now! Experience 2-days of education, laughter, and sisterhood! As it turns out, the people you surround yourself with and the information they share can be the difference between losing money and making hundreds of thousands of dollars (if not millions).
Join WREN, the community leader of all things women and real estate!
Find out more at www.IgniteYourFireWithin.com
General Admission Ignite Ticket $197 Network for 2-days with Rockstar Women Investors and Educators
Digital Workbook 

Invite your daughter to watch with you (have a watch party)

Networking lunch, fun and prizes! 
Let's imagine what's possible, together. Explore world-changing ideas, find inspiration, and seek collaboration for the next wave of world-changing projects.
**Attention If you are already a WREN member, please purchase your tickets here!**
AGENDA
OCTOBER 9 FRIDAY DAY ZERO (PACIFIC STANDARD TIME)
9:00 AM Let the fun begin!
12:00 PM SOFT WELCOME, Deborah Razo, Founder – Brief on weekend and bonus material
7:00 PM BONUS MATERIAL
OCTOBER 10 DAY ONE (PACIFIC STANDARD TIME)
8:30 AM Meditation – Stretching/Dance Let the fun begin!
9:00 AM WELCOME, Deborah Razo, Founder
9:30 AM Introducing WREN Chapter Leaders Meet our leaders and find out about their areas of expertise and the special magic they bring to WREN. Andrea Arciga, Cortney Jones, Angela Sillmon, Jennifer Maldonado, Lorraine Beato, Rochelle Boyer and Mercedes Torres. Deborah Razo (Moderator)
9:45 AM FEATURED SPEAKER – Loren Lavah Loren is a speaker, author and coach with over 30 years of experience in personal development. She loves to fire people up from the stage and wake them up to what is possible in their lives. She's going to get you thinking and taking action to achieve your goals. Her coaching clients range from the stay at home mom who is looking to reignite her passion in life to the busy Fortune 500 CEO who wants to get to the next level. She's all about helping people get big results and also helping them achieve balance in their lives through embracing their passions, strengthening their relationships and taking care of their minds and bodies.
11:00 AM Christina Suter, Your Real Estate Blueprint Designing your portfolio from the top down. Not every real estate investment is right for everybody. Maybe it doesn't meet your lifestyle or retirement goals. Choosing from a large field of investments can be confusing and overwhelming. Christina will teach you exactly what you need to know to understand the right strategic plan for you and your next steps in investing.
12:00 AM ENCOURAGING WORDS FROM "THE EXPERTS" Jasmine Willois (Non-Performing Notes), Terri Garner (Storage Unit Investor), Maria Anderson, (Developer), Ellie Pearlman (Apartment Syndicator), Kathryn Morea (Short Term Rental Specialist) and Paige Panzarello (Notes).
12:15-2:00 PM LUNCH (2 hour break)
2:00 PM LUNCH followed by Raffle Angela Sillmon Introducing Forbes Riley
2:15 PM FEATURED SPEAKER – Forbes Riley. Forbes is a celebrity TV host, author, motivational speaker and has done $2.5 BILLION dollars in sales find out how. Forbes was voted one of the "Top 20 Most inspiring People on Television" through her roles as a sought-after spokesperson, broadcast journalist and Success/Results Coach to celebrities, sales teams & CEOs. She will be speaking on "Permission to Achieve your Personal Greatness". Gaining confidence mastering your own personal message and having the courage to get out there and do it.
3:15 PM BREAK (15 Minutes) followed by Raffle Angela Arciga Introducing Money Panel
3:45 PM Where's The Money – Wanna know how to remove the #1 challenge for RE investors, money? Introducing a panel of women that will connect you with the kind of money you need to move forward in your real estate deals. Find where the money is hidden. Caeli Ridge -Ridge Lending, Karen More -TrillionCapital, Kaaren Hall -uDirect, Jennifer Maldonado - Raising Private Capital (Moderator)
5:00 PM CONCLUSION DAY 1 Grab dinner and get your PJ's
6:00– 7:30 Pajama Networking Party With lots of laughs
OCTOBER 11 DAY TWO (PACIFIC STANDARD TIME)
8:00 AM WREN Member & VIPs Breakfast A time for WREN Members only to connect.
8:30 AM Meditation – Stretching/Dance 30 minutes
9:00 AM WELCOME BACK - Deborah
9:15 AM WREN Ladies Who've Launched Panel – Meet WREN women who have stepped out of their comfort zone and advanced in real estate. Hear how they have utilized their network at WREN to help navigate progress.
10:00 AM Real Beauty – Cortney Jones shares one of the most famous Dove films, Real Beauty Sketches explores the gap between how others perceive us and how we perceive ourselves.
10:45 AM Presenter Karen Moore, Trillion Capital Hard Money Lender Introducing
11:00 AM April Crossley Find, Fix and Flip April will share with you the fundamentals of finding, fixing and selling property. Before you can count your profits you need to ensure you are buying at the right price, financing it in a way that works and estimating repair work. When you are confident with your numbers, you will confidently succeed in your flips!
12:00 AM ENCOURAGING WORDS FROM "THE EXPERTS" Jasmine Willois (Non-Performing Notes), Terri Garner (Storage Unit Investor), Maria Anderson, (Developer), Ellie Pearlman (Apartment Syndicator), Kathryn Morea (Short Term Rental Specialist) and Paige Panzarello (Notes).
12:15-2:00 PM LUNCH (2 hour break for Attendees Except VIPs)
1:00 PM LUNCH – WREN VIP Lunch & Learn – Presenter Kaaren Hall from uDirect Introducing Jennie Steed, Wealth Strategist. Jennie has a unique ability to teach people how they can create their goals and dreams with "out of the box" thinking. Listen to a financial solution proven to reduce risk, increase growth, minimize taxes, and put you in the driver's seat of your wealth.
2:00 PM LUNCH followed by Raffle Presenter Caeli Ridge, Ridge Lending Introducing
2:15 PM Mercedes Torres, Buy and Hold Cashflow Mercedes very first two years in the world of Real Estate, Mercedes flipped 24 properties. Now, she has 2000+ real estate transactions in 10 different markets to her name. She's appeared on the A&E show Flip That House, graduated from UCLA — and is currently divulging all her life's lessons on how to run the numbers and invest in cash-flowing properties.
3:15 PM BREAK (15 Minutes) followed by Raffle Lorraine Beato Introducing Kathy Fettke
3:45 PM Kathy Fettke, Economic Forecast and A Wealth of Resources - Kathy is passionate about teaching others how to create "real wealth," which she defines as having both the time and the money to live life on your terms. With a passion for researching real estate market cycles, Kathy is a frequent guest expert on CNN, CNBC, Fox, Bloomberg, NPR, CBS MarketWatch and the Wall Street Journal. She was also named among the "Top 100 Most Intriguing Entrepreneurs" by Goldman Sachs two years in a row.
4:45 PM Deborah Razo, Next Steps. Visualize how to make your real estate goals happen and learn essential tools you need to get your to them.
5:30 PM Conclusion and Drawing!