Description
Welcome to Ignite! Hosted by...

This seven-day training is designed to gather the regional community, envision them for establishing a dwelling place of divine encounter and equip them to make a global impact through unified corporate engagement in worship and prayer. Whether a stay-at-home mom, in ministry, or in the marketplace full time, Ignite will equip participants to encounter the LORD through the Word of God, while imparting the confidence necessary to engage corporately in an enjoyable worship and prayer model that brings the transforming power of God into your region through the simplicity of agreement with His will!
EQUIP. ENCOUNTER. ENGAGE.
We are living in increasingly urgent times. Yet, God promised through the prophet Joel that He would visit His people in these days with an unprecedented outpouring of the Holy Spirit and power in preparation for Jesus' glorious return (Joel 2:28-32; Acts 2:17-21). This historic revival throughout the global Church will not only culminate with a great harvest of souls and the fragrance of prayer and worship filling the earth, but will be the result of it as well!
Mal. 1:11 For from the rising of the sun, even to its going down, My name shall be great among the Gentiles; in every place incense [prayer] shall be offered to My name, and a pure offering; for My name shall be great among the nations," says the Lord of hosts.
Today, we are witnessing God change the understanding and expression of Christianity in the whole earth in our generation! The increased activity of the Holy Spirit is awakening the Church to her eternal identity and occupation, as a corporate Bride who functions together as a kingdom of priests in the Father's house of prayer, contending for His will to be done on earth, as in heaven (Mt. 6:10).
Rev. 22:17 The Spirit and the Bride says, "Come!"
All across the earth God is restoring the "Davidic order" to the Church as well, with worship music and prophetic singing that is fueled by the very beauty that has sustained the angels in heaven for thousands of years – the beauty of God Himself! Knowing that sustainable prayer must be enjoyable, could this be what the LORD intended when He spoke through the prophet Isaiah?
Isa. 56:7 Even them [all nations] I will bring… and make them joyful in My house of prayer!
---
What you'll experience!
Ignite combines relevant theological teaching, dynamic group discussion, Spirit-led ministry times and practical hands-on equipping that is both impactful and enjoyable.
Teaching topics include:
Divine Blueprints for the Victorious Church

Why the House of Prayer? Twelve Divine Purposes

Cultivating a Lifestyle of Intimacy with the Beautiful God

The Glory, Pleasure and Transforming Power of Encountering God through the Word

Our Eternal Occupation, as a Royal Governmental Priesthood

Divine Insight for Developing a Victorious Prayer Life

The Vital Role of Intercession in Changing History

Being a Person of "One Thing" and more!
Morning and afternoon sessions include:
Practical tools to encounter God through the Word in an enjoyable way

Time ministering to the LORD together in worship and prayer

Discussing common hindrances, as well as helpful tips to growing in the Word of God, worship and prayer

Strategies for establishing a vibrant prayer culture that's inclusive, enjoyable and sustainable (leaders only)
Evening sessions include:
Dynamic corporate worship

Relevant theological teaching

Spirit-led ministry times when participants may receive prayer and impartation

Exciting practicum that establishes a safe "greenhouse" environment, giving everyone an opportunity to lead in corporate prayer, singing, or exercise their particular gifting on an instrument (guitar, keyboards, drums, etc.)
The good news is there's no "practice" in the kingdom of God! As we agree with the Lord in sincerity and faith, He answers our prayers and inhabits our praise! So whether participants can only attend Ignite for part of the day or the entire week, we invite everyone to come encounter God, get ignited with fresh passion for Jesus, and be equipped to make an impact in our generation!
---
PURPOSE
The purpose of the seven-day program is to gather, envision and equip the regional community to encounter God unto making a global impact in this generation through unified corporate engagement in worship and prayer.
GOALS
Envision Community:
God's desire for night-and-day prayer with worship in every nation, tribe and tongue.
Necessity of regular corporate gatherings of prayer to experience the fullness of God.
Dynamic global impact in this age and continuity of labor in the age-to-come.
Equip Participants:
Encounter God consistently in worship and prayer using the Scriptures.
Engage in corporate worship and prayer unto making a global impact in this generation.
Confidence in team ministry using an enjoyable worship and prayer model that is sustainable.
Strengthen Staff:
Understand the divine invitation and privilege of full time vocational ministry unto the LORD.
Persevere with joy in the days of small beginnings by understanding the way God builds and measures success.
Clarity of blueprint and divine strategy to build a corporate prayer culture that is inclusive, enjoyable and sustainable.
---
SCHEDULE OF EVENTS
The following schedule is geared toward accommodating the majority of people over the course of a week, including those who work full time. However, it is flexible and open to adjustments based on your particular community, conference culture and practical needs.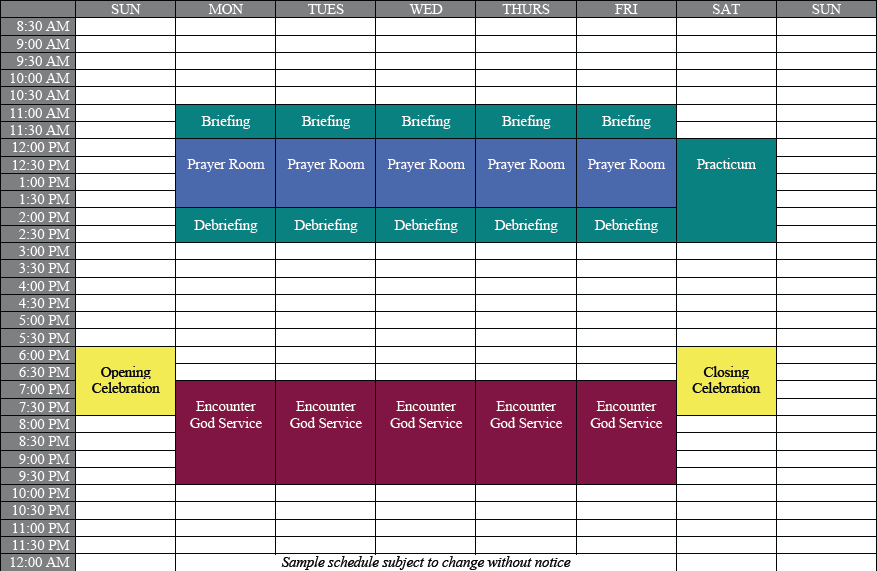 Event Descriptions
Opening Celebration: On opening night we gather for a time of worship, vision casting and instruction for the upcoming week. All registered participants receive an Ignite binder that is equipped with a weekly event schedule and helpful resources for the program.
Strategic Planning: Each morning our leaders will meet with your leadership team for a time of prayer, Q&A and discussion, as we seek God's heart and specific strategy for establishing a vibrant prayer culture that's inclusive, enjoyable and sustainable.
Briefing: Each day prior to our time in the prayer room we will equip people to confidently engage with the worship team in both intercession and worship sets, as well as giving practical tools to encounter God and minister to Him using the Scriptures.
Prayer Room: In addition to creating a culture of unified corporate engagement during intercession times, we love to cultivate creativity and freedom of expression in our "seer labs" in which we minister to the LORD together through song, dance, and the arts.
Debrief: Immediately following our time in the prayer room we discuss the Scripture focus and the tool for the prayer room given, as well as the worship and prayer format that was used. This is very interactive with Q&A and dynamic group discussion around the most common hindrances, as well as helpful tips to growing in the Word of God, worship and prayer.
---
Encounter God Service:
Worship: We gather for dynamic corporate worship that magnifies God's majestic beauty and unifies the saints in His presence.
Ministry Time: Each night we seek the Holy Spirit's direction in giving opportunity for all to receive prayer, ministry and impartation.
Core Teaching: We focus on themes that cultivate intimacy with God, create urgency unto impact and inspire unified corporate engagement in worship and prayer.
---
Practicum: This Ignite training culminates on the final Saturday when everyone is invited to participate in an exciting practicum. We establish a safe "greenhouse" environment, focused on training people to confidently lead the worship sets from the platform, whether singers, musicians or intercessors.
Closing Celebration: We conclude the seven-day training with a night of thanksgiving, testimony and celebration together!
DISCLAIMER
By registering for this program you understand and agree that Ignite staff will be taking photos and may publish them in any format or media without additional permission from you if you are in the photo.
Date and Time
Location
Windsor Christian Fellowship
4490 Seventh Concession Rd
Windsor, ON N9A 6J3
Canada