Description
2017 MARCH & APRIL BIBLE STUDY SERIES - (7) WEEK SERIES
PLEASE BE ADVISED:
3/22/17 IS ORIENTATION NIGHT
4/5/17 & 5/3/17 ARE HEALING & DELIVERANCE NIGHTS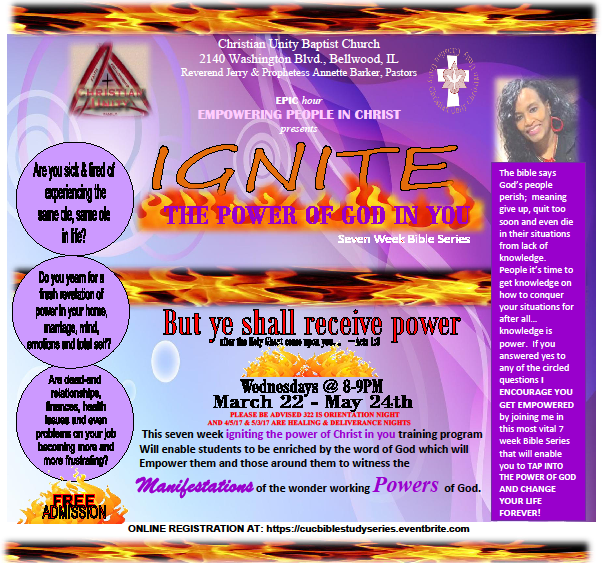 Are you sick & tired of experiencing the same ole same ole in life?
Are you yearning for a fresh revelation of power in your home, marriage, mind,
emotions and total self?
Are dead-end relationships, finances, health issues
and even problems on your job becoming more and more frustrating?
The bible says God's people perish meaning give up, quit too soon and
even die in our situations from lack of knowledge.
It's time to get knowledge on how to conquer those situation for after all… knowledge is power.
The bible also says "we have not because we ask not."
If you answered yes to any of the above questions then it time to:
Tap into the POWER of God and CHANGE your life forever!
By completing our Seven week Igniting the power of Christ in you training program students will be enriched by the word of God that will empower the and others to witness the manifestations of the wonder working power of God.
CUC EPIC LEARNING CENTER
CHRISTIAN UNITY BAPTIST CHURCH
2140 WASHINGTON BLVD., BELLWOOD, IL. 60104
REVEREND JERRY & PROPHETESS ANNETTE BARKER, PASTORS
COURSE TITLE: IGNITE THE POWER OF GOD IN YOU
Course Identity: Simple but vital life changing lessons geared for all levels of faith for those who desire to actually see and feel the hand of God moving in their lives. Students will be challenged to confront everyday life issues with the word of God only to receive victories from God.
Course Description: This course will propel students into a place of anointing (and favor) by which you can exercise the power of God more than you ever thought possible. We believe there is more of God to be experienced, especially by those who truly believe in Him. We are living in times where only the true POWER of God can save us. This course will enable students to:
•

Restore Hope & Propel their Faith

•

Access the Keys to releasing healing and miracles in their lives which will regain confidence & certainty in God's will for their life.

•

Eliminate confusion of God's word - Convince or change their unbelief

Develop the ability to access the wonder working power of God by upgrading

their Christian life and l

earn how to step into the power and freedom that comes with allowing the Holy Spirit to move through them.
Course Starting Date/Sessions:
Wednesdays, March 29th – Brief Orientation Night Sessions Begins: April 5 – May 24th (please note: March 29 & May 3rd are Healing & Deliverance Nights)
Class Time: 8--9pm precisely ~~~~~ Course Fee: FREE
WHO SHOULD ATTEND
Those desiring a change in their life and a closer relationship with God.

LEARNING OBJECTIVE
How to receive the power of God and see it actually working in your life.
PERFORMANCE OBJECTIVE (RSA)
Reading, Studying and Applying God's word to our everyday situations.
PURPOSE
Empowering believers to move and operate in the power of God
CUC – BIBLE STUDY MISSION
Christian Unity Church (CUC) is a FAITH based church equipped the word of God; operating under the anointing of God and moving by the hand of God. Our mission is to release a prophetic word to active and propel one's faith that transforms lives for your good and God's glory.
PLEASE FEEL FREE TO ATTEND MORE OF OUR EPIC ( EMPOWERING PEOPLE IN CHRIST) BIBLE SERIES FOR YOUR CHRISTIAN GROWTH AND DEVELOPMENT. ALL OF OUR FRIENDLY INSTRUCTORS ARE KNOWLEDGABLE OF GOD'S WORD, FILLED WITH THE HOLY GHOTS AND APT TO SERVE GOD AND HIS PEOPLE.
PLEASE MEET THEM:
Pastor Annette

Christian Unity Baptist Church

Wednesday Night Bible Studies Instructor
Rev. Jerry & Prophetess Annette Barker

Christian Unity Baptist Church

Pastors
Reverend Jerry J. Barker

Christian Unity Baptist Church

EPIC HOUR - Financial Empowerment Coach
Reverend O'Neal Jackson

Christian Unity Baptist Chursh

EPIC Hour -Sunday School Instructor & Superintendent
Minister Patricia Jackson

Christian Unity Baptist Church

New Members Class Instructor