Rekindling The Heart Of The People Back To God
About this event
This 3 day conference is open to anyone who wants to rekindle their relationship with God again and experience a new season of healing, wholeness and a renewed mindset to live a life with purpose. God has a plan and a purpose uniquely made just for you, Yes You ! So come experience 3 days of prayer, praise, worship and the word by our dynamic guest speaker Pastor Golbert Philippe. Make sure to bring a friend !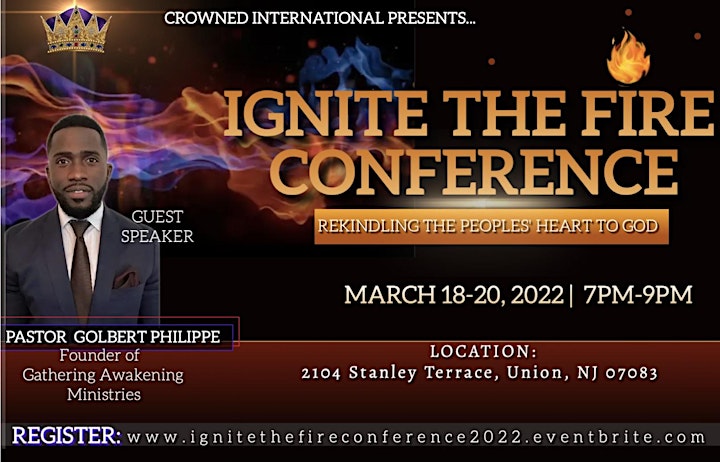 Meet Our Guest Speaker:
Pastor Golbert Philippe was born into a christian family. His mother was a very active member of the women's ministry and church choir and his father was a traveling Evangelist for many years. With this background, it was inevitable that Golbert was destined to follow in the ministry footsteps. Although he grew up in a religious home, Golbert accepted Jesus Christ as his own personal savior at the age of 16 and was filled with the Holy Spirit. Golbert's passion for ministry began in his home church as a young musician. This passion gradually progressed over the years and led to Golbert leading worship in different ministries. At the age of 27, Golbert's thirst for the word also grew, so he attended Faith International Training School, under the leadership of Dr. David T. Demola from Faith Fellowship Ministries. Shortly after his graduation he attended Leadership Training Institute.
In December of 2014, Golbert founded Gathering Awakening Ministries, a traveling ministry that seeks to educate local churches and their youth on the love of God and the Gospel of the Kingdom. The ministry strives to empower the body through revivals and conferences held in different sanctuaries in the tri-state area. In May of 2017, Golbert married his beautiful wife Dr. Gerardine Jean-Louis—his best decision to date, as he so eloquently put it. Mrs. Philippe assists Golbert with the ministry regularly, as her counseling experience has proven to be a gift from the Lord. With the help of their team, their goal and vision is to grow G.A Ministries and continue to preach the Gospel of Jesus Christ throughout the world.
Organizer of Ignite The Fire Conference 2022
Crowned International is a faith based non profit organization that is designed to empower, educate and lead women to fulfill God's purpose for their lives. We provide network events, conferences, life skills groups, educational and career centered programs to empower and teach women specific set of skills needed to achieve success and self fulfillment.