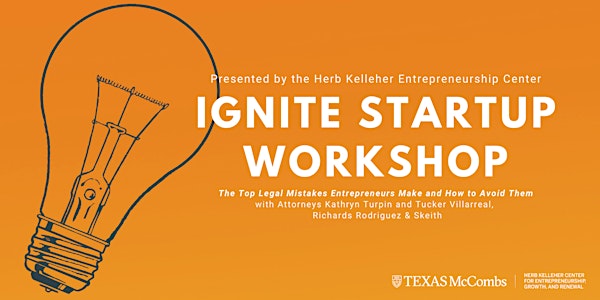 Ignite Startup Workshop: The Top Legal Mistakes that Entrepreneurs Make
Sharpen your entrepreneurial skillset.
About this event
Join the Herb Kelleher Entrepreneurship Center and special guests, Kathryn Turpin and Tucker Villarreal, Attorneys at Richards Rodriguez & Skeith and Lawyers-in-Residence for the Kelleher Center, for an interactive workshop exploring the top legal mistakes made by entrepreneurs and how best to avoid them when launching your ventures.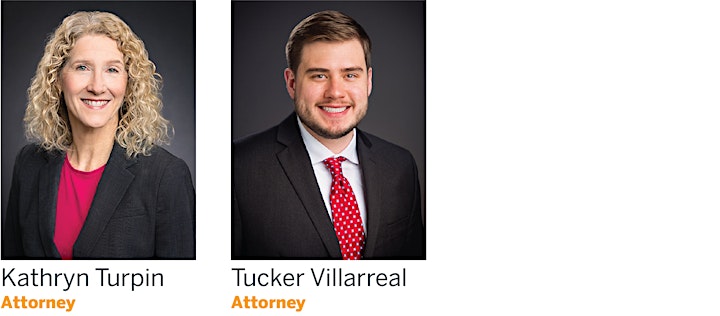 KATHRYN TURPIN | Corporate & Transactional Attorney at Richards Rodriguez & Skeith
Kathryn Turpin is a senior corporate and transactional attorney with experience working with a spectrum of businesses from the start-up company to the medium sized company. She is licensed to practice law in both Texas and California, and she has handled a wide variety of commercial transactions, including general business transactions, acquisitions and sales of businesses, and technology agreements. Kathryn works with companies to help them identify the proper ownership structure and then to implement their plan for doing business (whether as a traditional brick and mortar business or an online business). In this role, she creates form agreements for the business and documents the relationships between the business and its customers, vendors or business partners as well as the relationships between the business owners and employees or consultants. Kathryn views her relationship with clients as a collaborative effort, with the goal of making a client's business run as smoothly as possible.
Read more on Kathryn here.
TUCKER VILLARREAL | Attorney at Richards Rodriguez & Skeith
Tucker Villarreal joined Richards Rodriguez & Skeith LLP in September 2019, following a year-long clerkship with the firm. Tucker provides a wide variety of legal services including guidance on commercial transactions, entity structure, mergers, sales and acquisitions, technology agreements, corporate governance, and outside general counsel services.
Tucker graduated from the University of Texas at Austin and received his undergraduate degree in Government and History. He went on to attend the University of Texas School of Law, graduating in May 2019 and passing the Texas State Bar exam in the fall of that year. During his time at the University of Texas School of Law, Tucker served as the Research Editor for the Texas International Law Journal.
Read more on Tucker here.