Event Information
Location
Rivers of Living Water Christian Centre
Lot 35 Lime Kiln Institutional & Commercial Park
Basseterre
Saint Kitts and Nevis
Description
Welcome to Ignite!
This training program is designed to equip you to encounter God in corporate worship, prayer and the prophetic arts, resulting in personal transformation and the empowerment to impact your city for Jesus Christ.
Whether you're a stay-at-home mom, in ministry, or in the workplace full time, Ignite will envision you with your eternal identity and destiny, impart a greater hunger for the presence and power of God, equip you with simple tools to explore the depths of His Word, while training you in a safe environment to confidently exercise your unique spiritual gifting and bring the transforming power of the Holy Spirit into your community.
ENCOUNTER. TRANSFORMATION. IMPACT.
---
What you'll experience.
Ignite combines dynamic corporate worship, solid theological teaching and Spirit-led ministry times with relevant group discussions and practical hands-on training that's both impactful and enjoyable.
Teaching topics include:
Divine Blueprints for the Victorious Church - Our Eternal Identity and Destiny
Why the House of Prayer? 16 Divine Purposes
Our Father in Heaven - The Eternal Sovereign with Tender Affection
Cultivating a Lifestyle of Intimacy with the Beautiful God
The Glory, Pleasure and Transforming Power of Encountering God
Our Eternal Occupation, as a Royal Governmental Priesthood
The Mystery of Israel: Four Essential Parts in God's plan of World Redemption
The Vital Role of Intercessors in Changing History
Being a Person of "One Thing" and more!
Morning and afternoon sessions include:
Practical tools to encounter God through the Word in an enjoyable way
Ministering to the LORD together in worship, prayer and the prophetic arts
Discussing common hindrances and helpful tips to growing in the Word, worship and prayer
Exciting practicum that establishes a safe "greenhouse" environment, giving everyone an opportunity to lead in corporate prayer or singing.
Evening sessions include:
Dynamic corporate worship

Relevant theological teaching

Spirit-led ministry times when participants may receive prayer, ministry and impartation
The good news is there's no "practice" in the kingdom of God! As we agree with the Lord in sincerity and faith, He answers our prayers and inhabits our praise! So whether participants can only attend Ignite for part of the day or the entire week, we invite everyone to come encounter God, experience personal transformation, and be equipped to make an impact in our generation!
---
Purpose
The purpose of this training program is to gather the regional community, envision them for establishing a dwelling place of divine encounter and equip them with a two-fold purpose:
Experience transformation through personal encounter.
Impact the region through unified corporate engagement.
Goals
Envision Community:
God's desire for night-and-day prayer with worship in every nation, tribe and tongue.
Necessity of corporate gatherings of prayer to experience the fullness of God.
Dynamic impact in this age and continuity of labor in the age-to-come.
Equip Participants:
Encounter God consistently in worship and prayer using the Scriptures.
Engage in corporate worship and prayer unto making an impact in this generation.
Confidence in team ministry using an enjoyable worship and prayer model that is sustainable.
Strengthen Staff:
Understand the divine invitation and privilege of full time vocational ministry unto the LORD.
Persevere with joy in the days of small beginnings by understanding the way God builds and measures success.
Divine strategy to build a worshipping community with a vibrant prayer culture that's inclusive, enjoyable and sustainable.
---
SCHEDULE OF EVENTS
The following schedule is geared to accommodate the majority of people throughout the course of a week, including those who work full time in ministry and the marketplace.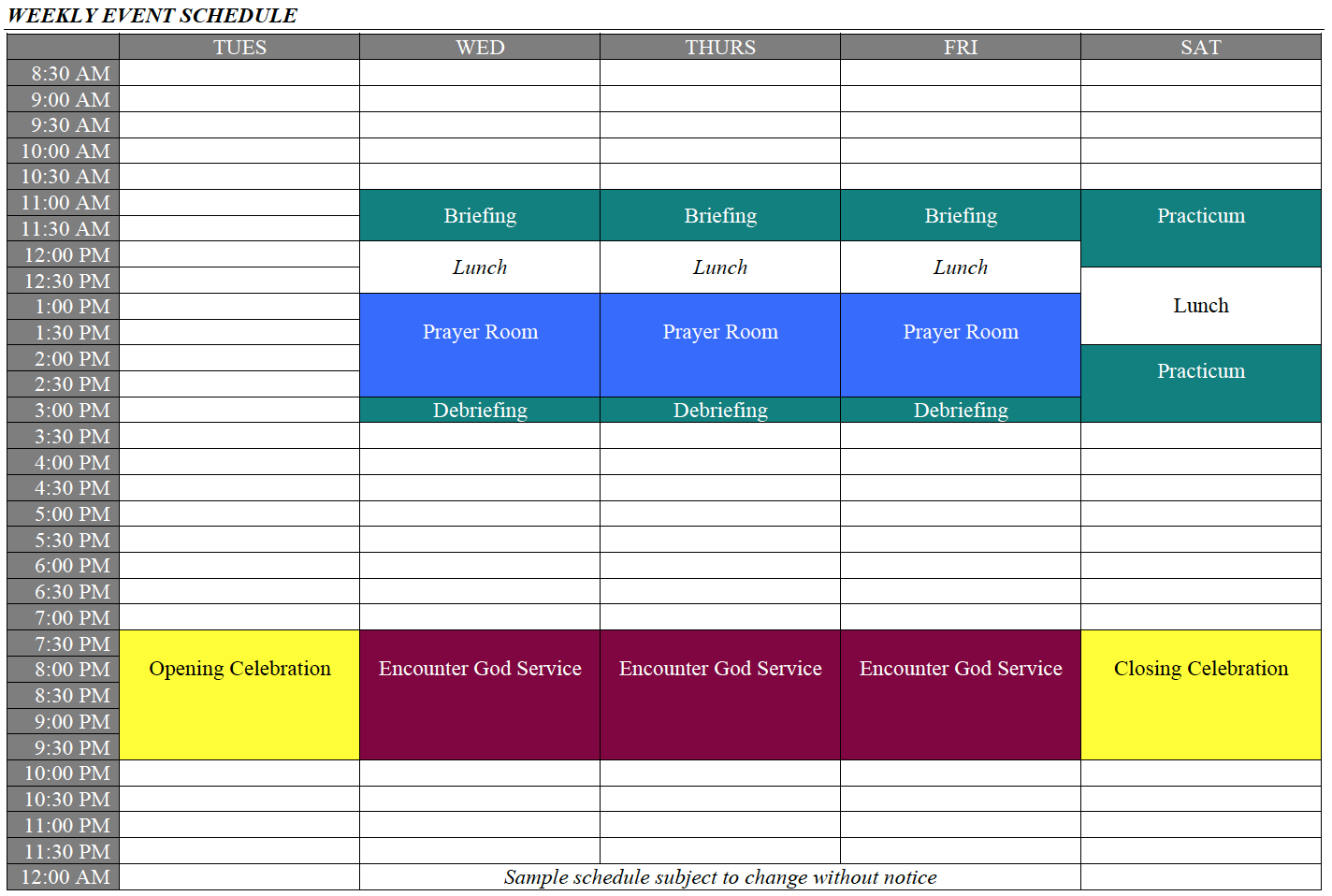 Event Descriptions:

Opening Celebration: On opening night we gather for a time of worship, vision casting and instruction for the upcoming week. All registered participants receive an Ignite the Nations binder that is equipped with teaching notes for each session and helpful resources to use throughout the program and beyond.
Briefing & Debriefing: Each day prior to our time in the prayer room together we will equip you with practical tools to help you encounter God and engage in corporate worship and prayer throughout the meeting. Afterward, we will use a combination of small group discussion and panel Q&A to discuss the common challenges, as well as helpful tips to growing in the Word of God and a lifestyle of worsip and prayer.
Prayer Room: We will demonstrate and empower you to participate in prayer meetings where we sing the Word, soak in the presence of God and intercede for our region or other topics, as we minister to the LORD together.
Encounter God Service: We will gather nightly for a time of corporate worship, ministering to one another as the Holy Spirit leads, and solid biblical teaching that is foundational to establishing a vibrant culture and community of of the Word, worship and prayer.
Practicum: This Ignite training culminates on the final Saturday when everyone is invited to participate in an exciting practicum. We establish a safe "greenhouse" environment, focused on training people to confidently lead the worship sets from the platform, whether singers, musicians or intercessors.
---
DISCLAIMER
By registering for this program you understand that photos and videos will be taken throughout the training and agree that they may be published in any format or media without the need for additional permission.
Date and Time
Location
Rivers of Living Water Christian Centre
Lot 35 Lime Kiln Institutional & Commercial Park
Basseterre
Saint Kitts and Nevis