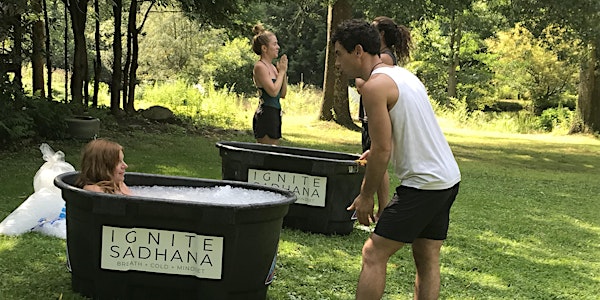 Ignite Sadhana Weekend
This weekend includes an advanced Wim Hof Method experience, power yoga, kundalini, and a fire walk.
Date and time
May 26 · 3pm - May 28 · 3pm EDT
Location
Stonehedge Gardens 51 Dairy Road Tamaqua, PA 18252
Refund Policy
Contact the organizer to request a refund.
Eventbrite's fee is nonrefundable.
About this event
Stonehedge Gardens is a beautiful, landscaped sanctuary with walking trails, ponds, perennial gardens and other demonstration gardens with both native and exotic plants. Stonehedge Gardens is a sanctuary for alternative healing methods and aims to foster what's needed for positive community building.
Ignite Sadhana created this event at Stonehedge for 2 reasons. The first being to contribute and be a part of the growing, vibrant community that is coming together here. The second is to create an accessible retreat style experience for those who would like to experience the Wim Hof Method, but can't make our 4 day retreats.
This weekend experience includes:
Wim Hof Method event
Firewalk
Power Yoga
Kundalini Yoga
Wood-fired Sauna
What you should bring:
Tent
Camping supplies
Water Bottle
Yoga mat
Swimwear & Towel
**Food will be provided Friday night, Saturday (2 meals) and Sunday morning. Feel free bring any snacks you may want between meals**
More details about the weekend
In this workshop, the pillars of the Wim Hof Method will be expanded and elaborated upon: cold exposure, breathing exercises and commitment. You will learn new and advanced techniques in the Wim Hof Method. Upon completion, you will have the tools you need to improve your energy flow, increase your body's flexibility and mind focus - gaining this awareness will help you enhance the mind-body connection.
Put yourself in the expert hands of a certified WHM Level 2 Instructor and learn more about the 3 pillars of the Wim Hof Method: breathing technique, cold exposure & commitment. Find out how you can expand your practise into the Wim Hof Method and learn about the underlying physiology.
This workshop is limited to 30 participants. The intimate quality allows for ample personal attention, and feedback tailored to your specific situation. Whether you are looking to improve mental or physical performance, relieve symptoms related to an illness, or want to know more about the Wim Hof Method practise - a WHM Advanced Workshop offers something for everyone who wants to expand their Wim Hof Method practise.
The specifics of each program can vary based on the specialisation of the Instructor and the focus of the activity.
Who is this workshop for?
The workshop is suitable for intermediate level Wim Hof Method practitioners looking to deepen their practice. Out of precaution, we advise against participation during pregnancy, or if you are epileptic. People with cardiovascular issues, or any other serious health conditions should always consult a medical professional before starting the Wim Hof Method.
SCHEDULE
Friday
2-5pm: Arrival, set up tent, enjoy grounds
5-630: Ice breakers, WHM breathing, Sound Bowls - Jason & Pete
6:30-8: Dinner and fire
Saturday
8:30-9:30: Intention setting & Kundalini - Jason & Pete
9:30-10:30: WHM Breathing & Sound Healing - Jason & Pete
10:30-11:30: Brunch
11:30 - 4pm: SAUNA & ICE DIPS - Jason & Pete
2pm: Vinyasa Yoga - Jason
4-5pm: Community Breathwork
4:30pm: Restorative Yoga - Courtney
5-6pm: Community Sauna
6:30pm Dinner
7-10pm: Fire & Musicians, FIREWALK finale - Musicians, Jason & Pete
Sunday
830-930: Intention setting & Kundalini - Jason & Pete
930-1030: WHM Breathing & Sound Healing - Jason & Pete
1030-11: Ice dip
11-1: Brunch & Relax
BENEFITS OF THE WIM HOF METHOD
Over time, we as humans have developed a different attitude towards nature and we've forgotten about our inner power and our connection as humans with nature. This is the ability of our body to adapt to extreme temperature and survive within our natural environment. The Wim Hof Method is based on this principle. 

Because we wear clothes and artificially control the temperatures at home and at work, we've greatly reduced the natural stimulation of our bodies, atrophying the age-old mechanisms related to our survival and basic function. Because these deeper physiological layers are no longer triggered, our bodies are no longer in touch with this inner power. The inner power is a powerful force that can be reawakened by stimulating these physiological processes through the Wim Hof Method.
 The Wim Hof Method consists of 3 pillars: breathwork, cold exposure and mindset. The combination of the 3 has been scientifically proven to reduce inflammation, relieve anxiety, depression and other mental disorders, increase vitality, strengthen the immune system and fight autoimmune disorders (among other benefits).

Kundalini

Kundalini Yoga is a powerful form of yoga that provides deep healing by releasing any trauma from the energetic body. Through this release, we are able to recognize the abundance that is our birthright and live from our hearts and get on the path to prosperity. Also known as "yoga of awareness", this practice progressively works through specific sets that include a combination of movement, sound, and chakra healing meditation, to gently train you to become more conscious of your blocks, both emotionally and physically. By working with the chakra system, Kundalini Yoga can help anyone achieve wholeness and integration, eliminate blocks and limiting beliefs, and improve self-confidence and resilience.

Sauna

Saunas have existed in various culture for 100s of years. While cultures have intuitively known the benefits of this practice for quite some time, science is constantly finding more concrete evidence to sweat it out in a sauna. On the other side of the spectrum from cold exposure, this powerful form of hormesis has a long list of benefits. The physiological benefits are in the cardiovascular system; sauna use has been proven to promote healthy blood circulation and lowered blood pressure. In terms of happiness and well-being, heat therapy is associated with stress relief and heightened mood regulation. On top of , sauna(ing) has been shown to improve healthy skin, hair and muscle/joint soreness.