Description
Welcome to Ignite! Are you ready to get equipped, engage in corporate prayer, and encounter God?

This seven-day training is designed to gather the regional community (including all those in full-time ministry, working in the marketplace, or raising a family at home), envision them for establishing a dwelling place of divine encounter and equip them to make a global impact through unified corporate engagement in worship and prayer.
We are living in increasingly urgent times, and we have a vision for the whole Church to enter together into the place of prayer that we might see the fulfillment of Malachi 1:11 in every nation:
"For from the rising of the sun, even to its going down, My name shall be great among the Gentiles; in every place incense [prayer] shall be offered to My name, and a pure offering; for My name shall be great among the nations," says the Lord of hosts."
At Ignite, this is what you'll experience: relevant theological teaching, dynamic group discussion, Spirit-led ministry times and practical hands-on equipping.
---
Here are our GOALS for the week:
To Envision Community For:
God's desire for night-and-day prayer
The necessity of prayer meetings in order to experience the fullness of God
The present and eternal impact of corporate prayer
To Equip Participants To:
Encounter God in the Word
Engage in corporate worship and prayer
Grow in confidence on worship teams using a powerful and practical "model"
To Strengthen Staff With:
The understanding of full time vocational ministry unto the LORD
Perseverance with joy in the days of "small beginnings"
A clear blueprint for building a prayer culture that is inclusive, enjoyable and sustainable

---
SCHEDULE OF EVENTS
The following schedule is geared toward accommodating the majority of people over the course of a week, including those who work full time.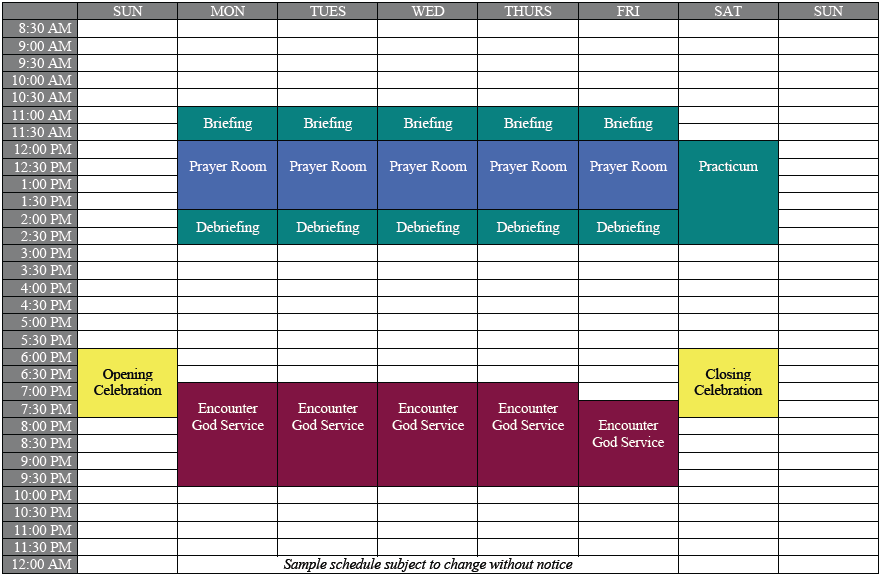 Event Descriptions:

Opening Celebration: On opening night we gather for a time of worship, vision casting and instruction for the upcoming week. All registered participants receive an Ignite binder that is equipped with a weekly event schedule and helpful resources for the program.
Briefing & Debriefing: Each day prior to our time in the prayer room we will equip people with practical tools to help them engage in the prayer meeting. Afterward, we will have a time of Q&A and panel discussion that is open to everyone in attendance.
Prayer Room: We will demonstrate and participate in prayer meetings where we sing the Word, intercede for our region or other topics, and soak in the presence of God
Encounter God Service: Gathering for a time of corporate worship, ministering to one another as the Holy Spirit leads, and core teaching that is foundational to establishing a culture and community of prayer
Practicum: This Ignite training culminates on the final Saturday when everyone is invited to participate in an exciting practicum. We establish a safe "greenhouse" environment, focused on training people to confidently lead the worship sets from the platform, whether singers, musicians or intercessors.
---
DISCLAIMER
By registering for this program you understand and agree that Ignite staff will be taking photos and may publish them in any format or media without additional permission from you if you are in the photo.