24:1 Virtual Community Conference presented by Beyond Housing. Saturday, Sept. 25, 2021. from 10:00 a.m. until 2:00 p.m.
About this event
This Community Conference features insights and hands-on strategies to enhance 24:1 residents' work and participation in education, business, and government.
Featured speakers: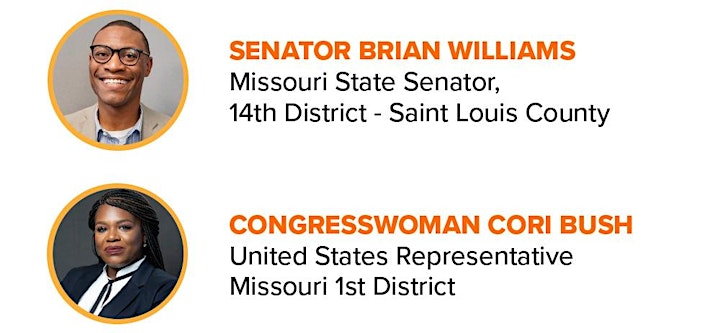 Panels:
How to Develop Your Business (11:25AM–12:15PM): Concise information on how to start your business, steps to take (registration, EIN number, LLC, etc.), and testimonials from successful business owners on the challenges and successes of entrepreneurship.
Beverly Ziegler: Director, Urban Leagues Women's Business Center
Brittany Wayne, Owner of Girlfriend's Closet & Healthy Habits Smoothies
Qiuana Chapple, Owner of Goss'Up Pasta

Breaking Educational Barriers after the Pandemic (11:25AM–12:15PM): Suggestions on creative educational techniques, new curriculum development processes, and ideas on how to improve academic excellence and higher achievement requirements within our school systems.
Dr. George Barnes: Assistant Superintendent, Elementary Education, Normandy Schools Collaborative
Dr. Arionna Ralleigh, Ed.S.: PBS Consultant, Instructional Coach, Confluence Academy
The Vacant Home Next Door: Problems and Solutions in St. Louis County (12:30PM–1:30PM): Community experts and partners explore solutions for vacant property issues across St. Louis County.
24:1 Public Policy and Advocacy Council
Beyond Housing
Legal Services of Eastern Missouri's Neighborhood Vacancy Initiative
St. Louis County Problem Property Unit
The Housing Partnership
St. Louis Realtors
The Office of Missouri state Rep. Kevin Windham
Spanish Lake Community Development Corporation
In addition, the first "Community Trailblazer" awards (10:45AM–11:15AM) will be given to leaders who make a positive impact within our community.
This FREE event is sponsored by the Touhill Performing Arts Center, Legal Services of Eastern Missouri, St. Louis County's Problem Property Unit, St. Louis Realtors, the Spanish Lake Community Development Corporation, and Beyond Housing.
The first 100 people to register and attend will receive an attendance prize. In addition, you'll have gained important and relevant information whether you are an educator, resident, business professional, or faith-based organization within the 24:1 Community.
We look forward to seeing you on Saturday, Sept. 25, at 10AM!