Location
Studebaker Hangar @ South Bend Airport
4477 Progress Drive
South Bend, IN 46628
Description
Join us for an inspirational series of lightning fast talks showcasing talents of young leaders and teen entrepreneurs.
Ignite Michiana: Cleared for Takeoff! will feature area students covering topics as varied as our community. Speakers will share their unique passions, talents, and perspectives. It promises to be an unforgettable experience!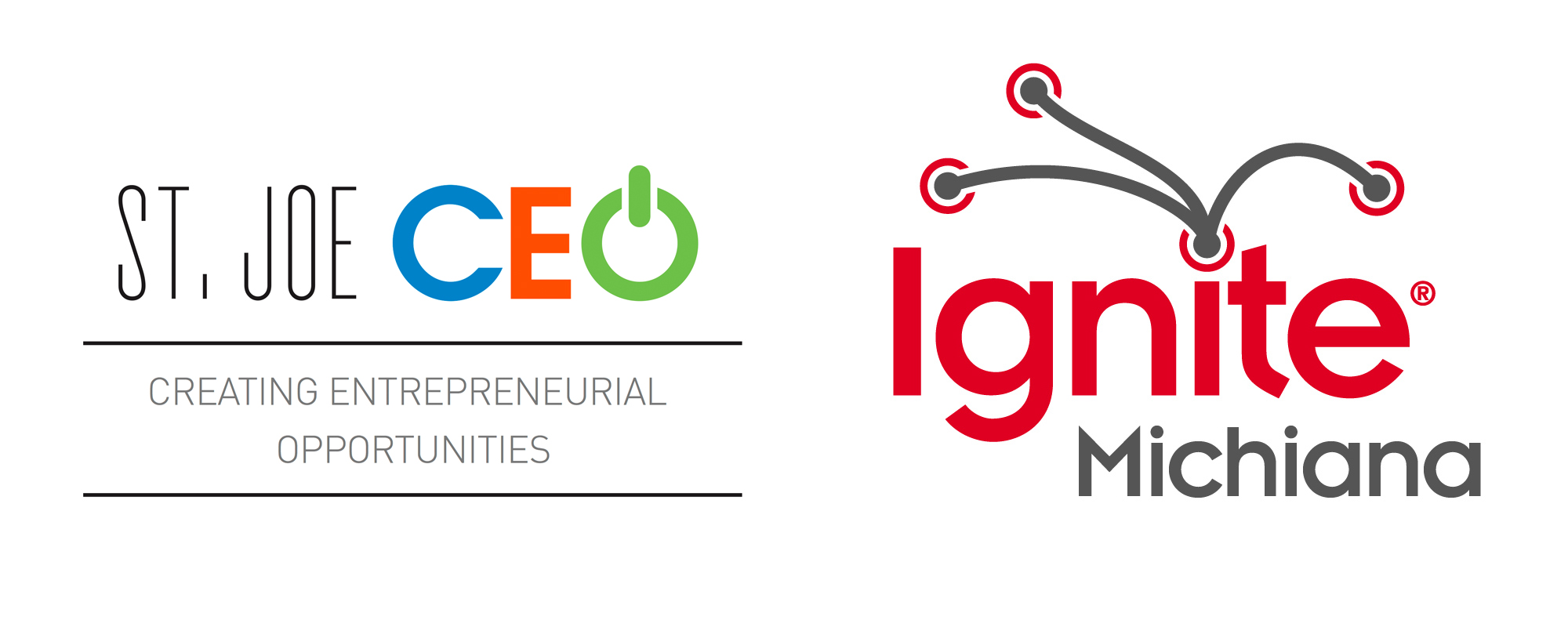 Why should you attend? The goal of this event is to connect youth and adults to break through the generational divide, creating a robust support system for young people. The greatest challenge to economic growth in our region is population stagnation. As a community, we need to retain our talented young people and open new pathways for them to succeed. Let's show the youth this is a place where opportunities exist to make their dreams come true!
What is St. Joe CEO? A year-long entrepreneurship immersion for high school juniors and seniors in St. Joseph County. Students seek to improve the perception of area youth while simultaneously raising money to launch future businesses and reinvest part of the proceeds back into student enrichment programs.
Silent Auction
There is a silent auction at our event, here is a preview of our auction items http://stjoeceo.wix.com/ceosilentauction. You can receive a bid number by stopping by a ticket table in the Hangar.
Food/Beverages
Food/beverages at the event will be purchased through buying tickets. One ticket costs $1 and all food/beverages will be sold in one ticket increments. We will have three ticket booths around the Hangar. The four vendors attending are Crooked Ewe, Bendix Coffee, Javier's Bistro, and Papa Vino's. We will also have a CEO Concession Booth, which we will be selling candy, chips, and water.
Itinerary for the event:
5:30-6:30 Networking/Silent Auction
6:30-7:30 First Round of Speakers
1. Ivan Kuharic
2. Rose Michel Veldman
3. Italia Ramos
4. Kaitlyn Barbour
5. Makaila Ranges
6. Christian Smith
7. Tiana Mudzimurema
7:30-8:00 Intermission
7:40 Heads or Tails
8:00 Silent Auction Closes
8:00-8:50 Second Round of Talks
8. Sam Villagra-Stanton
9. Audra Meyer
10. Hunter Reynolds
11. Magdelena Hernandez
12. Phillip Williams
13. Crystal Delgado Muniz
14. Sam Scholtes

Ignite Michiana Parking Directions
***Two shuttles will run continuously throughout the event in case you need to arrive late or leave early.***
***Validated parking tickets will be handed out to everyone upon registering on the shuttle bus.***
Before Event
Enter the airport loop from either the South or the East entrance.

If you are carpooling, we recommend you drop off people at the hangar before you go to park. The hangar is located across from the rental car parking lot, look for our logo on the side of the hangar. ***see map below***

Enter either the economy lot, long term lot D, or the 18 hour lot. There will be signs and people directing you to the correct lot.

Park your car and head to one of the two shuttle pick-up tents.

Enter the shuttle, the shuttle will take you to the hangar.

During the ride on the shuttle, get your tickets out and a St. Joe CEO student will come by to check your ticket. If you do not have a printed ticket, a student can look your name up on our list.

After exiting the shuttle, enjoy the night!
After Event
Enter the shuttle.

The shuttle will take you to the drop-off tents. Pick the tent closest to your vehicle.