Description
The third and final in the series of learning experiences features Kristen Hadeed discussing her new book "Permission to Screw Up" on Thursday, November 16. Kristen will discuss her insights in leadership and lessons learned from founding one of Florida's largest independently owned cleaning services, Student Maid & MaidSuite application.
At only 27 years old, Kristen possesses the business savvy and experience of leaders twice her age. Her business, Student Maid, has blossomed into a company with more than 500 college student employees during its peak season and is widely recognized for its industry-leading retention rate and it culture of trust, accountability and compassion. Kristen's journey hasn't been a walk in the park. Along the way, she's endured defeats and setbacks so devastating that most people, especially a college student, would have thrown in the towel.
"Having a young leaders like Kristen Hadeed in the world gives me hope for the future. In a world in which numbers often seem more important than people, Kristen remains steadfast in her belief that her people are always her top priority." - Simon Sinek, Author of "Start With Why," "Leaders Eat Last" and "Together is Better."
"Boooom! Kristen Hadeed is a bona fide millennial badass. Her story is inspiring for anyone who's got the guts and tenacity to be a high impact leader. Her book is a master class on how to create a brilliant culture that drives big results."
—Sarah Robb O'Hagan, CEO of Flywheel Sports and author of "Extreme You"
Who should attend?
All levels of management can benefit from the unconventional and innovative views on business and leadership presented in each session.
*includes a copy of Kristen's recently released book "Permission to Screw Up"
100% of the proceeds of the Ignite Leadership Series benefit the Visiting Nurse Association Foundation
to support care to the Kansas City area. The cost of the ticket is tax deductible.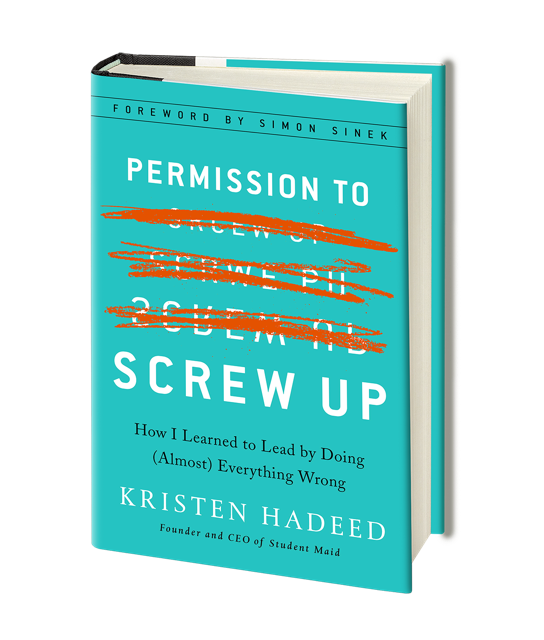 About Visiting Nurse Association: Established in 1891, VNA is the oldest home health care agency in Kansas City and the home of the original visiting nurse. Over the years, VNA has expanded its services and service area to reach more patients throughout the area surrounding Kansas City. VNA provides acute care nursing and therapy services to patients in the comfort of their home. Services include skilled nursing care, physical, occupational and respiratory therapy, IV and wound care, nutrition and social work consultations. VNA's long lasting legacy comes from our belief that people not only need someone to care for them they also need someone to care about them. VNA is a non-profit agency (43-1337104) and 100% of your ticket price is tax deductible. www.vnakc.com