Ignite Dance Intensive is a one day, unique, inspiring dance experience taught by nationally acclaimed instructors from Metro Detroit.
About this event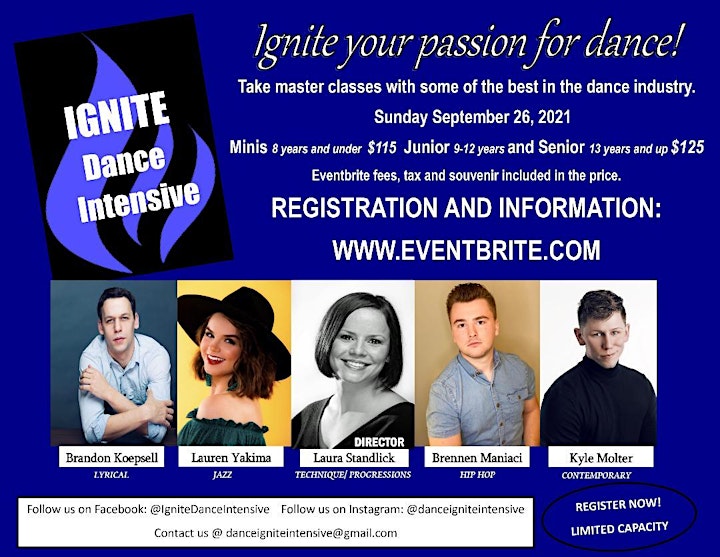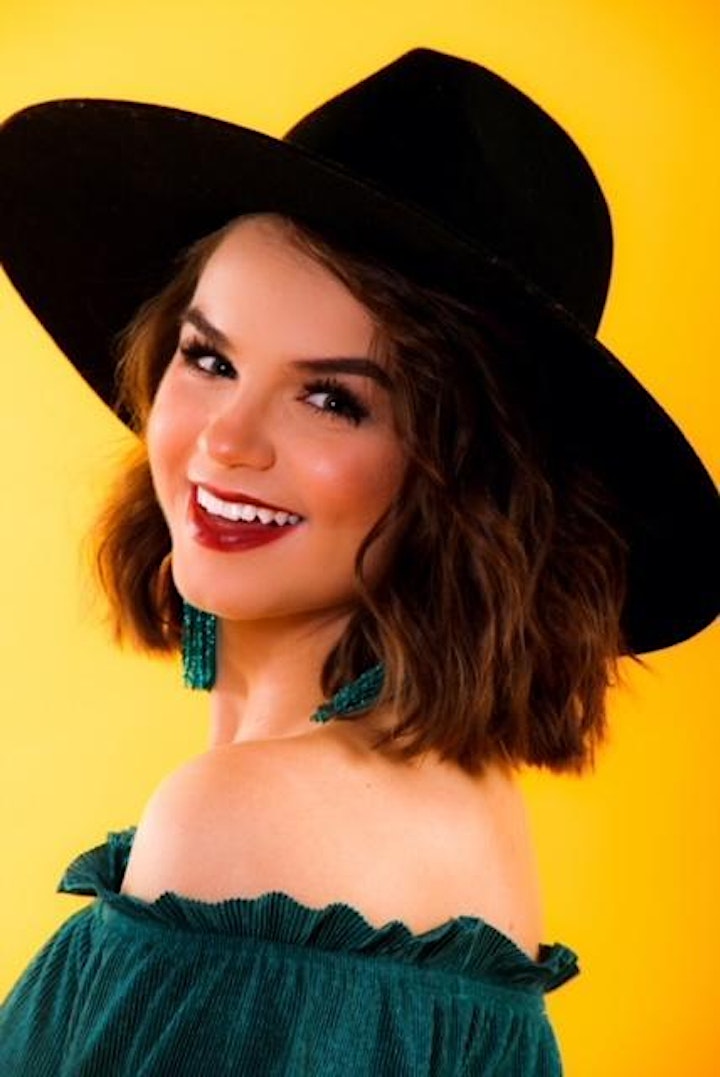 LAUREN YAKIMA
Lauren Yakima trained in Dearborn, Michigan with the legendary Noretta Dunworth School of Dance. She is trained in all styles of dance, including ballroom. Lauren has competed for 15 years and has worked closely with many of the top choreographers in the industry. She most recently competed on the NBC hit show World of Dance and danced on Disney Channels Summer Singalong. Last year she was in music videos for singers AJ McLean, Christina Ricucci and Sam Tsui. She has performed at the Capezio ACE Awards, with the Radio City Rockettes as the role of Clara as well at Tony Robbins Birthday Fundraiser. She has been most recently been added to RoyalFlux, directed by Jaci Royal as a company member and is a demonstrator at 24Seven Dance Convention.
THIS IS LAUREN'S SECOND SEASON WITH US AND WE ARE SO EXCITED TO HAVE HER BACK!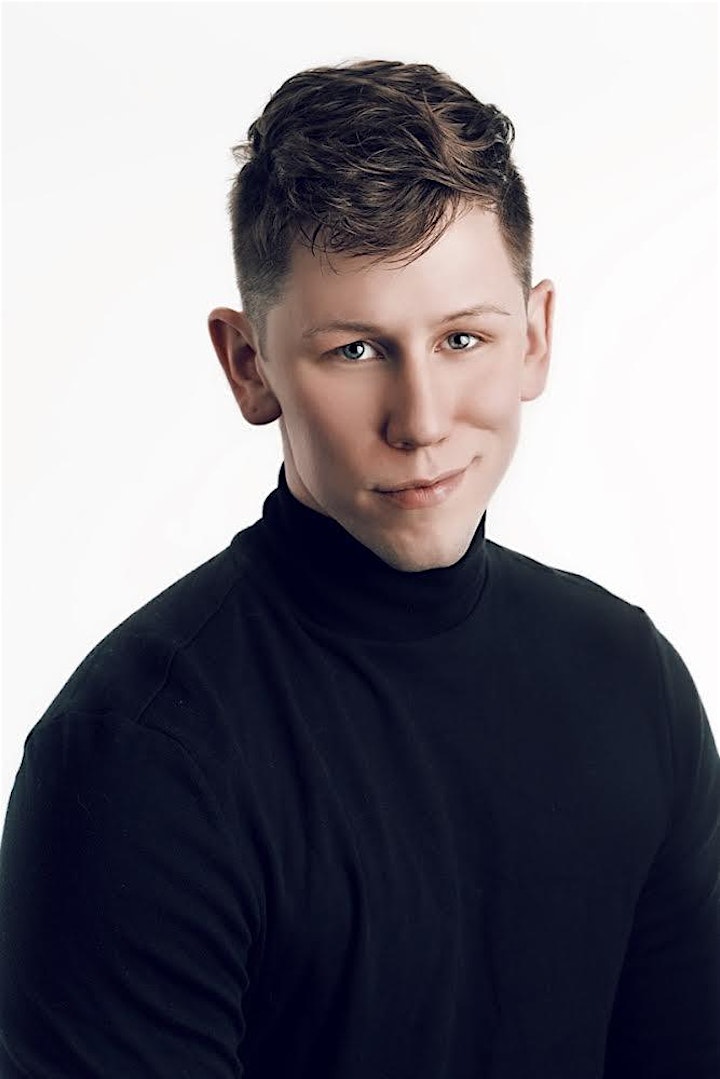 Kyle Gene Molter comes to us from Monroe, Michigan. He is an award winning teacher and choreographer with 17 years of dance experience in the industry. In his early years of dance he studied and competed in tap, jazz, ballet, hip hop and lyrical. Finding his true love in contemporary. As a performer he earned numerous technique and precision awards along with regional and national titles. Now working side by side with his wife and now daughters, he is the Owner of "PUSH" a summer intensive and Co-Owner and Director of Haja Dance Company in Newport, Michigan. His students are recognized for their amazing performance and technical excellence. His work has been recognize for numerous choreography awards including regional and national winning routines. His style is unique and has become the highlight of many studios across the United States. His work has also been recognized and nominated for the prestigious Industry Dance Awards for several years in a row.
Kyle was also honored to accept a position as one of the Regional Directors of In10sity Dance. He enjoys traveling and meeting so many different studio directors and their dancers. His role as a Regional Director allows him to see both sides of the competition world and he truly loves his new position. Kyle enjoys teaching his company dancers and sending a positive message of "Pushing Their Minds", "Creativity" and "Technical Ability". He has a magnetic personality that dancers and studio directors can relate to and feel comfortable exploring new movement, choreography or working to create a positive experience. Besides working with dancers, Kyle is also a Crossfit Level 1 Trainer. Working with athletes of all ages and helping them achieve their personal fitness goals. He is energetic, determined, and constantly on the go! Kyle is looking forward to working with your dancers very soon.
THIS IS KYLE'S 4th SEASON WITH US AND WE ARE HONORED TO HAVE HIM AGAIN !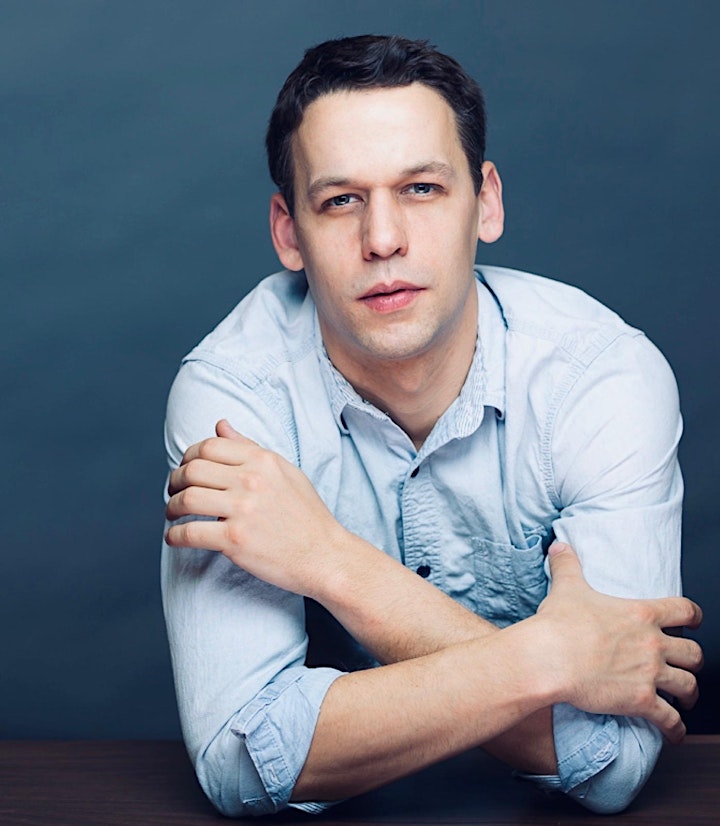 Brandon Koepsell is a Detroit native and graduate of the Walnut Hill School in Natick, MA. After graduation in 2005, Brandon spent time performing with "Companie Coline" in Istre, France, Rapture Dance Project and Ron DeJesus Dance in Chicago. Brandon has been a guest performer and choreographer with several college programs including the University of Michigan, Eastern Michigan University, Oakland University, Alma College and Wayne State University. He has appeared with the Michigan Opera Theater in the productions of " Aida" and "The Merry Widow". He was the choreographic assistant on the set of Disney's "Oz, the Great and Powerful" and a credited dancer in "A Very Harold and Kumar Christmas". In collaboration with Jaclyn Walsh, Brandon has presented work at the Boston Contemporary Dance Festival in 2015 and 2018 and at Green Box Arts Festival in Green Mountain Falls, CO in 2019 as part of Larry Keigwin's "Dynamic Duets". Brandon has served as a faculty member with the Chicago National Association of Dance Masters, the Southern Association of Dance Masters and as a faculty member in the Maggie Allesee Department of Theatre and Dance at Wayne State University in Detroit. He is a current dancer with Take Root dance company and a company instructor for Eisenhower Dance Detroit. Brandon also has been teaching weekly Dance for Parkinson's classes hosted at the Henry Ford Health Systems in Detroit to individuals afflicted by Parkinson's disease for the past 4 years.
BRANDON HAS BEEN A PART OF IGNITE SINCE THE BEGINNING! WE LOVE HIM AND ARE HONORED TO HAVE HIM EVERY SEASON!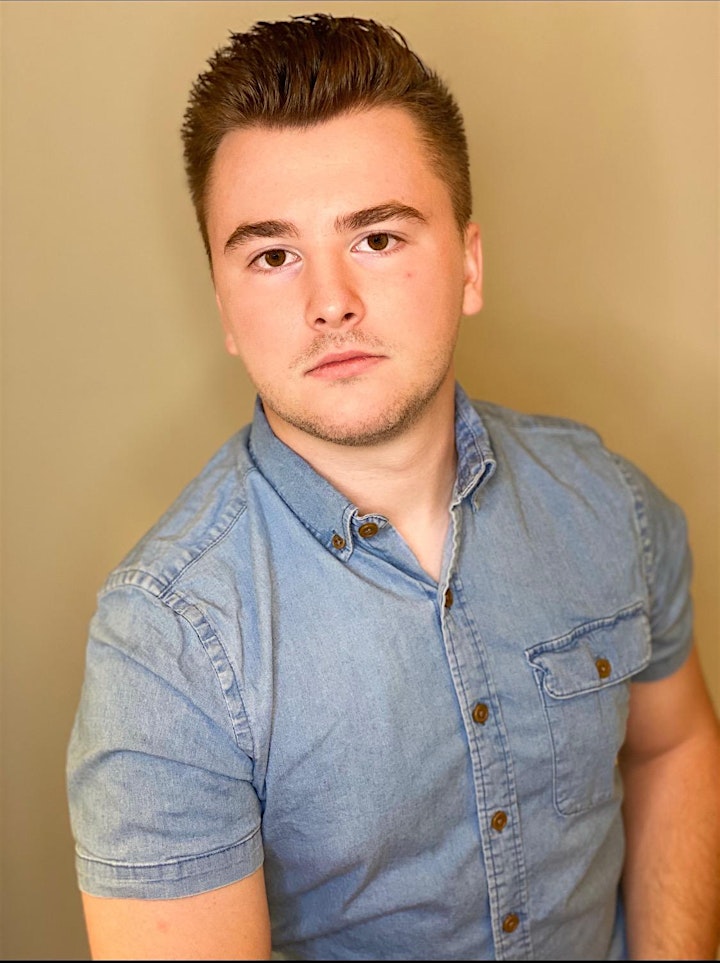 Brennen James Maniaci, originally from Sterling Heights, Michigan, Brennen started competing at a National level in 2005 and has since achieved 7 National Solo Titles, over 30 Regional Titles and 14 National Victory Cups with group performances.
He has been included in professional performances such as Broadways "Wizard of Oz" National Tour, BRAvo Charity Event sponsored by McLaren Health(for breast cancer awareness), Delta Airlines Annual Members Conference and other performances for corporate events through Corporate Production Services Group. Brennen has been recognized for his choreography and performance of flash mobs both for the MLB (Major League Baseball) and NFL (National Football League) through the radio station, "97.1 The Ticket". He has been named DiscountDance/Capezio Dancer of the year during his years of training and has grown up under the amazing dance influence of Suzette Maniaci, Owner of "Suzette's Masters of Dance".
Newly recognized director and creator of the contemporary company "The Works" which includes concert and commercial performances including "Rise Above Apparel".
Brennen is classically trained in Ballet both Cecchetti and Vaganova methods, Tap (classical and rhythm), Jazz, Lyrical, Contemporary, Musical Theater, Hip Hop and Gymnastics. Not only has he been a performer for the last 15 years, he has also been an instructor and choreographer of Nationally award winning routines. Sought after choreographer for his authentic and contemporary choreography. Travels the country teaching and collaborating his unique skills with national dance conventions and competitions. A passionate teacher who hopes to share his inheritance of dance, humanity and vast collection of training he's gathered on his journey with all those who he's fortunate enough to create with.
THIS IS BRENNEN'S FIRST SEASON WITH IGNITE AND WE ARE EXCITED TO HAVE HIM ON OUR TEAM!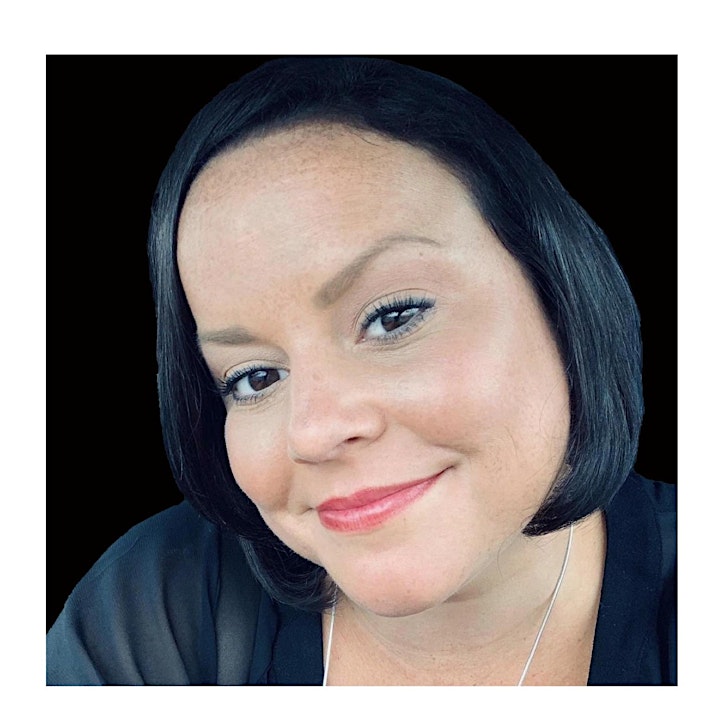 Laura Standlick has 34 years of training and experience at several of the most prestigious dance programs in North America including two seasons of training at The Royal Winnipeg School of Ballet and a 6 month work study program at New York City's Broadway Dance Center.
Laura danced for three years with the Detroit Shock dance team. She then majored in Dance at Western Michigan University where received and attended the Frank Hatchett scholarship program from Broadway Dance Center in NYC attended an intensive scholarship at the Edge Performing Arts in Los Angeles, California. She has performed on stage with Boyz II Men and in Gus Giordano's Sing, Sing, Sing.
While living in NYC for her work study, Laura performed professionally with The Double D Productions and was chosen to perform for Celebrity Cruise Lines. She then traveled the world and was selected as dance captain for several contracts. From there she began to choreograph and teach dance while still performing professionally at Motor City Casino, MGM Grand Casino, and with Max Pellicano's Elvis impersonator show at Caesars Windsor Casino.
11 years later, Laura is a renowned choreographer and teacher who has taught many award winning routines. She has received numerous choreography awards at Regional and National competitions. She has been a GRAND NATIONAL CHAMPION for multiple pieces throughout the past decade and received her third INDUSTRY DANCE AWARDS NOMINEE. In the past 9 years, she has been a judge for multiple competitions such as KAR, Rainbow and now recently ENERGY. Laura choreographed the opening number for ENERGY Nationals.
These past two years she became a International judge for KAR and traveled AUSTRALIA for 6 weeks in 2019.
Laura is also the Director and Owner of IGNITE DANCE INTENSIVE. IGNITE is a successful dance convention that will soon be having its 7th season in the Metro Detroit Area. Attending students study and train in multiple styles with amazing teachers annually.
She enjoys seeing talent throughout the WORLD and is super excited to meet and INSPIRE MORE DANCERS.
LIVE, BREATHE, DANCE…