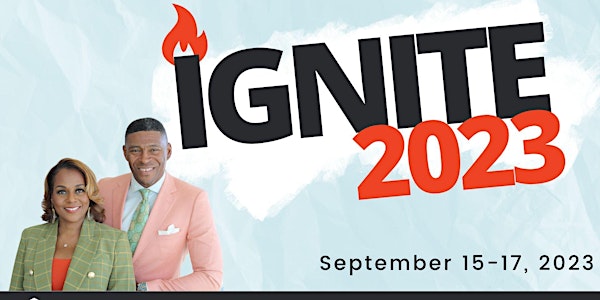 Ignite Conference 2023
Join Dexter & Genette Howard, Isaac Pitre, Steve Houpe, Elizabeth Tiam-Fook, and others for a power-packed weekend to set your heart on fire
By Howard International Ministries
Date and time
September 15 · 7pm - September 17 · 1pm EDT
Location
The Restoration Place Church 2520 Whitehall Park Drive Charlotte, NC 28273
Agenda
7:00 PM
Friday, September 15th | Isaac Pitre, Speaker
---
Ignite will kick off with fire on Friday night! Powerful worship and a life-shifting message from Isaac Pitre.
9:00 AM - 1:00 PM
Saturday, September 16th | Prophetic Lab with Elizabeth Tiam-Fook
---
This learning and activation session is for anyone who wants to sharpen their skills in Spirit-led prayer, prophecy, declarations, and decrees to transform their world.
10:30 AM
Sunday, September 17th | Bishop Steve Houpe, Speaker
---
Our weekend culminates with Sunday worship and a powerful message from Bishop Steve Houpe, spiritual father of our ministry and a general in the Kingdom of God.
About this event
1 day 18 hours

Mobile eTicket
The mission of Ignite Weekend is to turn up our passion for God so that His Kingdom spreads like wildfire. Lukewarm faith doesn't work. We must be red-hot and ready if we're going to advance the agenda of Heaven in the earth. The future is depending on God's sons and daughters to become ministers of fire, burning with passion, purpose, and power to transform the world.
At Ignite Weekend you will:
• Learn from some of the most powerful and insightful voices in the Kingdom of God that will awaken and activate the Kingdom that lives within you.
• Grow in clarity and confidence about your unique calling and gifts, and how they fit into God's plan.
• Be mobilized from the audience into the army of believers who are carrying the power and glory of God to change the world.
"nor will they say, 'See here!' or 'See there!' For indeed, the kingdom of God is within you." Luke 17:21
Speakers:
Dexter & Genette Howard - The Howards are the founders and hosts of Ignite Weekend. They serve together as apostolic voices with a mission to inspire and equip strong faith, families, and futures around the globe. They are authors, international speakers, and pastors of The Restoration Place in Charlotte, NC and Fayetteville, AR.
Elizabeth Tiam-Fook – Elizabeth Tiam-Fook is the founder of International Young Prophets, an apostolic ministry that is called to serve the "office of the next=generation prophet." She believes that God is raising up a company of young prophets to impact the nations of the world with the Voice of God. Elizabeth also leads "We Prophesy!" events in different regions of the United States with a focus on taking prophets into regions to prophesy, pray and worship. And each year she gathers generations of prophets together for a National Prophets Gathering. Elizabeth currently resides in Maricopa, Arizona.
Bishop Steve Houpe – Bishop Steve Houpe is the Founder and Senior Pastor of Harvest Church International Outreach in Kansas City, MO where the emphasis is placed on preaching and teaching the infallible Word of God. Bishop Houpe is the author of a number of books including the best seller, "No More Soul Ties." Bishop Houpe is the loving husband of Dr. Donna Leah Houpe, as well as a proud father and grandfather.
Isaac Pitre - Isaac travels the world preaching and manifesting the Kingdom, power, and glory of God. He is also a singer, songwriter, producer, and noted author. His greatest passion is to see the Kingdom manifest on earth as it is in Heaven and to see every person live out their true God-identity. He is the founder and apostolic overseer of Christ Nations Church, Inc. He is lives with his wife, Janet, in Dallas, TX.
"Therefore, since we are receiving a kingdom which cannot be shaken, let us have grace, by which we may serve God acceptably with reverence and godly fear." Hebrews 12:28
Conference Schedule:
Friday, September 15 | 7pm | Speaker: Isaac Pitre
Saturday September 16 | 9am - 1pm | Speaker: Elizabeth Tiam-Fook
Sunday, September 17 | 10:30am | Restoration Worship Experience with Guest, Bishop Steve Houpe
NOTE: YOU MUST PURCHASE A SEPARATE TICKET FOR THE 30TH ANNIVERSARY GALA.
Frequently asked questions
When is the 30th Anniversary Gala and how do I purchase tickets?
Will there be childcare at all events?
What is the attire for the Conference?
About the organizer
Howard International Ministries (a.k.a. "Howard International") is the apostolic ministry of Dexter & Genette Howard. Together, they are on a mission to build strong faith, families, and futures around the globe. HIM meets its mission by: 
Planting and nurturing life-giving churches that strengthen families and communities.
Hosting conferences and events.
Book publishing and media production.
Dexter & Genette Howard are a team with almost 30 years of successful marriage, ministry, and business working side by side. They are the founding pastors of The Restoration Place Church with campuses in Charlotte, NC and Northwest Arkansas. They are both published authors and international speakers. The Howards are the parents of 6 daughters and live in the Charlotte, NC area.
For more information, visit www.HowardIntl.org or call 855-727-4446.