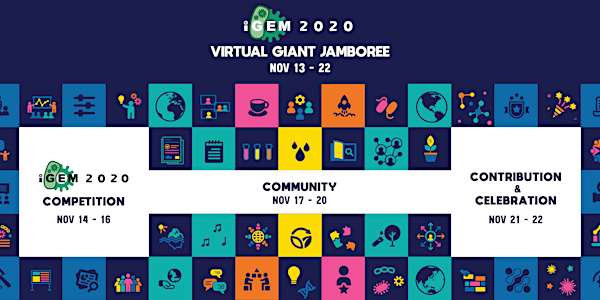 iGEM 2020: Virtual Giant Jamboree
Join us for 10 days of iGEM through Competition, Community, Contribution and Celebration!
About this event
The iGEM Virtual Giant Jamboree is the culminating event for the 2020 iGEM season!
Even though we can't come together at one big in-person event this year, the virtual format brings some exciting opportunities to celebrate iGEM at a scale never before experienced.
You can see more information about the Virtual Giant Jamboree by clicking on the link below:
https://2020.igem.org/Giant_Jamboree
The entire event is free to attend and open to the public!
Join us for all 10 days and experience iGEM like you never have before!
November 13: Welcome Ceremony
November 14-16: Competition Days
November 17-20: Community Week
November 21: Contribution Day
November 22: Celebration Day