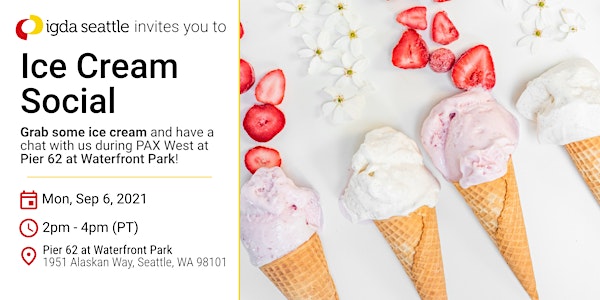 IGDA Seattle Ice Cream Social @ PAX
Grab some ice cream with IGDA Seattle while you're between PAX sessions or meetings. Pick your favorite ice cream shop and come have a chat!
When and where
Location
Pier 62 at Waterfront Park 1951 Alaskan Way Seattle, WA 98101
About this event
Get a well-needed break with ice cream and friends during PAX West 2021! Drop by an ice cream shop down by the waterfront to grab some ice cream and head over to Pier 62 to chat with us!
Where can I get ice cream by the waterfront?
Here's a few places that are within walking distance of Pier 62:
Share Your Thoughts with IGDA Seattle's Team
Got any kinds of events you'd like to see more of or suggestions on how we could do more? The IGDA Seattle Board will be available to discuss anything you'd like to share with us to help plan our next events.
Missed an Event?
We've hosted a number of events prior to and throughout the pandemic on a variety of topics: gamejams, leadership, networking, and studios in our very own Pacific Northwest.
You can find recordings for some of them on our YouTube channel.