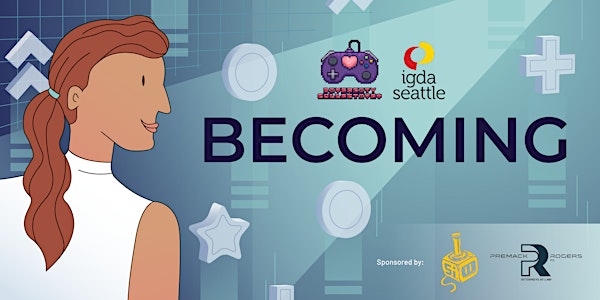 IGDA Seattle & Diversity Collective+ on BECOMING: Non-Profit Leadership
"Becoming" is an online talk series where games industry professionals reflect on their career path. This time: Non-Profit Leadership.
About this event
IGDA Seattle is partnering with Diversity Collective+ to bring you an online talk series called "Becoming", where games industry professionals reflect on their career path and retrace their journeys through the industry in their respective fields.
This month, we are featuring an excellent panel of people in Non-Profit leadership roles in the industry.
Join us on https://twitch.tv/igdaseattle for this talk as our panelists talk about their journey to becoming who they are today and hopefully inspire you to follow in their footsteps.
Moderated by August Belhumeur (@augustbelhaha), Board Member at Seattle Indies and Diversity Collective+ (Seattle).
Accessibility
ASL interpretation will be provided as a part of the online livestream for the event.
Nominated Charities
This month's panelists have nominated the following organizations to potentially receive a $500 donation from our sponsors Premack Rogers P.C. and Seattle Indies:
52andChange
Other charity nominations are pending confirmation from the panelists.
Attendees will be asked to provide their input on the charity that they'd like to see the donation.
The Panelists
Each panelist is listed below by their photo with their name, Twitter handle, and title: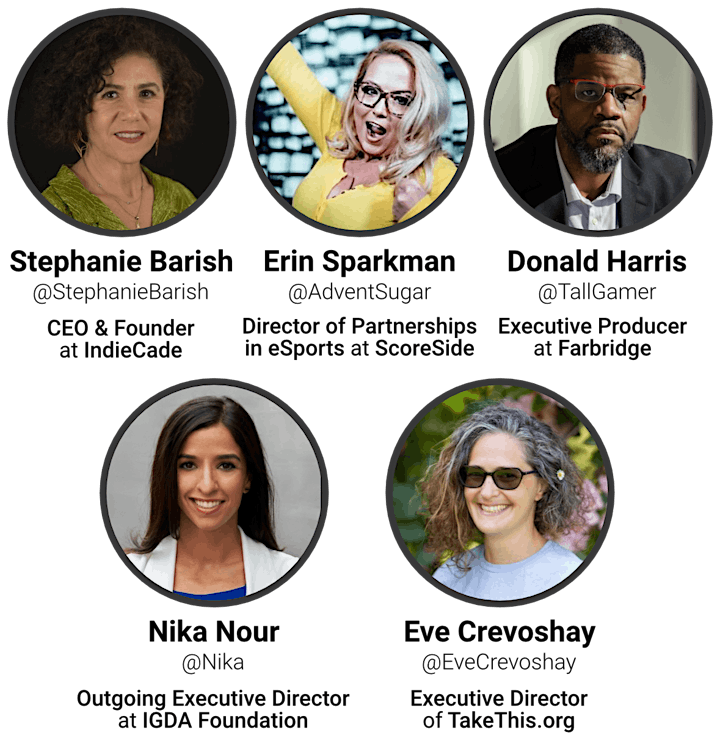 Our panelists, as listed above from left to right:
IGDA Seattle
IGDA Seattle is a local chapter of the International Game Developers Association, a 501(c)(6) non-profit professional association and a global network of individuals from all fields of game development - from programmers and producers to writers, artists, QA and localization.
For more information, visit IGDASeattle.org or find us on Twitter (@IGDASeattle).
Diversity Collective +
Diversity Collective + is an inclusive community in Seattle with a mission to support diversity and discuss issues and solutions for minority figures in gaming and VR/AR/XR. We host quarterly events with different formats at each event, such as panels, round-table discussions, mentoring, portfolio reviews, Q&A sessions, interview practice, and mixers.
For more information, you can find them on Twitter (@DCPlus_Seattle).