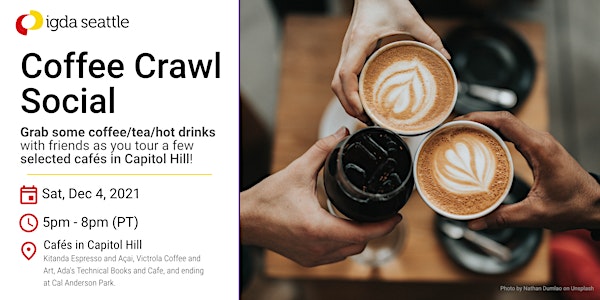 IGDA Seattle Coffee Crawl Social
Catch up with friends on a coffee crawl through Capitol Hill. Warm up with a latte or embrace the cold. You choose!
When and where
Location
Coffee Crawl starts at Kitanda Espresso and Açai - Capitol Hill 200 Broadway E Seattle, WA 98102
About this event
This year, IGDA Seattle is ringing in the end of fall with a coffee crawl through Seattle's beloved Capital Hill neighborhood.
Join us (and bring some friends) as we move from through three different cafés and conclude our journey with an afterparty at Cal Anderson park.
Note: In a previous version of this page, Diversity Collective+ was listed as a cohost for this event. This was incorrect - they are only helping promote the event. The page has been updated to reflect this.
Who can attend the coffee crawl?
All of our industry friends are invited to attend the coffee crawl! That means:
IGDA Seattle members (and non-IGDA members!)
Diversity Collective+ Seattle members
Games industry members
Students or other professionals who are seeking industry positions
Feel free to bring a friend or family member as well!
Proof of Vaccination/Negative Test is Required
People who are 12 years old or older are required to show proof of full COVID-19 vaccination or a negative test result in order to enter certain places in King County, which includes coffee shops.
Please come prepared to provide this information upon entry to each of the coffee shops we are visiting.
For more information, please review King County's Vaccination verification page (available in multiple languages).
Schedule
Here's the plan for the coffee crawl. All times are given in Pacific Standard Time:
The last 15 minutes of each hour will be spent commuting from one coffee shop to the next, so don't fret if you don't see us right at the start of the hour.
You can review the map below or visit this Google Maps link to see our exact route.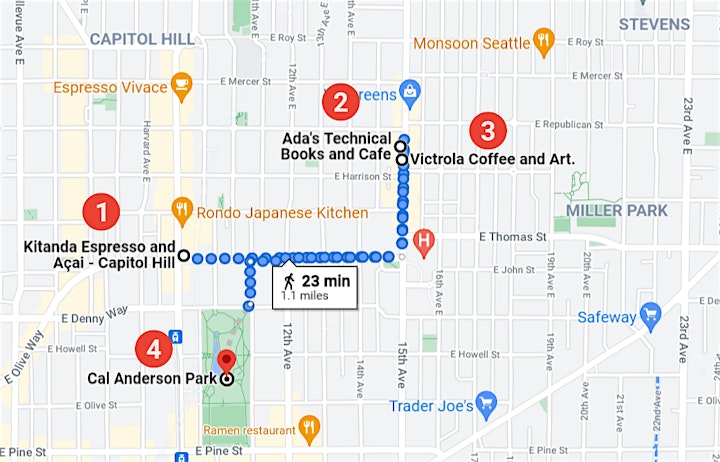 If you can't make it by 5pm, just check the schedule above to see where we'll be when you can join us!
Note that capacity will be limited by the coffee shop we're visiting. Please respect the rules and guidelines set forth by each coffee shop on the coffee crawl.
IGDA Seattle
IGDA Seattle is a local chapter of the International Game Developers Association, a 501(c)(6) non-profit professional association and a global network of individuals from all fields of game development - from programmers and producers to writers, artists, QA and localization.
For more information, visit IGDASeattle.org or find us on Twitter (@IGDASeattle).