About this Event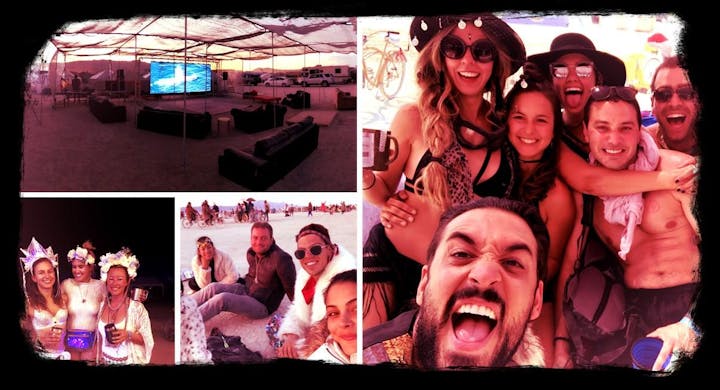 IG Living Room: Your living room on the playa - where love and comfort free you to feel ALIVE.
Beats. Costumes. Dance. Disco. Drinks. Visuals. Auction. Painting. Playa Crafts. Yoga. Tacos. TACOS!!!
At the glorious Great Northern - Music inside and Auction/Yoga/Painting/Crafts/Tacos in the SUN.
DJ Lineup:
Derek Rosé : https://soundcloud.com/clemnz : hailing from Aukland, NZ where he had a radio show Derek will be spinning Vynl
Toni Z : who'll be accompanied by live musician Broken Horn https://open.spotify.com/artist/3sgp6Vasj4PG0jmzGfajua : community builder, dancer, and DJ who has played throughout SF and at BM
Symonne : https://soundcloud.com/symonnemusic : just back from Ghana she's performed throughout the bay at Public Works, GN, Burning Man, and Further Future 2, and she headlined the IG 2018 Burn event <3 <3
Tōsh : https://soundcloud.com/toshbeats : an incredible human (twitter.com/desaiashu) and phenomenal musician who's played at GN, Burning Man, Elementum, Blue House
Visual Projections from our 15x6 ft LED wall (affectionately named WallZ) on playa this year. It's a really really big (LED) wall. A huge wall. HUGE. HUUUUGE.
Silent Auction including BM outfits & gear, chocolate making classes, and more.
Finger and/or body paint canvas, and playa crafts - like a bejewled dusk mask and jewelry.
And yoga. Because every good event needs Yoga. Especially when there's loud music.
And TACOOOOOS: Because Tacos and Disco go together like puppies and Slip-N-Slide. Think about it. Ok don't think about it. But you love them both. And they're aMAzing.
Open bar from 1-5pm (cash bar after 5pm) and discounted open bar tickets can be purchased prior to the event. Because we like open bars. They're open. Open = good. Not Open = Not Good.
But Beats, for the love of god, BEATS.
All proceeds will go towards bringing the Living Room experience of home, love, creativity, and life to the playa.