Event Information
Location
Western Parking Lot
199 S. 8th Street
Las Vegas, NV 89101
IFX 2019: Celebrating the Craft + Culture of Infrastructure
About this event
IFX is about celebrating and connecting the builders who are creating new models, new technologies, and forging new kinds of partnerships.
The Vibe
IFX2019 is a gathering in the best sense of the word: an exclusive oasis just a short Uber ride from the over-crowded Strip, featuring high level networking, diverse programming, excellent WiFi, local craft food, and room for social connections and quiet meetings alike.
The Venue & Directions
Building upon our success in 2018, IFX2019 is again happening in a radically transformed parking lot — but this time we are skipping the Strip and investing in Downtown Las Vegas (DLV) near Container Park. Find us at the corner of 8th Street between Carson and Fremont.
899 Fremont Street - View on Google Maps
The Schedule
Taking place on December 4th and 5th, right alongside AWS re:Invent, IFX2019 offers a flexible schedule for attendees to make the most out of their time in Vegas.
For a full schedule, please download the Whova App or visit the IFX website.
The Programming
Eight content streams (curated by peers from throughout the ecosystem) will serve as points of intersection for developers, hardware innovators,entrepreneurs, investors, new and established Enterprises, and open-source enthusiasts alike.
We're working with amazing curators to bring new points of view to Vegas.
Lessons from Hyperscale - Exploring unfair advantages from the intersection of hardware, software, and networks.
Crafting a Better Version - How to invest in a healthy, diverse and responsible future for tech.
Tales from Unicorn Farming - What are the market leaders of 2025 up to, and what do they need from you.
The Digitization of Real Estate - From cell towers to cold storage, big money is knocking at the door of big tech.
You'll Never Guess What Happens Next! - Disruptive business models, big ideas, and the currency of what's next. Hint: it's not about the tech!
Trends in Silicon - With Mr. Moore's law well and truly dead, what's hot and what's not.
Open Source is Dead. Long Live Open Source! - Is the revolution over .... or just getting started?
The Internet is a Series of Tubes - Riding the wave of a shifting internet: edge, wireless, satellites and balloons, oh my!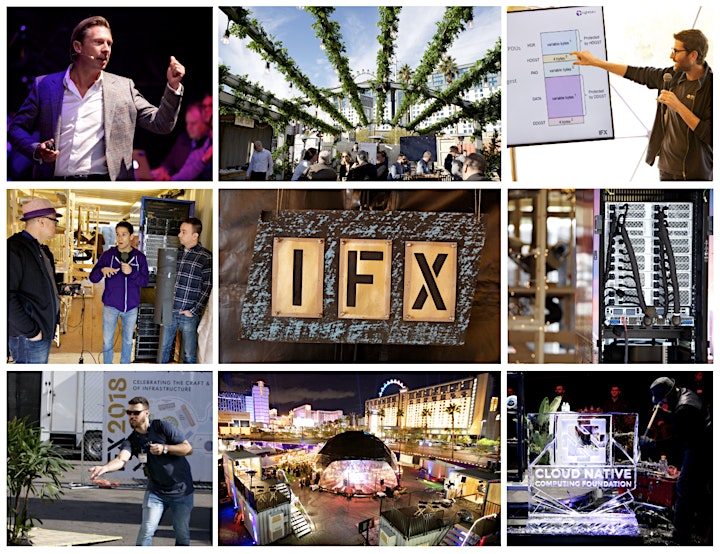 Date and time
Location
Western Parking Lot
199 S. 8th Street
Las Vegas, NV 89101