Event Information
Refund policy
Refunds up to 1 day before event
Eventbrite's fee is nonrefundable.
Trailblazer Challenge:100 days to complete a minimum of 10 Runs/Hikes. Lost Souls Challenge:100 days to do 50!
About this event
The "Trailblazer and Lost Souls" Challenge is a virtual adventure challenge where you complete designated routes in and around the Idaho Falls areas. You can join for free if you just want to get access to more than 50 routes (with maps, directions, and descriptions) that the local trail runners use in and around Idaho Falls. Or you can do a paid version to get swag, cool stuff, finisher awards, and have a chance to win some of our awesome prizes!
Deadline to register is 22, 2021!
TRAILBLAZER CHALLENGE: Starting May 22, 2021 you will have 100 days to attempt a minimum of 10 Adventure Runs/Hikes (see Info About Routes) to receive your reward.
Free Option: If you choose the free option, you can earn a Digital "Trailblazer" Certificate by completing the routes. You will get access to the private Facebook group, with detailed instructions for all 50+ hiking/running routes in and around Idaho Falls. NOTE: You won't get any swag or be eligible to win any of the prizes for the "Secret Missions" but this is still an amazing resource that will help you find new places to explore near Idaho Falls!
Paid Option: If you choose the paid option, in addition to the free option stuff, you'll get an "Idaho Falls Trail Runners - Trailblazer" t-shirt, a swag bag, and a "Trailblazer " finisher award if you finish all the routes. You can also win "Secret Mission" prizes by completing the 13 Secret Missions during the challenge. The cost is $40 (some of the money will go to IFTR to support future group events). This challenge can be completed by anyone in the area or out of the area as there will be out of area alternatives. Most routes can be completed by any age and children are welcome to participate in the Trailblazer challenge. It will be up to each participant to monitor their own safety while on the routes and ensure that proper safety protocols are followed. For the Trailblazer challenge you only have to attempt at least 1 of the routes in 10 of the areas (so if you get lost, or if you come upon an angry Grizzly Bear, you can do the smart thing and live another day).
LOST SOULS CHALLENGE: Starting May 22, 2021, you will have 100 days to complete 50 of the 50+ Adventure Runs/Hikes (see details below). A crazy person could theoretically finish them all in a week or so because you can complete multiple routes in a single long run/hike. Just for signing up, you'll get the "Idaho Falls Trail Runners - Trailblazer" t-shirt, and a very cool "ludabottle" (see picture below) with the IFTR logo, ONLY if you finish, you'll get a personalized and completely unique "Lost Soul" finisher award. You can also earn prizes by completing the 13 "Secret Missions" during the event. The cost is $60 (some of the money will go to IFTR to support future group events). For the Lost Souls Challenge you will need to actually complete 50 routes. So if you get lost or you come upon an angry grizzly bear, you'll have to try again, maybe with a guide or an expendable friend.
The title of "Queen/King of the Lost Souls" will be awarded to the person that completes 50 routes first. The "Crown" will be to die for!
SPECIAL: Each week during the Challenge there will be "Secret Missions" that you can race to complete, there should be 13 total. The first one to complete will win a special prize!!! I'll throw a bone to anyone who completes a Secret Mission, and those that complete them all will be given a special "Secret Agent" prize. (These prizes are available to anyone doing the paid options). Each challenge will be unique, some will be easy to complete, some might take several days. An example challenge might be: "Write 'IFTR' using your GPS on a run/hike/walk of at least 5k.' First to get it uploaded in the Facebook Group win a prize." You can only win a max of 1 secret mission main prize so we can spread the IFTR love around, once one is posted you'll have the rest of the 100 days to compete it and join the exclusive club for the specific challenge (or the "secret agent club" if you can complete them all. The "Danger Noodle Patrol" hat below is an example of the types of prizes that you can win for being the first to complete a secret mission.
$2 Steak Award: Inevitably there will be some overachievers that can't handle just finishing 50 routes in 100 days. There will be more than 50 routes posted (some areas have more than 5 and there are more than 10 areas), plus I'll likely add some bonus routes along the way. Anyone dumb enough to do ALL of the routes can get a "I am Tougher than a $2 Steak" award in addition to all of the other stuff. If you don't know what a $2 steak is, think of how tender and melt-in-your mouth good a $30 steak would be. Now imagine how chewy, gristly and tough a $2 steak would be. This could be you! ANYONE-Free or paid can do this challenge!!! (So if you don't really want any swag, except for this finisher award, you can sign up for the free version and still attempt to complete every last route).
INFO ABOUT ROUTES: On May 15, 2021 a private Facebook group will open up that will contain specific details for all 50+ routes, including a google pin to each trail-head, a map to follow, and any special instructions. Ifor Search IFTR Trailblazer Challenge 2021. To get credit for the route you will either need to post your Strava (or other gps file) or a picture from the route in the private Facebook group. No routes can be completed before Wednesday, May 22, 2021 and no routes will be accepted after August 31, 2021.
The 50+ routes (some paved, but mostly dirt road or trail) will be in different areas in and around Eastern Idaho (Idaho Falls, Wolverine, Tex Creek, etc.) with 5 or more routes in each area. The list will be confidential until May 15, 2021 when they are put into the private Facebook group, but the furthest ones away will be about (1 hour 15 minute drive from Idaho Falls). Most will be within a 45 minute drive of Idaho Falls. Each route is between 1 mile and 10 miles long.
The areas will include:
Henry and Taylor
Hillbillies
Snakebites
The Badlands
They Paved Paradise
West Tex
Heart of Tex
Idaho Falls Greenbelts
Kelly Mountain
Palisades
Fall Creek
Wolverine
NOTE: Some areas are completely new. Every area has at least 1 new route (and in most cases more than half of the routes are new).
You can complete multiple routes on a single outing. The private Facebook group for participants will include detailed instructions for each and every route and how to complete them. Routes can be completed by running, jogging, hiking or walking (biking is also allowed, however you will need to complete the route x3). NO MOTORIZED VEHICLES ARE ALLOWED!
Additionally, you can join the Idaho Falls Trail Runners Facebook page and join in on some of our Group Runs. There are informal group runs every Wednesday morning and we will hit as many areas as we can (not each route) during the 100 days. There are also Women's Group Runs on Monday evenings and they will hit some of the routes as well. Most of the routes are doable by kids, but you will need to use your own judgment. Remember that each participant is responsible for their own safety. Some of the trails will include areas that may include bears, moose, rattlesnakes, ticks, hunters, fast flowing streams, drops, etc. Take appropriate cautions and when in doubt, back out.
Out of area folks can still participate by completing different routes of at least 5 miles and completing an accompanying "area" challenge. NOTE: You won't be able to "stack" these, so if you run a 50k, you'll only be able to use it for 1 route. Details for completing "routes" will be included in the Facebook page as each will include an accompanying challenge that will match up with a run you might do in the Idaho Falls area (for example submitting a picture of yourself doing a creek crossing that is "shin deep", or submitting a picture of a set of bones or broken things along your route, or getting a minimum amount of vertical gain on your route, whether by stairs, small hills, treadmill, etc.).
SHIRTS: Shirts will be ordered by May 15 and should be available for pickup locally or to be mailed out by mid-June (Some of my other events have had some COVID related delays with shirt ordering, but we will get them out ASAP). The shirts are high quality, durable and comfortable. The water bottles are also of the highest quality. If you sign up by mid-April I should have your shirt, water bottle, etc. for you by the first challenge.
REFUNDS: Refunds will be allowed until June 22 other than the Eventbrite fee (included in the price) which is non-refundable. After May 22, there are no refunds.
FAQ: What if I don't complete all of the challenges in time? Don't worry you still get access to all of the routes that will help you get to know the area around Idaho Falls better, and if you do the paid options you'll still get to keep the shirts and other stuff. You just won't get the finisher awards.
What if I get lost or miss some of the trail? It is on you to stay on the trail and not get lost. Some of the trails are not well marked. Some are not official trails (IE directions might be as vage as "Start at this point and get yourself to this point, the route you choose is up to you". To complete the Lost Souls challenge you will need to complete all of the routes (you can get help from someone in IFTR if you need to just join the Facebook page and ask). To complete the Trailblazer challenge, you just need to attempt the routes, so if you give it your best shot, as long as you make it back alive you can count it.
Do I need bear spray or anything like that? That is up to you. Most people recommend either travelling in a group or having bear spray on some of the more remote trails. Some of the areas will be in bear country (almost entirely the less scary black bear version), and there are moose, rattlesnakes, mountain lions and more. West Tex and the Badlands are known for their roving bandits and hooligans, you'll have to take appropriate precautions to avoid or negate them.
Are all of the routes on "sweet single track"? That would be nice, but no. Some are paved areas in town. Some are dirt roads. A few are paved roads. Some are jeep/OHV trails. Some are well maintained trails. Some are basically abandoned trails that might be harder to follow (for these ones you'll be getting from one point to another, so if you don't follow the exact route, you'll still be okay). Some are "choose your own adventure to get from point A to point B". Watch out for cars, razers, 4-wheelers, motorbikes, etc., as they may not be looking for you. Usually these animals are most active on Saturdays and the most pleasant weekday afternoons. I find that rainy, miserable early mornings are the best to be out and about and find solitude.
What if I want to upgrade to the paid version but I only signed up for the free version? It's going to happen, you get into the private Facebook group on May 15 and then you see all of the cool stuff people get. You will have until May 22 to fix it. You can do one of two things (a) transfer your free "ticket" into a paid ticket, or (b) cancel your free ticket and sign up for a different paid ticket.
Can I do this with a friend? Absolutely!! This is also highly recommended. Remember this is a BROCS (Bring your own common sense) event. So if you get easily lost or taste like bacon you definitely shouldn't do this alone.
Can I do this on a motorized vehicle: No. This challenge must be completed using your own power (running, hiking, walking, crawling).
For questions email trail2sparta@gmail.com or you can find me (Dan Beck) on Facebook, send me a friend request and ask for help.
I need to thank IFTR, Grit League, Idaho Falls IHike, Crossfit Amrock, Elison & Wood Orthodontics, Flip & Twist Idaho Falls, and Yoga London, for either helping with or supporting us in putting on this wild adventure!
NOTE: If you want me to mail you all of your stuff instead of you picking it up at my house or at a group run, IFTR event, etc., my wife says you'll need to venmo me $10 because that is about what it costs me.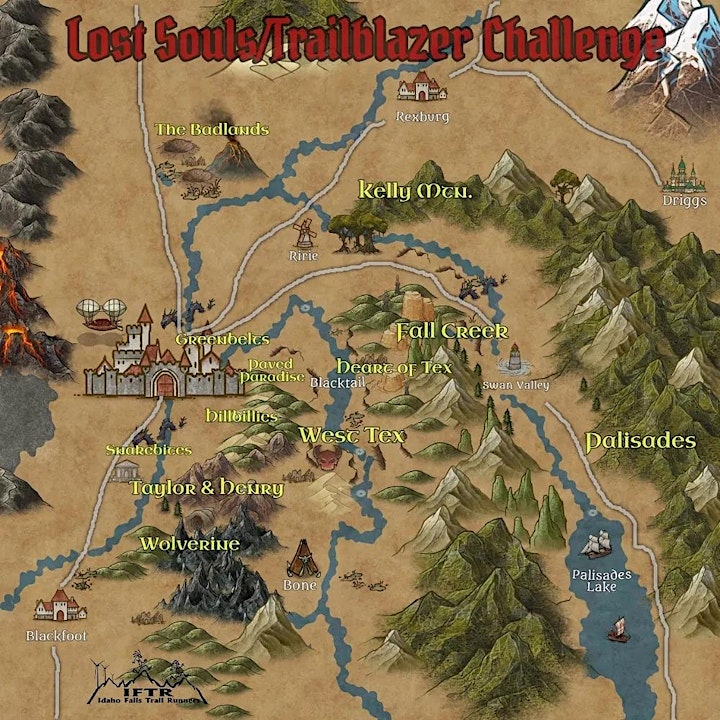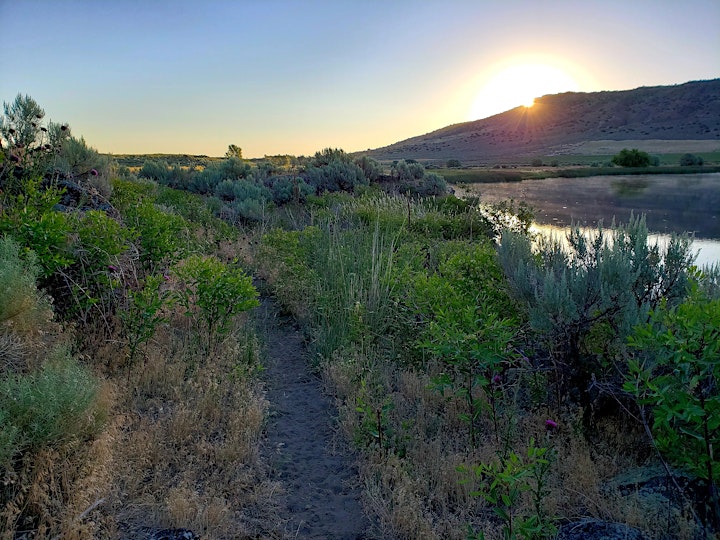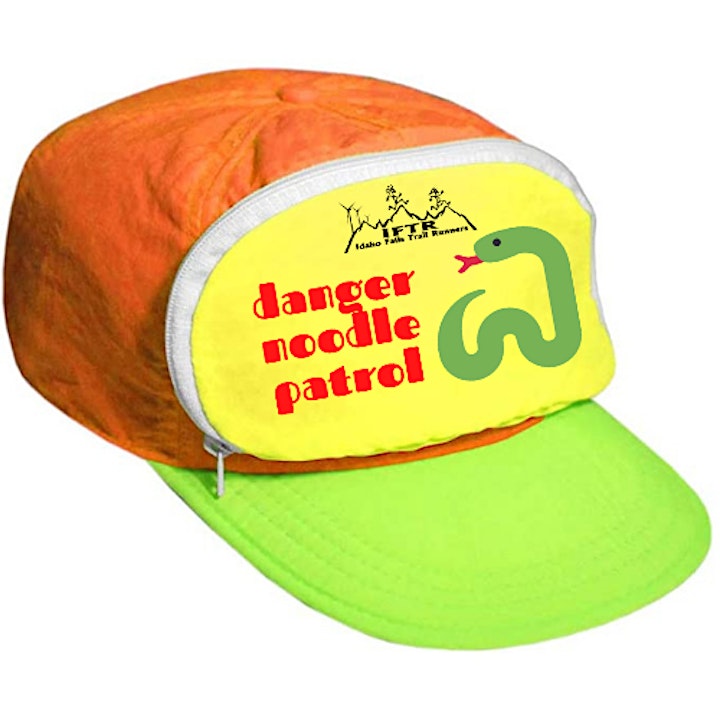 Date and time
Location
Refund policy
Refunds up to 1 day before event
Eventbrite's fee is nonrefundable.
Organizer of IFTR-Trailblazer Challenge 2021 Late Registration