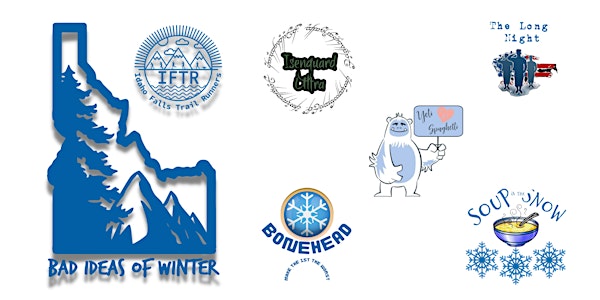 IFTR-Bad Ideas of Winter III
Winter is cold and dark. It is the breeding ground of Bad Ideas. Complete IFTR's Bad Ideas this winter to keep your fire burning!
Refund Policy
Refunds up to 1 day before event
Eventbrite's fee is nonrefundable.
About this event
This Winter (2022-2023) IFTR is bringing you 5 epically "BAD Ideas" to keep you motivated and running all winter! You can do them with us or you can do them wherever you live and while we run them, you can hike, snowshoe, cross country ski, etc., whichever one fits you.
Isenguard Ultra (December 26)
Bonehead (January 2)
Yeti Spaghetti (January 7)
The Long Night (January 20-21)
Soup in the Snow (February 4)
NOTE: All 5 events are free. Only use this registration page if you want the swag! (Long Sleeve Shirt, Metal Water Bottle, and Badges). If you don't want the swag, then look on the Idaho Falls Trail Runners Facebook Page "Events" for more details on each of the specific group runs.
Basically these are all glorified group runs that in many cases we've been doing for several years. But even if you can't physically be with us, if you are the kind of person that says "Yes!" to Bad Ideas, sign up and join us wherever you are at.
If these are free events why pay $32 to sign up?
You'll get a IFTR "Bad Ideas" Long Sleeve Shirt.
You'll get an extremely cool IFTR Metal Water Bottle.
You'll get an Event Badge for each event, whether you do them with the group or on your own.
You help support us to keep putting on these crazy events for free for the general public and introduce more people to our bad ideas!
You must sign up by December 9, 2022 to get a shirt!
REFUNDS: Refunds will be allowed until December 10 other than the Eventbrite fee (included in the price) which is non-refundable. After December 10, there are no refunds.
DETAILS ABOUT EACH EVENT
Isenguard Ultra
In December, 2019, IFTR's "Fellowship of the Dreadmill" completed the first full Isenguard Ultra by running or walking on Treadmills for 21 hours while watching the entire Hobbit and Lord of the Rings Trilogies. It was the Movie Ultramarathon to Rule Them All!!! With smoking treadmills, heat rashes, and the mind-numbing effect of the treadmill, this was truly a Bad Idea! In 2020 we watched 2 cheesy LOTR-ish movies and did a 4 hour event. In 2021, we watched the 3 Extended Edition LOTR movies for a 12 hour event. This year we will watch the 8 new "Rings of Power" (LOTR related) episodes for a 10ish hour event.
With Us: On December 26 from 2pm-12pm we will be meeting at CrossFit Amrock to watch all 8 episodes of "The Rings of Power". The goal is to get a 31 miles (an ultra). You can do this on a treadmill (bring your own), or you can use one of many "mile substitute" options if you don't want to haul a treadmill to Amrock. Choices include: Assault Bike, Box Steps, Burpees, Row Machine, and more. You can also mix and match if you want with the goal to get at least 31 miles (or the equivalent) in the time provided. Everyone who shows up will get an Isenguard Ultra Badge!
On Your Own: On a treadmill or loop indoors while watching a movie. Your movie must be at least 90 minutes long. This challenge must be completed sometime during Christmas Break.
Bonehead
For several years IFTR has done a big group run on New Years Day. Often that group run starts near Hawk's Landing and Heads up Sunnyside Road and then to various bad idea "trails" generally in the direction of Bone. It's always cold. We are always tired from staying up late. Usually there is snow and sometimes the drifts have been several feet deep. It's no wonder that our friends and family have considered this to be a Bad Idea!
With Us: Meet at Hawks Landing at 8:00 AM on January 2 (since the New Years Holiday is being celebrated on the 2nd we'll use that day as well. We will head to Bone. There will be various distances available from 1 mile up to a 50k. Weather will play a factor in which route, the distance, and whether we have simple aid stations. But regardless of the weather we will be heading toward Bone that day.
On your Own: Find a route that heads towards Bone (if you are in Calgary, head south, if you are in Virignia head West, etc.), you will need to run at least 1 mile for every degree above freezing where you are at and then run 1 more mile! (So if it is 45 degrees where you are running, you will need to run 14 miles total (45-32=13 miles to adjust temp+1 mile extra). If it is 82 degrees, you will need to run 51 miles (82-32=50 miles to adjust temp+1 mile extra). You can do this any day from January 1-January 8. At a minimum you must go at least 10k!
Yeti Spaghetti
For several years IFTR members have travelled to Island Park or Soda Springs for the Yeti Spaghetti a great fun group run through deep, deep snow.
With Us: We will be meeting up in Soda Springs on January 7 and will likely be in deep snow, afterward those that want can stop at Lava Hot Springs to warm up, further details coming soon and will be in our Facebook group.
It is free to register, but registering helps us know how much food to have and to plan. You can register here: https://ultrasignup.com/register.aspx?did=98831
On Your Own: You will need to go at least 10k in either snow or sand sometime between January 9 and January 15 (You do get bonus points for using snowshoes or cross-country skis in sand)
The Long Night
In Mid-January IFTR runs through the night as a fundraiser for a local non-profit, Coming Home, Inc. Coming Home, Inc., among other things provides activities and support for veterans and their families and makes sure that no veteran or spouse of a veteran in our area feels alone. This entity was started after a local veteran gave into PTSD and committed suicide. To honor our veterans and remind those suffering from depression, PTSD, or other issues we run all night with the goal being that no-one runs alone.
With Us: On January 20 at 8pm we begin at Freeman Park. This run is a "Backyard Ultra" style event, where you run 4.167 miles each hour on the hour. We continue for 12 hours through the night for a total of 50 miles. The last two years at least 4 people have made it all night long, however, most come for 1-2 hours throughout the night to run 4.167 or 8.3 miles and make sure that no one runs alone all night. So far no one has had to run alone. It is often bitterly cold, dark, but never lonely. Donations to Coming Home, Incorporated are suggested but not required. A Facebook donation page will be created in December.
On Your Own: Go at least 10k in the dark sometime between January 16 and January 23.
Soup in the Snow
For the past several years large groups of friends have met together to run the Palisades Trail (one of our favorite local trails) and then have soup afterward.
With Us: Will be on February 4 at the Palisades Trailhead. It is free to register, but registering helps us plan food, etc. You can register here: https://ultrasignup.com/register.aspx?did=98832
On Your Own: You must go at least 10k with at least 3 friends and share a meal after sometime between January 24 and February 4.
FAQ:
How do I get my stuff?
We will have some pick up times before the event, you can pick up your stuff at any of the events, or I can mail them to you (you'll need to venmo me the additional cost of shipping)
Can I do some events with the group and some on my own?
Definitely.
What if I have a friend that wants to do them, but didn't sign up?
These are all free events. Bring them! You signing up helps support us in putting on these great events for the community, but we want them to always be free events open to anyone. Anyone that shows up to one of the event will be allowed to participate and will get the badge for that event! We will create separate Facebook events in the Idaho Falls Trail Runner's page. Make sure that you join that because that is where more specific details for each event will be posted.
Is there a finisher award? How is this tracked?
By sticking your "badges" on the metal water bottle, it becomes your finisher trophy. For the most part it is on the honor system. For signing up, you'll get the Long Sleeve Shirt, Metal Water Bottle and the Badges. Feel free to post pics, stories, etc. in the Idaho Falls Trail Runner's group to memorialize your willingness to take on bad ideas!
What does the T-Shirt Look Like?
See picture below
Can I get just the water bottle and badges?
Yes. If you want to do that, then just send me an email at trail2sparta@gmail.com to let me know and venmo $10 to "trail2sparta".