Olympic-level climbing is coming to Salt Lake City!
About this event
Salt Lake City is hosting back-to-back IFSC World Cups for Bouldering and Speed / Bouldering on May 21-22 and May 28-30, respectively, in a purpose-built outdoor venue at INDUSTRY SLC.
Join us to cheer for the US Olympic Climbing Team - Nathaniel Coleman, Kyra Condie, Colin Duffy and Brooke Raboutou - and many of the world's best competition climbers. US climbing fans will not be allowed to visit Japan this summer so this is the only chance to see the world's best climbers compete live at the highest level in the US.
Please keep reading for more information on schedule, capacity, COVID protocols, parking, admission details, fan experience, athletes and hotel block.
Schedule: Please see the schedule information below. Admission and event start times are subject to change.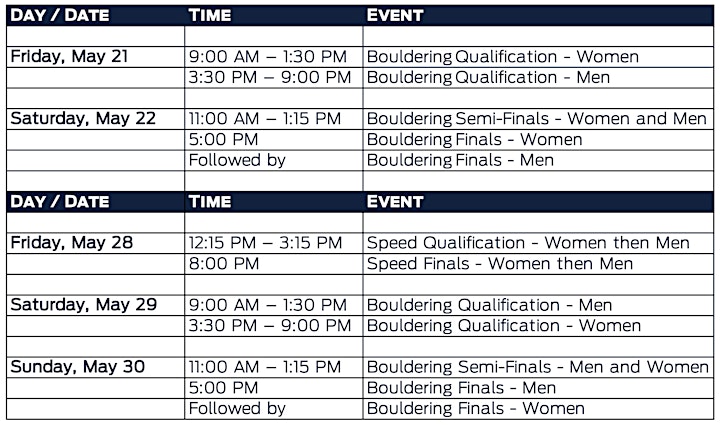 Capacity and COVID: The ticketed venue will have a daily capacity of 3,000. Effective face masks will be required at all times and social distancing guidelines will be dependent on current local status in the Utah Health Guidance Levels and any additional measures put in place by the event organizer. Fans will be able to remove masks while enjoying food and beverages on site.
Parking: There will be no public parking available at the venue and street parking in the area is limited. With up to 3,000 spectators expected on each competition day, we strongly encourage fans to use the SLC public transportation system including nearby TRAX light rail, or arrive via bicycle or Uber / Lyft ride-share services.
Admission Details: All tickets will be General Admission. A limited number of seats will be available on a first come, first serve basis. Otherwise the venue will be festival style. ADA areas will be available. No outside food or beverages will be allowed. More detail regarding permissible items will be posted closer to the event.
Fan Experience: Ticketed spectators will be able to leave and return to the venue to enjoy food and beverages from some of SLC best food trucks and have fun with climbing sponsor fan areas. Between sessions on Saturday May 22, Friday May 28 and Sunday May 30, fans can enjoy the area food and beverage options as the venue is within walking distance of great restaurants and breweries.
Athletes: As noted above, we should see the US Olympic Climbing Team, members of the US National Bouldering and Speed Teams as well as expected strong international attendance. To see who has registered, please go here for May 21-22 and here for May 28-30. Please know this list is evolving and will be updated, so please check back as the events get closer.
Hotel Block: Group Housing has great hotel rates available with many within walking distance of the venue. Please follow the links below to reserve your room:
If you have questions, please email info@usaclimbing.org or contact us via Eventbrite.
We hope to see you in Salt Lake City!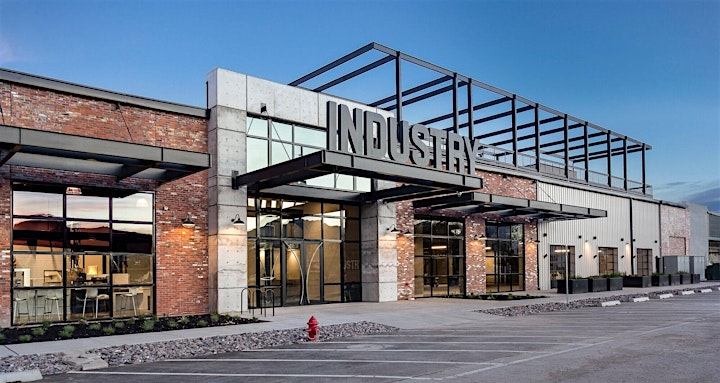 A force of possibility for Salt Lake City, INDUSTRY SLC will utilize purposeful placemaking to continue in reigniting the Granary District neighborhood. Originally built in 1943, the space was once a foundry and cast the columns for the CW Silver Company, one of Salt Lake City's oldest manufacturers. INDUSTRY SLC is now open with a nod to the past and welcome back for all. Learn more here.