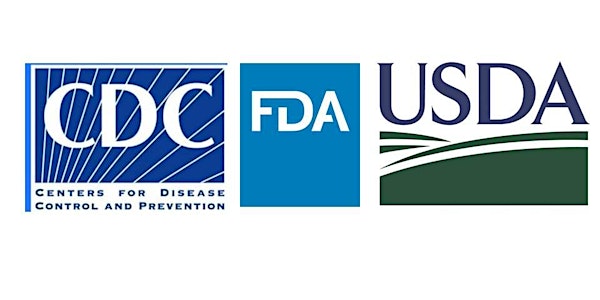 IFSAC Webinar: Foodborne illness source attribution estimates for 2013 for Salmonella, E. coli O157, Listeria monocytogenes, and Campylobacter
By The Interagency Food Safety Analytics Collaboration (IFSAC)
Date and time
Friday, December 15, 2017 · 12 - 1pm EST
Description
The Interagency Food Safety Analytics Collaboration (IFSAC)
Foodborne illness source attribution estimates for 2013 for Salmonella, Escherichia coli O157, Listeria monocytogenes, and Campylobacter

Friday, December 15, 2017
12:00 - 1:00 p.m. Eastern Time
Webinar via Adobe Connect
The Interagency Food Safety Analytics Collaboration (IFSAC) invites you to participate in a webinar on Friday, December 15, 2017 from 12:00 to 1:00 p.m. Eastern Time. The one-hour webinar will discuss foodborne illness source attribution estimates for 2013 for Salmonella, Escherichia coli O157, Listeria monocytogenes, and Campylobacter using multi-year outbreak surveillance data, and offer a question-and-answer session.
The webinar is open to the public, but space is limited. IFSAC requests all participants to register by Wednesday, December 13, 2017 to reserve a spot. Registered participants will receive a confirmation email with the webinar agenda and detailed instructions for accessing the webinar. A recording and transcript will be posted to IFSAC's events page at a later time.
About the organizer
IFSAC is a federal tri-agency collaboration among the Centers for Disease Control and Prevention (CDC), USDA's Food Safety and Inspection Service (FSIS), and the U.S. Food and Drug Administration (FDA). The goal of this collaboration is to improve coordination of federal food safety analytic efforts and address cross-cutting priorities for food safety data collection, analysis, and use. Projects and studies aim to identify foods that are important sources of illnesses.
For more information on IFSAC, please visit the collaboration's website.