Description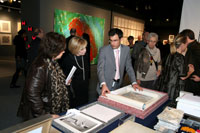 IFPDA Print Fair Opening Night Preview
Wednesday, November 6, 6:30 pm
This lively party celebrates the opening of the annual IFPDA Print Fair and is attended by top art collectors, gallerists, museum curators, artists, and art world glitterati. Ticket-holders will enjoy the opportunity to view the Fair's rare and important works as well as its many affordable offerings before the Fair opens to the public on Thursday. Proceeds from ticket sales
will benefit the IFPDA Foundation, a 501(c)3 charitable organization which supports exhibitions and education focused on the artistic medium
of printmaking.
Tickets are $75 and include one re-entry to the Fair during public hours. The fair market value of this ticket is $35; contributions in excess of this amount are tax deductible to the extent allowable by law. Tickets are non-refundable.
Organizer of IFPDA Print Fair 2013: Opening Night Preview
The Foundation is a 501(c)3 charitable organization established by the IFPDA | International Fine Print Dealers Association in 2009 to inspire and fund educational projects aimed at fostering connoisseurship in the field of fine prints for a new generation of collectors, curators, and specialists.