| | |
| --- | --- |
| IFP Screen Forward Presents: SOMETHING, ANYTHING | |
Event Details
 IFP's Screen Forward Presents
Screenings and Special Events for 
SOMETHING, ANYTHING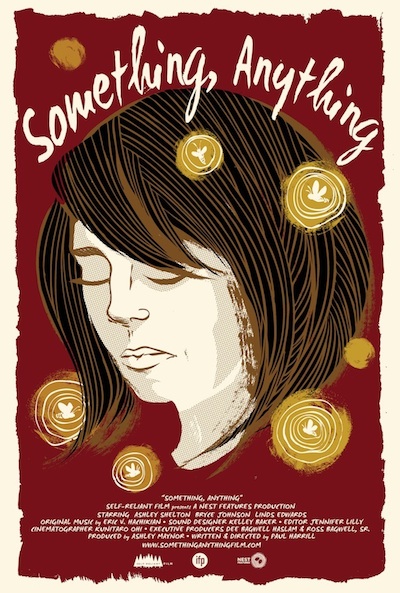 Theatrical Premiere - January 9th - 15th
Made in NY Media Center by IFP - DUMBO, Brooklyn
 
In this low-key jewel of a movie, newcomer Ashley Shelton delivers a breakthrough performance as Peggy, a seemingly typical Southern newlywed on the path to a perfect career, home, and family. But when a tragedy shatters her domestic bliss, Peggy spins away from her husband and career and gradually transforms into a spiritual seeker, quietly threatening the closest relationships around her. With his debut feature, writer/director Paul Harrill reveals a unique directorial sensibility and and delivers a refreshing story of human transformation.   
World Premiere - 2014 Sarasota Film Festival, Wisconsin Film Festival
Official Selection - BAMCinemaFest, Edinburgh International Film Festival
"[Something, Anything] is an impressive accomplishment, and one particularly remarkable for the deftness of its touch with which it addresses such profound issues as religion, identity, and personal fulfillment." - TV Bomb
"Paul Harrill's writing and directing is sensitive in the best way possible, highlighting small details of behavior sharply but unfussily. And [Ashley] Shelton's performance has a steady intensity that gives off a soft but beautiful light throughout. - Some Came Running

Watch the Something, Anything trailer
 
(*Please Note: All Tickets Must Be Purchased Online*)
Friday, January 9th
7:30pm
Followed by a Q&A with writer/director Paul Harrill, producer Ashley Maynor, lead actress Ashley Shelton, cinematographer Kunitaro Ohi, and composer Eric V. Hachikian. Moderated by fellow filmmaker, and former IFP Filmmaker Labs fellow, Daniel Carbone (Hide Your Smiling Faces)  
 
SATURDAY, January 10th
2pm, 4:30pm
After the 4:30pm screening, we'll have a Producers' Roundtable with Indie Producers such as Ashley Maynor (Something, Anything), Summer Shelton (Little Accidents), Lucas Joaquin (Love is Strange), and Tory Lenosky (Keep the Lights On). Also: Something, Anything poster giveaway!


 SUNDAY, January 11th
2pm
Followed by a conversation on Contemplative & Spiritual Cinema, with writer/director Paul Harrill and fellow filmmakers Caveh Zahedi (The Sheik & I), Dan Sallitt (The Unspeakable Act), and more! Also: Sample bourbon fudge made by the Trappist monks of the Abbey of Gethsemani, who are seen in the film.

 MONDAY, January 12th
3pm 

Followed by a conversation between cinematographers Kunitaro Ohi and Daryl Pittman (White Reindeer). They'll take your questions, and discuss the secrets of microbudget cinematography, working regionally, the films of Douglas Sirk, and more!
 TUESDAY, January 13th
7:30pm

Followed by a post-screening Q+A with writer/director Paul Harrill, producer Ashley Maynor, lead actress Ashley Shelton. Moderated by film critic Alissa Wilkinson (Christianity Today).
 WEDNESDAY, January 14th
7:30pm
Tennessee Film Night! Stick around to talk film with writer/director Paul Harrill, producer Ashley Maynor and fellow makers of movies set in the Volunteer State -- Tim Sutton (Memphis) and John Henry Summerour (Sahkanaga).



 THURSDAY, January 15th
9pm
When & Where

Made in NY Media Center by IFP
30 John Street
Brooklyn, NY 11201


Organizer
The Independent Filmmaker Project (IFP) champions the future of storytelling by connecting artists with essential resources at all stages of development and distribution. IFP fosters a vibrant and sustainable independent storytelling community, represents a growing network of 10,000 storytellers around the world, and plays a key role in developing 350 new feature and documentary works each year. During its 35-year history, IFP has supported over 8,000 projects and offered resources to more than 20,000 filmmakers, including Debra Granik, Miranda July, Michael Moore, Dee Rees, and Benh Zeitlin.