IFP Presents "WUSS"

Multiple Dates
Event Details
IFP Presents
"WUSS" 
May 3rd - 9th

A Film by Clay Liford

 Wuss is the story of a high school teacher who faces constant ridicule after he's repeatedly
beaten up by several of his own students. Having nowhere else to turn, he eventually teams up
with another of his students to fight back. This student, a young girl, is feared school-wide
because of a dark family reputation. She also has an unfortunate nickname grafted to her due to
her predilection for smoking discarded cigarettes. Bonded in battle, the student and teacher
form a friendship that stretches the use of the word inappropriate.

Starring Nate Rubin (Blood on the Highway, My Mom Smokes Weed), featuring Tony Hale (TV's "Arrested Development") and directed by Clay Liford (Earthling, My Mom Smokes Weed). The film is a dark comedy that almost plays as a horror film, albeit one where nobody dies (except a little on the inside). Says Liford, "In most comedies, when characters do harebrained schemes they're never held accountable for them. I hold them accountable."
FRIDAY, MAY 3rd
Doors: 6:45PM / Screening: 7:30pm
Opening Night!
Q&A with director Clay Liford and star Alex Karpovsky.
Opening Short Film: 92' Skybox Alonzo Mourning Rookie Card
 Presenting Partner: FilmBuff 
&
Doors: 9:30pm / Screening 9:45pm
SATURDAY, MAY 4th
"Wake up, DUMBO!"
Doors / Screening: 7am
(Tickets Must Be Purchased Online)
SUNDAY, MAY 5th
Doors: 1pm / Screening: 2pm
MONDAY, MAY 6th
Doors: 6:45pm / Screening: 7:30pm
Stand Up Comedy Night
Presenting Partner: Film Wax
Short film: Social Butterfly
Carlen Altman to perform pre-show stand up set and host
Q&A with Clay Liford and star Nate Rubin.
&
Doors: 9:30pm / Screening: 9:45pm
TUESDAY. MAY 7th
Doors: 6:45pm / Screening: 7:30pm
Zach Clark Trivia Night!
short film OLD MAN by Leah Shore
Co-presented by Maryland FF
Zach will ask trivia questions related to the various indie film world connections contained in the film (think 6 Degrees of Separation).
Clay will buy shots to all trivia winners.
Q&A hosted by Zach Clark
&
Doors: 9:30pm / Screening: 9:45pm

WEDNESDAY, MAY 8th
Doors: 6:45pm / Screening: 7:30pm 
Teacher's Night/"Take Back The Schools"
Hosted by Madeline Olneck and Laura Terruso
short film: Bum Future by Laura Terruso
Presented by Film Wax
Teachers with some form of teaching certificate (or proof) get a free drink on Clay, as an appreciation for their contributions to society.
&
Doors: 9:30pm / Screening: 9:45pm

THURSDAY, MAY 9th
Doors: 6:45pm / Screening 7:30pm
Hosted by Jonny Lisecki
Co-presented by Hammer to Nail
Short Film: Gayby
&
Doors: 9:30pm / Screening: 9:45pm 
(All Screenings 21+)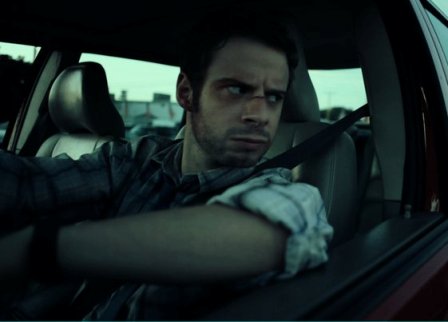 Trailer: http://vimeo.com/20629755
Organizer
reRun@reBar - email events@rebarnyc.com
(March 2011) ENTERTAINMENT WEEKLY called reRun one of 8 nationwide theaters "redefining the moviegoing experience."
(April 2011) EVERY DAY WITH RACHAEL RAY praised reRun's gourmet popcorn as one of 4 nationwide theaters "giving their classic snack an upgrade."
(October 2011) TIME OUT NEW YORK singled out reRun as a "DIY trailblazer," saying they "love reRun's laid-back vibe" and "friendly staff."
(December 2011) TRAVEL AND LEISURE hailed reRun, among 9 others, as one of "The World's Coolest Movie Theaters."
(February 2012) VARIETY says reRun "raises bar for indies" and is "among the only theaters in the U.S. that provides newfound theatrical and ancillary opportunities to films without a [distributor]."
reRun is reBar's independent cinema, located just down the hall from the restaurant. Featuring 48 reclaimed car seats, full bar, gourmet snack counter, and a 12-foot screen, reRun offers just the kind of intimate art-house theater experience you'd expect from the creators of the funky gastropub reBar.
reRun provides a large theater AV experience. An all-digital 1080p HD projector, coupled with a monstrous JBL 7.1 surround pro-audio sound system make the movies projected on the twelve foot screen come alive in a sparkling show. The bar features two rotating draft taps, a broad selection of bottled craft beers, a selection of sustainable, organic, and biodynamically farmed wines, a full liquor cabinet for your imbibing pleasure, and traditional and creative snacks created by reBar's Executive Chef Jeremy Leech.
During off-hours reRun is available for private rental. Children's birthdays, corporate off-site meetings, and private get-togethers are all possible in the theater. Call the reBar and reRun Special Events Department at (718) 797.3025 for private bookings. Catering available for your parties through reBar.