IFP Presents "MY BEST DAY"

Multiple Dates
Event Details
IFP Presents
"MY BEST DAY"
SCREENING:
June 14th - June 20th
Karen can't believe that she has to work her receptionist gig on a gorgeous Fourth of July. Then a call comes from her long-lost father. Enlisting her janitor friend Meagan to help, Karen investigates her father's trailer park home. She stumbles across a half-sister addicted to betting, a half- brother tortured by grade school bullies, a sketchy but charming buddy "just sleeping on the couch" and a potential lover in jail. Meanwhile, Meagan must decide between the stability of her longtime girlfriend and the thrill of a new love. With a small town like this, Karen's own journey sets in motion a crazy chain of events that will change not just her but this one small town forever. 
FRIDAY June 14th: 
Doors: 6:45pm / Screening: 7:30pm
Pre-show: Script reading from an excerpt of Erin Greenwell's "Somewhere Along the Way", a screenplay in development about the butch/femme lesbian bar scene screenplay in development 
&
Doors: 9:30pm / Screening: 9:45pm
SATURDAY June 15th:
Doors: 1pm / Screening: 2pm
Pre-show: Video excerpt of Terry Dame's musical interpreation of "Love Letter". Performend on her original instrument "horn of plenty sounds", live heartbeat and saxophone.
A trailer for the upcoming Greg Louganis documentary, "Back on Board" (2014)
SUNDAY June 16th:
Doors: 1pm / Screening: 2pm
Director Kanako Pooknyw's short film, "Focus Woman"
MONDAY, June 17th
Doors: 6:45pm / Screening: 7:30pm
Pre-show: The amazing power trio The Chopstick Flytraps performing songs from "Yes, Sensei"- A Historically Accurate Rock Re-Telling Inspired by the 1st Karate Kid movie
&
Doors: 9:30pm / Screening: 9:45pm 
TUESDAY June 18th:
Doors: 6:45pm / Screening: 7:30pm
Pre-show: Jazz violinist Zach Brock will perform a featured selection of Terry Dame's score from "My Best Day"
&
Doors: 9:30pm / Screening: 9:45pm
WEDNESDAY, June 19th
Doors: 6:45pm / Screening: 7:30pm
Pre-show: Script Reading from Erin Harper's "East of Denver" a dark comedy adapted from the novel by Gregory Hill.
&
Doors: 9:30pm / Screening: 9:45pm
 THURSDAY June 20th: 
Doors: 6:45pm / Screening: 7:30pm
Pre-show: Composer Terry Dame will perform live on her original instruments used in the score for My Best Day with special guest percussionist, Lee Free. 
&
Doors: 9:30pm  / Screening: 9:45pm
(All Screenings 21+)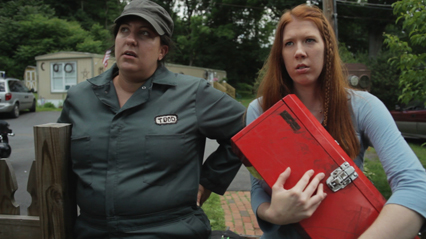 Organizer
reRun@reBar - email events@rebarnyc.com
(March 2011) ENTERTAINMENT WEEKLY called reRun one of 8 nationwide theaters "redefining the moviegoing experience."
(April 2011) EVERY DAY WITH RACHAEL RAY praised reRun's gourmet popcorn as one of 4 nationwide theaters "giving their classic snack an upgrade."
(October 2011) TIME OUT NEW YORK singled out reRun as a "DIY trailblazer," saying they "love reRun's laid-back vibe" and "friendly staff."
(December 2011) TRAVEL AND LEISURE hailed reRun, among 9 others, as one of "The World's Coolest Movie Theaters."
(February 2012) VARIETY says reRun "raises bar for indies" and is "among the only theaters in the U.S. that provides newfound theatrical and ancillary opportunities to films without a [distributor]."
reRun is reBar's independent cinema, located just down the hall from the restaurant. Featuring 48 reclaimed car seats, full bar, gourmet snack counter, and a 12-foot screen, reRun offers just the kind of intimate art-house theater experience you'd expect from the creators of the funky gastropub reBar.
reRun provides a large theater AV experience. An all-digital 1080p HD projector, coupled with a monstrous JBL 7.1 surround pro-audio sound system make the movies projected on the twelve foot screen come alive in a sparkling show. The bar features two rotating draft taps, a broad selection of bottled craft beers, a selection of sustainable, organic, and biodynamically farmed wines, a full liquor cabinet for your imbibing pleasure, and traditional and creative snacks created by reBar's Executive Chef Jeremy Leech.
During off-hours reRun is available for private rental. Children's birthdays, corporate off-site meetings, and private get-togethers are all possible in the theater. Call the reBar and reRun Special Events Department at (718) 797.3025 for private bookings. Catering available for your parties through reBar.
IFP Presents "MY BEST DAY"