Description
IFP Presents,
"La Camioneta"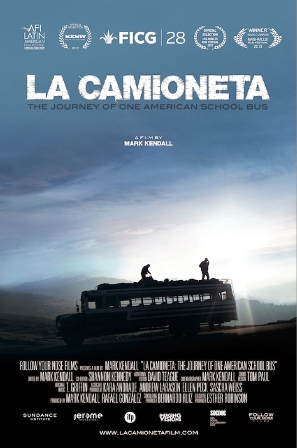 Every day dozens of decommissioned school buses leave the United States on a southward migration that carries them to Guatemala, where they are repaired, repainted, and resurrected as the brightly-colored camionetas that bring the vast majority of Guatemalans to work each day. Since 2006, nearly 1,000 camioneta drivers and fare-collectors have been murdered for either refusing or being unable to pay the extortion money demanded by local Guatemalan gangs. LA CAMIONETA follows one such bus on its transformative journey: a journey between North and South, between life and death, and through an unfolding collection of moments, people, and places that serve to quietly remind us of the interconnected worlds in which we live.
"The film wrings an almost bizarre amount of political, humanistic and spiritual substance out of this limited frame. Kendall's eye for untold stories, as well as his instinct for catching evocatively framed images on the fly, mark him as a name to watch." — Variety
"Unexpected and fascinating."—The Hollywood Reporter
"An experience that is deeply poetic."—Living in Cinema
SCREENING:
May 31st - June 6th, 2013
FRIDAY May 31st:
Doors: 6:45pm / Screening: 7:30pm
&
Doors: 9:30pm / Screening: 9:45pm
SATURDAY June 1st:
Doors: 1pm / Screening: 2pm
SUNDAY June 2nd:
Doors: 1pm / Screening: 2pm
MONDAY JUNE 3rd:
Doors: 6:45pm / Screening: 7:30pm
&
Doors: 9:30pm / Screening: 9:45pm
TUESDAY June 4th:
Co-Presented by MFA Social Documentary Film at the School of Visual Arts
Doors: 6:45pm / Screening: 7:30pm
&
Doors: 9:30pm / Screening: 9:45pm
WEDNESDAY JUNE 5th
Co-Presented by the Indie Film Clinic
Doors: 6:45pm / Screening: 7:30pm
&
Doors: 9:30pm / Screening 9:45pm
THURSDAY JUNE 6th:
Co-Presented by the Office of Pupil Transportation, New York City Department of Education
Doors: 6:45pm / Screening: 7:30pm
&
Doors: 9:30pm / Screening: 9:45pm
(All Screenings 21+ unless noted otherwise)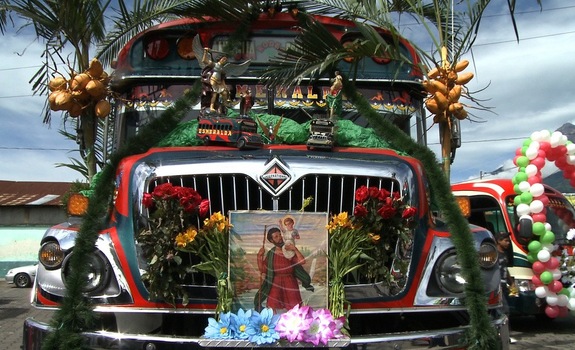 LA CAMIONETA, Mark Kendall's feature directorial debut, was funded in part by the Sundance Institute and was one of several documentaries selected for the first annual "Emerging Visions" program at the 2011 New York Film Festival. The film premiered at SXSW and has screened to sold out crowds at the Los Angeles Film Festival, the AFI Latin American Film Festival, and the Festival Internacional de Cine en Guadalajara, among others. It was selected as a "Critic's Pick" at Cinequest, has been called "an experience that is deeply poetic", "irresistable", and "an astonishing success," and has received press from the BBC, Wall Street Journal, NPR, and the Huffington Post. Winner of the 2012 David L. Wolper Award from the International Documentary Association, this lyrical and carefully-constructed film earned Kendall a spot as "a name to watch" in Variety.
Trailer: http://vimeo.com/36262677

Organizer of IFP Presents: "LA CAMIONETA"
(March 2011) ENTERTAINMENT WEEKLY called reRun one of 8 nationwide theaters "redefining the moviegoing experience."
(April 2011) EVERY DAY WITH RACHAEL RAY praised reRun's gourmet popcorn as one of 4 nationwide theaters "giving their classic snack an upgrade."
(October 2011) TIME OUT NEW YORK singled out reRun as a "DIY trailblazer," saying they "love reRun's laid-back vibe" and "friendly staff."
(December 2011) TRAVEL AND LEISURE hailed reRun, among 9 others, as one of "The World's Coolest Movie Theaters."
(February 2012) VARIETY says reRun "raises bar for indies" and is "among the only theaters in the U.S. that provides newfound theatrical and ancillary opportunities to films without a [distributor]."
reRun is reBar's independent cinema, located just down the hall from the restaurant. Featuring 48 reclaimed car seats, full bar, gourmet snack counter, and a 12-foot screen, reRun offers just the kind of intimate art-house theater experience you'd expect from the creators of the funky gastropub reBar.
reRun provides a large theater AV experience. An all-digital 1080p HD projector, coupled with a monstrous JBL 7.1 surround pro-audio sound system make the movies projected on the twelve foot screen come alive in a sparkling show. The bar features two rotating draft taps, a broad selection of bottled craft beers, a selection of sustainable, organic, and biodynamically farmed wines, a full liquor cabinet for your imbibing pleasure, and traditional and creative snacks created by reBar's Executive Chef Jeremy Leech.
During off-hours reRun is available for private rental. Children's birthdays, corporate off-site meetings, and private get-togethers are all possible in the theater. Call the reBar and reRun Special Events Department at (718) 797.3025 for private bookings. Catering available for your parties through reBar.