Event Information
Location
reRun Theater
147 Front St
Brooklyn, NY 11201
Description
IFP & reRun Theater

Present,
"GUT RENOVATION"
April 19th - 25th
Written, Photographed, & Edited by Su Friedrich
A documentary of small changes evolves into an historical record of New York. The resulting film is an essayistic requiem for a neighborhood and an entire way of life; it also provides a case study of the rapid gentrification of our cities.
In 1989, together with a group of female friends, Su Friedrich rented and renovated an old loft in Williamsburg, an unassuming working-class district of Brooklyn. In 2005 this former industrial zone was designated a residential area and the factories, manufacturers and artists' lofts were priced out by property speculators lured by tax breaks. Friedrich spent five years documenting with her camera the changes in the area between East River and the Brooklyn-Queens Expressway. She shows the demolition of industrial buildings and the construction of trendy new apartments for wealthy clients, watching old tenants leave and new inhabitants arrive. As she keeps meticulous record of developments, the extent and speed of the upheaval becomes clear. Her own tenancy agreement expires too and so her documentary images and trenchant commentary become the tools of her growing anger.
"[A] sarcastic documentary polemic about the gentrification of a Brooklyn neighborhood…Ms. Friedrich is fighting mad. She is a provocateur."–Stephen Holden, The New York Times
In March, the New York Times covered the film with an extensive article and a video tour with director Su Friedrich. Read/watch it here.
"Su Friedrich…has made the most salient and personal film about Brooklyn's ever-changing face since Hal Ashby's 'The Landlord' appeared in theaters some 43 years ago." -Brandon Harris, Filmmaker Magazine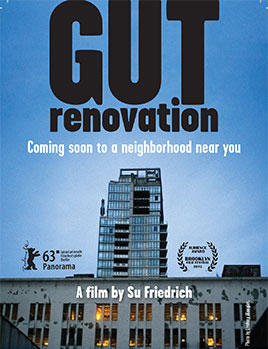 Q&A's At Select Screenings!
FRIDAY, APRIL 19th
Doors: 6:45pm / Screening: 7:30pm
Q&A with director Su Friedrich and Lincoln Restler
Lincoln Restler is a Brooklyn born activist who has been at the forefront of reforming Brooklyn politics. He served as Democratic District Leader for the 50th Assembly District, which includes Williamsburg.

&
Doors: 9:30pm / Screening: 9:45pm
SATURDAY, APRIL 20th
Doors 1pm / Screening: 2pm
SUNDAY, APRIL 21st
Doors: 1pm / Screening: 2pm
Q&A with director Su Friedrich and Isabel Hill
In the early 90's, Hill worked for NYC's Department of City Planning as the Community Planner for Greenpoint/Williamsburg and also headed a land use study for the Brooklyn waterfront. In addition, Hill has produced and directed "Made in Brooklyn" and "Brooklyn Matters."
MONDAY, APRIL 22nd
Doors: 6:45pm / Screening: 7:30pm
Q&A with director Su Friedrich!

&
Doors: 9:30pm / Screening: 9:45pm
TUESDAY, APRIL 23rd
Doors: 6:45pm / Screening: 7:30pm
&
Doors: 9:30pm / Screening: 9:45pm
WEDNESDAY, APRIL 24th
Doors: 6:45pm / Screening: 7:30pm
Q&A with director Su Friedrich & Ida Susser (Anthropologist, Professor at CUNY, and author of "Norman Street", a study of Williamsburg/Greenpoint in the 1970s and the 1990s)
&
Doors: 9:30pm / Screening: 9:45pm
THURSDAY, APRIL 25th
Doors: 6:45pm / Screening: 7:30pm
Q&A with director Su Friedrich
&
Doors: 9:30pm / Screening: 9:45pm
(All Screenings 21+)

Date and time
Location
reRun Theater
147 Front St
Brooklyn, NY 11201