Description
IFP & Lipstick Pictures
PRESENT
"FUTURE WEATHER"
SCREENING:
MARCH 1st - 7th, 2013

TWO SHOWS NIGHTLY
FRIDAY MARCH 1st:
6:30PM DOORS/7:00PM SCREENING
Special Panel - Case Study: Setting Up Your Film's Support System
How to find & utilize mentors and like-minded organizations to help get your film made.
Moderated by: Caitlin Hughes, writer for Film School Rejects
Guests: Gretchen McGown (IFP Labs Mentor, Goldcrest), Mystelle Brabee (Nantucket Film Festival), Doron Weber (Sloan Foundation Film Grants), Jenny Deller, Kristin Fairweather (Future Weather)

&
9:30PM DOORS/ 9:45PM SCREENING
* PLUS *
SATURDAY MARCH 2nd
1:00pm Doors/2:00pm Screening
Special Panel - Spotlight On The Directors Relationship with the Production Designer

Moderated by Rose Vincelli Gustine, Independent Filmmaker Project (IFP)

Guests: Gino Fortebuono, Production Designer. Jenny Deller, Director
SUNDAY MARCH 3rd
1:00pm Doors/2:00pm Screening
Special Panel - Creating a Soundtrack
Guests: Erik Friedlander, Composer. Jackie Mulhearn, Music Supervisor. Jenny Deller, Director

* PLUS *
MONDAY MARCH 4TH:
6:30PM DOORS/7:00PM SCREENING
Special Panel: So the Climate's in Crisis. You Care. Now What?
Guests: Laurel Whitney (Pace University Adjunct Assistant Professor Environmental Studies Program NYC), Dan Miner (Sierra Club NYC), Cassie Flynn (Co-Founder & Chief Partnerships Officer of In Our Back Yard), Evan O'Neil (Board Member Climate Ride), Jenny Deller, Director
&

9:30PM DOORS/ 9:45PM SCREENING
TUESDAY MARCH 5th:
6:30PM DOORS/7:00PM SCREENING
Special Panel: Spotlight on Science in Society—Bringing Science to the People!
Guests: Flora Lichtman (NPR's Science Friday), Liz Slagus (New York Hall of Science), Molly Webster (WNYC's "Radiolab") & Jenny Deller, Director
&

9:30PM DOORS/ 9:45PM SCREENING
WEDNESDAY MARCH 6th:
6:30PM DOORS/7:00PM SCREENING
Special Panel: Melissa Silverstein on Barriers and Opportunities for Women in Independent Film
Melissa Silverstein (Indiewire's Women and Hollywood & Artistic Director and co-founder of Athena Film Festival), Jenny Deller, Director
&
9:30PM DOORS/ 9:45PM SCREENING
THURSDAY MARCH 7th:
6:30PM DOORS/7:00PM SCREENING
Celebrating NYC's Vibrant Science Community
Special Guests: Jeanne Garbarino (Director of Science Outreach, Rockefeller University, SciStarter), John Timmer (Science Editor, Ars Technica, SciStarter). Jenny Deller, Director
&

9:30PM DOORS/ 9:45PM SCREENING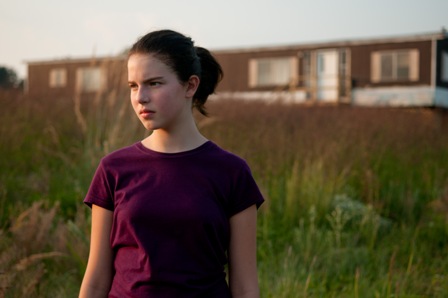 Lauduree (Perla Haney-Jardine) is a 13-year-old loner, passionate about nature and obsessed with ecological disaster. Greta (Amy Madigan), her grandmother, is a fiery nurse jaded by alcohol and disappointment. When Lauduree is abruptly abandoned by her dreamer single mom (Marin Ireland), she decides to take survival into her own hands, forcing her and Greta to rethink their futures. Featuring humorous, sharply drawn characters and powerful performances by Amy Madigan (Field of Dreams, Gone Baby Gone), Lili Taylor (Say Anything, Six Feet Under), and breakout star Perla Haney-Jardine (Kill Bill Vol. 2, Spider-Man 3), Future Weather is about finding the courage to survive change.
Future Weather premiered at the 2012 Tribeca Film Fest and has since played the Seattle International Film Festival, Little Rock, Nantucket, Philadelphia and others. It won the Sloan Feature Film Award at this year's Hamptons Film Festival. It also received the jury prize for Best U.S. Narrative Feature from Napa Valley Film Festival and the Crystal Heart Award from the Heartland Film Festival. The script for Future Weather received the Showtime Tony Cox Award for Screenwriting, an honor shared with Sophie Barthes and Debra Granik. Future Weather is the recipient of three grants from the Alfred P. Sloan Foundation, whose mission is to support films that broaden our understanding of science and technology.
futureweathermovie.com
Organizer of IFP Presents "Future Weather"
(March 2011) ENTERTAINMENT WEEKLY called reRun one of 8 nationwide theaters "redefining the moviegoing experience."
(April 2011) EVERY DAY WITH RACHAEL RAY praised reRun's gourmet popcorn as one of 4 nationwide theaters "giving their classic snack an upgrade."
(October 2011) TIME OUT NEW YORK singled out reRun as a "DIY trailblazer," saying they "love reRun's laid-back vibe" and "friendly staff."
(December 2011) TRAVEL AND LEISURE hailed reRun, among 9 others, as one of "The World's Coolest Movie Theaters."
(February 2012) VARIETY says reRun "raises bar for indies" and is "among the only theaters in the U.S. that provides newfound theatrical and ancillary opportunities to films without a [distributor]."
reRun is reBar's independent cinema, located just down the hall from the restaurant. Featuring 48 reclaimed car seats, full bar, gourmet snack counter, and a 12-foot screen, reRun offers just the kind of intimate art-house theater experience you'd expect from the creators of the funky gastropub reBar.
reRun provides a large theater AV experience. An all-digital 1080p HD projector, coupled with a monstrous JBL 7.1 surround pro-audio sound system make the movies projected on the twelve foot screen come alive in a sparkling show. The bar features two rotating draft taps, a broad selection of bottled craft beers, a selection of sustainable, organic, and biodynamically farmed wines, a full liquor cabinet for your imbibing pleasure, and traditional and creative snacks created by reBar's Executive Chef Jeremy Leech.
During off-hours reRun is available for private rental. Children's birthdays, corporate off-site meetings, and private get-togethers are all possible in the theater. Call the reBar and reRun Special Events Department at (718) 797.3025 for private bookings. Catering available for your parties through reBar.