IFP Presents "Aqui Y Alla"

Multiple Dates
Event Details
IFP PRESENTS
"AQUI Y ALLA"
WINNER OF THE CRITICS WEEK GRAND PRIZE AT THE 2012 CANNES FILM FESTIVAL

&
NOMINATEE FOR THE 2012 BREAKTHROUGH DIRECTOR GOTHAM AWARD
SCREENS DECEMBER 21ST-27TH, 2012
TWO SHOWS NIGHTLY!
6:45PM DOORS/7:30PM SCREENING
&
9:30PM DOORS/10:15PM SCREENING
FRIDAY DECEMBER 21ST FOLLOWING 7:30 SCREENING:
SPECIAL Q&A WITH PRODUCER TIM HOBBS
SATURDAY DECEMBER 22ND FOLLOWING 7:30 SCREENING:
SPECIAL APPEARANCE BY EDITOR FILIPPO CONZ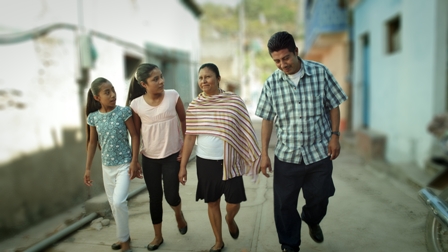 Aqui Y Alla has had a World Premiere at the 2012 Cannes Film Festival & a 2012 NYFF US Premiere.
Pedro returns home to a small mountain village in Guerrero, Mexico after years of working in the US. He finds his daughters older, and more distant than he imagined. His wife still has the same smile. Having saved some earnings from two trips to the US, he hopes to now finally make a better life with his family, and even to pursue his dreams on the side by starting a band: the Copa Kings. He cherishes the everyday moments with his family.
Aquí y Allá is a story about hope, and the memories and loss of what we leave behind.
From the Director:
It is a film about home, and about the feeling of home while being far away. The return home, to
fill in the shoes one left. Presences are felt, and shadows are dark. The future is always close to
the US, an overlying shadow.

The film was an exercise in trusting the community, in both directions: me in them, and even
more so, them in me. I feel extremely grateful that I was able to film the movie as I thought it
should be done, as a mixture of documentary and fiction.

The film is a blend, as everyone, except the girls who play the daughters of Pedro, are playing
their "real" roles. Pedro is a musician, and returned from the US. His wife in the film is his wife in
real life. I was amazed by how much they trusted me in making the film, and how they followed
me in the journey. I also decided to fully engage them, and fully trust them and their instincts.
The story evolved with them, and I was always open to where the story and the film would go. It
was a scripted film, but once we started production many things evolved to feel more real: from
characters, to situations, to even entire sequences.

Although we did have many impediments, I was able to have enough creative freedom to
create the film as I felt best. That creative freedom and the trust of the producers was a
blessing. I wanted to continually shoot, to make a movie that never ended. Every door opened a
new story. But a film must always end.

We now have a feeling that somehow the movie opens up a different world. While shooting I was
always looking around, even outside the frame. I thought of the frame as an invitation, as part
of a place. We will hear and hopefully imagine what is outside the frame. I do believe, and really
hope, that we have managed to really recreate the experience of living there, and to have caught
a little of the spirit of the place.

I am really looking forward to inviting you to "Aquí y Allá".

ANTONIO MÉNDEZ ESPARZA
//
Organizer
(March 2011) ENTERTAINMENT WEEKLY called reRun one of 8 nationwide theaters "redefining the moviegoing experience."
(April 2011) EVERY DAY WITH RACHAEL RAY praised reRun's gourmet popcorn as one of 4 nationwide theaters "giving their classic snack an upgrade."
(October 2011) TIME OUT NEW YORK singled out reRun as a "DIY trailblazer," saying they "love reRun's laid-back vibe" and "friendly staff."
(December 2011) TRAVEL AND LEISURE hailed reRun, among 9 others, as one of "The World's Coolest Movie Theaters."
(February 2012) VARIETY says reRun "raises bar for indies" and is "among the only theaters in the U.S. that provides newfound theatrical and ancillary opportunities to films without a [distributor]."
reRun is reBar's independent cinema, located just down the hall from the restaurant. Featuring 48 reclaimed car seats, full bar, gourmet snack counter, and a 12-foot screen, reRun offers just the kind of intimate art-house theater experience you'd expect from the creators of the funky gastropub reBar.
reRun provides a large theater AV experience. An all-digital 1080p HD projector, coupled with a monstrous JBL 7.1 surround pro-audio sound system make the movies projected on the twelve foot screen come alive in a sparkling show. The bar features two rotating draft taps, a broad selection of bottled craft beers, a selection of sustainable, organic, and biodynamically farmed wines, a full liquor cabinet for your imbibing pleasure, and traditional and creative snacks created by reBar's Executive Chef Jeremy Leech.
During off-hours reRun is available for private rental. Children's birthdays, corporate off-site meetings, and private get-togethers are all possible in the theater. Call the reBar and reRun Special Events Department at (718) 797.3025 for private bookings. Catering available for your parties through reBar.