IFP, FilmWax & reRun theater present, "MY BROOKLYN"

Multiple Dates
Event Details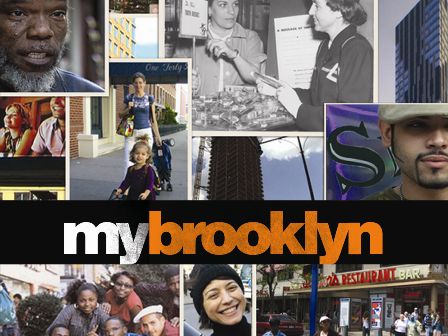 IFP PRESENTS
"MY BROOKLYN"
A SPECIAL RUN!

 March 8th- March 14th
 Two Shows Nightly!
Friday March 8th:
6:45pm DOORS/ 7:30pm SCREENING
Special guest at 7:30pm screening: Lenina Nadal, Communications Director at Right to the City and a New Yorker who grew up shopping at Fulton Mall every weekend, will discuss how Brooklyn fits into a growing national movement fighting urban gentrification and displacement. Director Kelly Anderson will also be present.
9:30pm DOORS/ 10:15pm SCREENING
 Saturday March 9th:
 8:30am DOORS // 9:00am SCREENING
11:00am DOORS // 11:30am SCREENING
1:30pm DOORS // 2:00pm SCREENING
Special Guest at 11:30am screening: Angela Tucker, Producer/Director of the PBS web series Black Folk Don't, will have a conversation with My Brooklyn Director Kelly Anderson and the audience about the ways race factors into urban planning and debates about gentrification.

Director Kelly Anderson will be present at the 2pm screening for Q&A.
Sunday March 10th:
6:45pm DOORS/ 7:30pm SCREENING
Rob Robinson, of the National Social and Economic Rights Initiative (NESRI), will discuss displacement as a human rights issue. Co-Producer Lisa Willis will moderate the discussion.
9:30pm DOORS/ 10:15pm SCREENING

Monday March 11th:
6:45PM DOORS/7:30PM SCREENING
Special guest at 7:30pm screening: Nathalie Alegre from the Alliance for a Greater New York (ALIGN) will discuss the city-wide picture for accountable development and job creation, including how these issues might factor into the upcoming city-wide elections.
9:30PM DOORS/10:15PM SCREENING
Tuesday March 12th:
6:45PM DOORS/7:30PM SCREENING
Special guest at 7:30pm screening: James Bartlett, Executive Director of MoCADA, will discuss the cultural value of spaces like the Fulton Mall and the impact of new development on Brooklyn's artistic community. Director Kelly Anderson will also be present.
9:30PM DOORS/10:15PM SCREENING
Wednesday March 13th:
9:30PM DOORS/10:15PM SCREENING
Thursday March 14st: 
6:45PM DOORS/ 7:30PM SCREENING
SOLD OUT

Special Guest at 7:30 screening: Christine Gaspar from the Center for Urban Pedagogy (CUP) will talk about how CUP is using the power of design and art to increase meaningful civic engagement around development and land use issues. Associate Producer Fivel Rothberg will moderate.
9:30PM DOORS/10:15PM SCREENING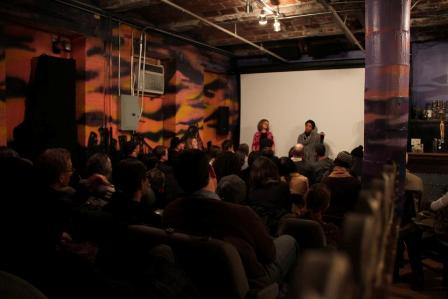 Thanks to overwhelming demand and dozens of sold out shows, Kelly Anderson's My Brooklyn is returning to the reRun Theater this March for a third week.
Documenting the redevelopment of Fulton Mall, the film presents a bustling African-American and Caribbean commercial district that – despite its status as the third most profitable shopping area in New York City – is maligned for its inability to appeal to the affluent residents who have come to live around it.
Through its first two weeks at reRun, My Brooklyn has ignited conversation and community interest. People have been squeezed into every corner.
Conversations have spilled out into the hallways and streets -- about gentrification, about what we like about the new Brooklyn and what we miss about the old, about how we can be better neighbors and citizens of our communities, about the Bloomberg legacy and the possibilities offered by the upcoming elections, and about the cultural and artistic value of public spaces like Fulton Mall.
If you've already seen the film, bring friends, spread the word, and join us again from March 8 - 14 to keep this dialogue and phenomenon going. And if you haven't seen the film, we hope you'll come out to Brooklyn and join our conversation.
SPECIAL Q&A GUESTS TBA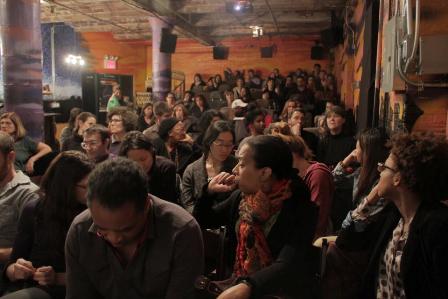 As a hundred small businesses are replaced by high rise luxury housing and chain retail, Anderson uncovers the web of global corporations, politicians and secretive public-private partnerships that drive seemingly natural neighborhood change. The film's ultimate question is increasingly relevant on a global scale: who has a right to live in cities and determine their future?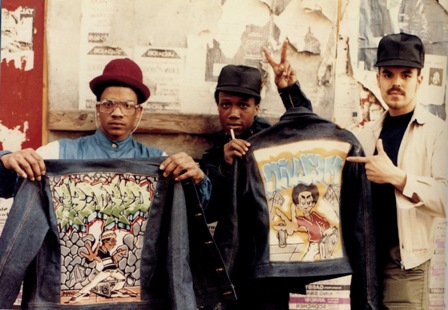 "Anyone who cares about real cities, and real rights to the city, needs to watch My Brooklyn," says Don Mitchell, a Distinguished Professor of Geography at Syracuse University and the recipient of a MacArthur Genius Award.
This coming spring the film will be at the Oxford Film Festival in Oxford, MS, as well as in a film series in Oakland, CA that explores connections in urban planning between Brooklyn and Oakland.
Organizer
(March 2011) ENTERTAINMENT WEEKLY called reRun one of 8 nationwide theaters "redefining the moviegoing experience."
(April 2011) EVERY DAY WITH RACHAEL RAY praised reRun's gourmet popcorn as one of 4 nationwide theaters "giving their classic snack an upgrade."
(October 2011) TIME OUT NEW YORK singled out reRun as a "DIY trailblazer," saying they "love reRun's laid-back vibe" and "friendly staff."
(December 2011) TRAVEL AND LEISURE hailed reRun, among 9 others, as one of "The World's Coolest Movie Theaters."
(February 2012) VARIETY says reRun "raises bar for indies" and is "among the only theaters in the U.S. that provides newfound theatrical and ancillary opportunities to films without a [distributor]."
reRun is reBar's independent cinema, located just down the hall from the restaurant. Featuring 48 reclaimed car seats, full bar, gourmet snack counter, and a 12-foot screen, reRun offers just the kind of intimate art-house theater experience you'd expect from the creators of the funky gastropub reBar.
reRun provides a large theater AV experience. An all-digital 1080p HD projector, coupled with a monstrous JBL 7.1 surround pro-audio sound system make the movies projected on the twelve foot screen come alive in a sparkling show. The bar features two rotating draft taps, a broad selection of bottled craft beers, a selection of sustainable, organic, and biodynamically farmed wines, a full liquor cabinet for your imbibing pleasure, and traditional and creative snacks created by reBar's Executive Chef Jeremy Leech.
During off-hours reRun is available for private rental. Children's birthdays, corporate off-site meetings, and private get-togethers are all possible in the theater. Call the reBar and reRun Special Events Department at (718) 797.3025 for private bookings. Catering available for your parties through reBar.