IFP & Filmwax present 'SAHKANAGA'

Multiple Dates
Event Details
IFP & Filmwax
Present

A WEEK OF SCREENINGS
DECEMBER 7th-13th, 2012

TWO SHOWS NIGHTLY
FRIDAY DEC. 7th:
6:45PM DOORS/7:30PM SCREENING
W/ Q&A with the Director, Editor, Composer & Lead Actor
9:30PM DOORS/ 10:15PM SCREENING
Preceded by short film "The Adventure" by Mike Brune
* PLUS *

SATURDAY/SUNDAY WAKE UP DUMBO!
SCREENINGS AT 7AM
(ADVANCE TICKETS REQUIRED FOR SAT/SUN AM SCREENINGS)
*JUST ADDED*
SATURDAY

 12:00PM DOORS/ 12:30PM SCREENING
MONDAY DEC. 12th:
6:45PM DOORS/7:30PM SCREENING
W/ Q&A with the Director & Matt Porterfield (Hamilton, Putty Hill & Sundance Bound I Used To Be Darker)
9:30PM DOORS/ 10:15PM SCREENING
Preceded by a Southern Short
TUESDAY DEC. 13th:
6:45PM DOORS/7:30PM SCREENING
Georgia Trivia Night following the screening with shots of rye provided by the Director

9:30PM DOORS/ 10:15PM SCREENING
Screening preceded by a Southern short
WEDNESDAY DEC. 14th:
6:45PM DOORS/7:30PM SCREENING
Screening & Party with the NYC chapter of Squalor Club
9:30PM DOORS/ 10:15PM SCREENING
Screening preceded by a Southern Short
THURSDAY DEC. 15th:
6:45PM DOORS/7:30PM SCREENING
Q&A moderated by Southern novelist Lee Houck
9:30PM DOORS/ 10:15PM SCREENING
After more than a year of festival screenings worldwide, SAHKANAGA opens on Dec. 7th at NYC's reRun & Atlanta's historic Plaza Theater. The filmmakers will be in Brooklyn for opening night and then travel to Atlanta for screenings on Saturday and Sunday, returning to New York for special events Monday through Thursday. OPENING NIGHT BROOKLYN BONUS: Arrive early on Dec. 7th (doors at 6:45pm) to receive one of director John Henry Summerour's legendary Chocolate Covered Peanut Butter Balls!
______
In 2002, over 300 bodies were discovered on the property of the Tri-State Crematory in the Appalachian foothills of northwest Georgia, thrusting an unassuming, tight-knit community into the international spotlight. SAHKANAGA (meaning "Great Blue Hills of God" in Cherokee, pronounced "sock-uh-nogga") imagines this event from the perspective of Paul, a teenager who stumbles upon the first body.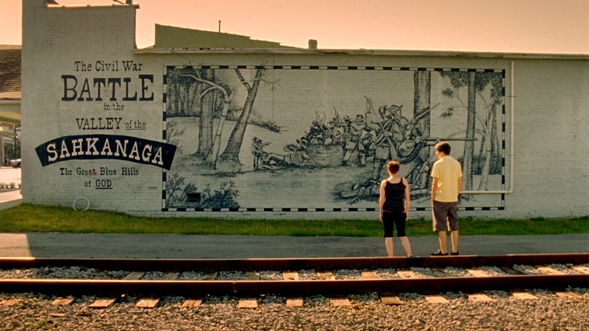 Matters are further complicated by his father's ownership of the local funeral home and the arrival of Lyla, a beautiful stranger whose recently deceased grandfather is the first corpse that Paul finds. Filmed in Walker County, GA, with a cast of local, non-professional actors (many of whom had a direct connection to the real-life scandal), the tension mounts as Paul is entangled in his own secrets, and the entire community faces the complexities of forgiveness in the wake of an unfathomable tragedy.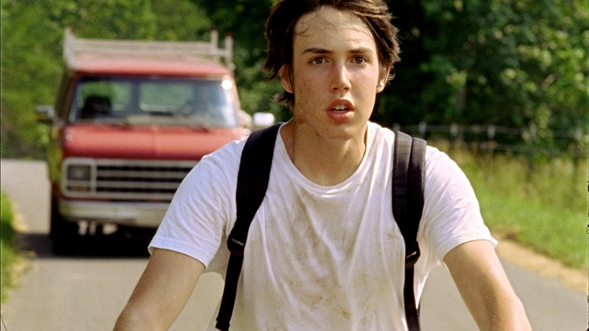 "A richly atmospheric drama... SAHKANAGA reps the rare U.S. feature outside the faith-based entertainment niche that operates from a sincere Christian viewpoint, yet is also critical of pious-seeming hypocrisy. Summerour conveys in subtle, impressionistic strokes how central faith is to this community; similarly, Paul's troubled conscience and budding adolescent sexuality provide a naturalistic foreground from which the crematorium catastrophe is viewed with curiosity rather than sensationalism. Reminiscent of early David Gordon Green in its ambivalent small-town lyricism, pic hits a textural/tonal ground somewhere between TO KILL A MOCKINGBIRD and BLUE VELVET."
          - Dennis Harvey, Variety
For more information please visit www.sahkanaga.com
Organizer
(March 2011) ENTERTAINMENT WEEKLY called reRun one of 8 nationwide theaters "redefining the moviegoing experience."
(April 2011) EVERY DAY WITH RACHAEL RAY praised reRun's gourmet popcorn as one of 4 nationwide theaters "giving their classic snack an upgrade."
(October 2011) TIME OUT NEW YORK singled out reRun as a "DIY trailblazer," saying they "love reRun's laid-back vibe" and "friendly staff."
(December 2011) TRAVEL AND LEISURE hailed reRun, among 9 others, as one of "The World's Coolest Movie Theaters."
(February 2012) VARIETY says reRun "raises bar for indies" and is "among the only theaters in the U.S. that provides newfound theatrical and ancillary opportunities to films without a [distributor]."
reRun is reBar's independent cinema, located just down the hall from the restaurant. Featuring 48 reclaimed car seats, full bar, gourmet snack counter, and a 12-foot screen, reRun offers just the kind of intimate art-house theater experience you'd expect from the creators of the funky gastropub reBar.
reRun provides a large theater AV experience. An all-digital 1080p HD projector, coupled with a monstrous JBL 7.1 surround pro-audio sound system make the movies projected on the twelve foot screen come alive in a sparkling show. The bar features two rotating draft taps, a broad selection of bottled craft beers, a selection of sustainable, organic, and biodynamically farmed wines, a full liquor cabinet for your imbibing pleasure, and traditional and creative snacks created by reBar's Executive Chef Jeremy Leech.
During off-hours reRun is available for private rental. Children's birthdays, corporate off-site meetings, and private get-togethers are all possible in the theater. Call the reBar and reRun Special Events Department at (718) 797.3025 for private bookings. Catering available for your parties through reBar.