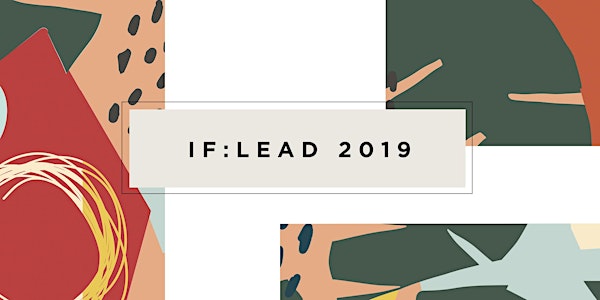 When and where
Location
Fellowship Dallas 9330 N Central Expressway Dallas, TX 75231
Description
IF:Lead was created to equip women in using their influence for God's glory (and why it matters). We'll equip. You lead.
If you're thinking, "Is that for me?" Let us remind you: You are a leader. You have influence in your places and while you sacrifice daily to humbly show others Jesus, we want to take two days to pour back into you. Join us for this leadership intensive filled with worship and Biblical truth to ground us all back on mission and remind us we're not alone.
Register and join us September 26-27 in Dallas!
What can you expect? Check out this highlight video from IF:Lead 2018.
Here are the details:
Who: You!
What: Leadership training & equipping for the work of making disciples
FAQs
Does anyone have early access to register?
Yes. IF:Local Leaders and Discipleship Collective members have the opportunity to register starting April 29th at 11am Central.
Can I register a group?
You can register up to 10 people at a time. Please be as accurate as you can when each person's information. Our hope is that you would provide at a minimum their correct Name, Email, IF:Local Name (if that is applicable). Once you are registered, you will have opportunities to edit the attendee information to make it accurate. We encourage you to do this as soon as possible to ensure the best experience for you and your friends!
Is there an Eventbrite Fee when I register?
Yes. Added onto your ticket is 2.5% of your ticket price (capped at $9.95) for Eventbrite Payment Processing. This is in addition to the Eventbrite service fee (2.5% plus $0.99 per registration in USD), which is a default fee.
Is my registration transferrable?
Yes.
You can go here and fill out the necessary information. You will need the information of the person you are transferring the ticket to (Name, Email, Cell Phone & Address, Answers to Questions, etc.).

Upon completing the form, our team will transfer the ticket and send a confirmation email to the new ticket holder as well as a follow-up email to you to confirm that the ticket has been transferred.
The window to transfer tickets will close on September 1, 2019. If you are purchasing a ticket from someone selling theirs, we recommend asking for a receipt to confirm the price they paid for their ticket.
What is the refund policy?
Your ticket is non-refundable.
Will there be a waitlist?
Yes, once IF:Lead is sold out, the waitlist will open. As women discover that they will not be able to attend and they do not know someone to transfer it to, then we will open up tickets to people on the waitlist. If you get an email from Eventbrite about a ticket being released to you, there are only 24 hours in which you can claim the available ticket.
Do I have to bring my printed ticket to the event?
No, you do not need a printed ticket at the event.
Do I have to be an IF:Local Leader to attend?
No! We have two qualifications that we're looking for in IF:Lead attendees:
Has a desire to take initiative for God's glory and for the good of others

Is plugged into a local church community
What is the schedule?
Thursday, September 26th
Leadership Breakfast: 8:00-9:00am
Day 1: 10:00am-9:00pm
Friday, September 27th
Day 2: 9:00am-6:00pm
All times are Central. Full session schedule to come!
Which airport should I fly in to?
Dallas Love Field airport is approx. 7 miles from the IF:Lead venue (Fellowship Dallas).
Dallas/Fort Worth International airport is approx. 25 miles from the venue.
What is the speaker lineup?
We will announce some speakers in the coming months.
Is food included?
Food is not included. Coffee will be available for purchase throughout the event, and we will provide nearby restaurant suggestions for you. On Friday, we will have food trucks on-site (with a gluten-free option).
Will scholarships be available?
The scholarship window is closed for IF:Lead 2019.
I need special assistance. Will you be able to accommodate?
Yes! Please be sure to let us know on the registration form if you need ADA assistance, ASL interpretation, or if you are a nursing mom.
Will childcare be available?
No, childcare will not be available.
If I am not able to come, does that mean that I cannot be an IF:Local Leader in 2020?
Attending IF:Lead is not required to host an IF:Local or to use our resources. This is just an additional equipping opportunity.
Will the event be livestreamed?
IF:Lead will not be livestreamed, but main sessions will be available for purchase.
I'm interested in being a volunteer.
We'd love your help! Please fill out the volunteer application here.

I'm interested in being a sponsor.
We are looking for a limited number of brand-aligned sponsors to partner with us for our IF:Lead gathering. If you are interested in joining us, please fill out this form.
I have a question that is not answered here.
Please email us at connect@ifgathering.com. Our team looks forward to serving you!