Description



#IFBCON 2012: The Only Fashion Blogging Conference Created By Bloggers For Bloggers

Calling all fashion bloggers and fans! Fashion's biggest and boldest conference is coming back for its 7th season. This time, Independent Fashion Bloggers (IFB) is going all-out, debuting a new, two-day event that will highlight the boldest of topics to educate you, the blogger and reader, on tools and tips to make you a better blogging professional.
Within #IFBCON's two-day schedule, there will be special keynotes featuring Founder & CEO of IMAN Cosmetics, Iman, Best-Selling Author and Editor Derek Blasberg, Supermodel Coco Rocha, six panels, breakout sessions where attendees will receive hands-on training in writing, blogging, photography PLUS two Q+A sessions with industry leaders.


Early-Bird IFB-Member Tickets:
Two-day Pass: $145 SOLD OUT
Regular IFB-Member Tickets
Two-day Pass: $185
One-day Pass (9/4): $125
One-day Pass (9/5): $125


Non-IFB Members & Corporate Tickets:
Two-Day Pass: $600

All ticket sales are final! No refunds will be granted. IFB Members own their own blog about fashion, have registered with IFB, and are approved. For corporate ticket information, please contact Team@HeartIFB.com.


What do we have in-store for you? Details below!
#IFBCON Schedule & Panel Line-up:
September 4: Day 1
Keynote: Best-Selling Author and Fashion Editor Derek Blasberg & Supermodel Coco Rocha
Panel 1: The Future of Digital Fashion Brought to you by ShopStyle, Moderated by Lauren Drell of Mashable
With industry experts and leading trendspotters, this panel aims to discuss where the fashion industry is headed and what fashion trends will infiltrate the blogging world.
Q/A Session with Jenni Radosevich:
Learn how Jenni turned her blog into a major successful book. From proposal to book tour, Jenni is her to give you the inside scoop on this major transformation!
Panel 2: The Business Behind Blogging Brought to you by Stipple, Moderated by Lindsey Calla from Saucy Glossie
When should you hire an agent? What should you be aware of before entering into those negotiations? This panel will be the ultimate resource for all bloggers looking to grow professionally and whether taking the big step for representation is the right move.
Panel 3: How to Make Friends and Win Readers, Moderated by Sade Strehlke from Icon Concierge
In today's growing blogging industry, the key to becoming more successful is through your relationships and networks. This panel will offer tips and insights from industry professionals on how to grow your readership in an organic, authentic way.
September 5: Day 2
Keynote: Founder and CEO of IMAN Cosmetics, Iman
Panel 4: The New Entrepreneur brought to you by Rakuten Linkshare, Moderated by Nichelle Pace from Style Mom
On the cover of every magazine and in featured advertising campaigns is the new model/entrepreneur: the blogger. Blogging's most successful entrepreneurs and industry experts share their experiences overcoming challenges, growing their personal brand and long-term business tips for all bloggers, new and old.
Panel 5: Journalism vs. Blogging, Moderated by Susan Cernek from Glamour Magazine
Ethics, credibility and more are at the heart of this panel which will delve into the differences, similarities, and the increasingly gray area between the two industries. Industry leaders will share their insight, showing how bloggers can become better writers and publishers while top bloggers will discuss how they became trusted leaders in the industry, offering tips for the entire audience.
Q/A Session with Pinterest & Kate Arends:
Ask today's fastest growing platform about what the platform is going to do next, how to create engaging boards, and how you can gain more followers.
Panel 6: Bringing Bravery Back to Blogging, Moderated by Nicolette Mason
Remember the days when blogging used to be about original content and taking a stance without having to worry what everyone would say? We're fighting to revolutionize the community, and talking to the leaders who bring individuality back to the forefront. This panel will talk about the evolution of blogging, how it has affected the community and why bravery is making a comeback.
8 Breakout Sessions Throughout the Two-Day Conference Period:
Becoming a Better Writer with Chelsea Burcz
The Easiest Way to Create Video Brought to you by Qwiki
Ownership in the Digital Age Brought to you by Stipple
Optimizing Your Blog with SEO with YM Ousley
Video Blogging 101 by Hello Style
How to Get a Job in Social Media Brought to you by Chromatic Gallerie
How to Shop Your Closet with Style For Hire
Creating Your Media Kit with Jennine Jacob and Netrobe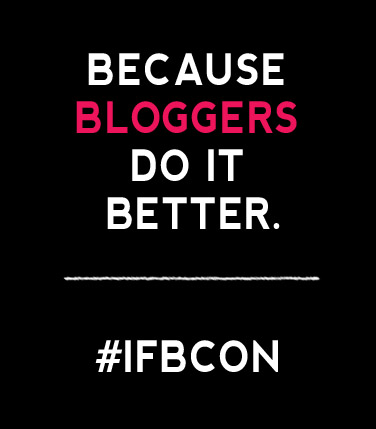 Reporting from the industry's frontlines, IFB has, and will be, the leading independent voice for bloggers all over the world. We are here 365 (sometimes 366) days a year with the sole intent of elevating and educating the community. Our conference reflects our dedication to you and the entire community. Celebrating our five-year anniversary, this conference promises to be the ultimate extravaganza for all bloggers, readers, industry leaders and fans.
The year's biggest blogging blow-out is coming. Are you ready?
Stay connected to the news and latest updates by following our @_IFB Twitter feed (don't forget the #IFBCON hashtag).