IFAD Book Shop

Thursday, November 23, 2017 at 8:00 AM

-

Monday, November 27, 2017 at 6:00 PM (CET)
Event Details
Secure your copy from the #IFAD2017 bookshelve, these items can only be bought be delegates of the 6th IFAD meeting and will NOT be shipped but need to be picked up at Hilton during meeting (Nov 24-25):
Intra-abdominal hypertension (EUR 25)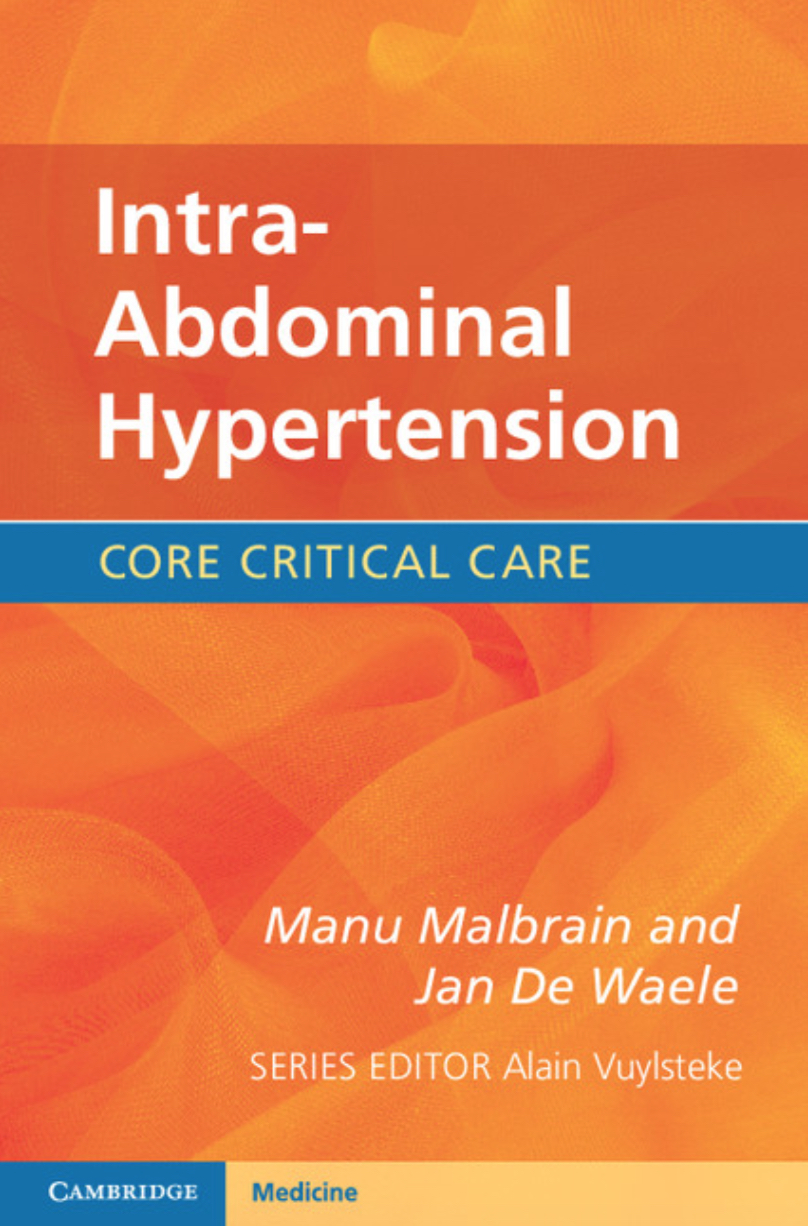 Paperback (ISBN-13: 9781107272880) - 253 pages
Authors: Manu Malbrain and Jan De Waele
Despite increasing interest in intra-abdominal hypertension (IAH) and abdominal compartment syndrome (ACS) as causes of significant morbidity and mortality among the critically ill, unanswered questions cloud the understanding of the pathophysiology of these conditions: • Are IAH and ACS synonymous? • What are the ideal methods of measuring and lowering intra-abdominal pressure (IAP)? • When should we think of IAH? • Can IAH be prevented? • What level of IAP requires abdominal decompression? Written by two experts in critical care and IAP, Intra-Abdominal Hypertension is a distillation of the current literature and furthers the understanding of these complex critical conditions. Using a step-by-step approach and illustrative figures, this clinical handbook presents a concise overview of consensus definitions, measurement methods, organ assessment and treatment options. Intra-Abdominal Hypertension is essential reading for all members of the intensive care multidisciplinary team, including experienced and junior physicians, anesthetists and nurses. Contains a complete and concise overview of IAH and ACS which aids quick and accurate learning • List of all currently available IAP measurement tools enables decisive treatment • Summary of consensus definitions distils the current literature and clarifies these conditions. 

 
Critical Care (EUR 50) - normal retail price EUR 68 + tax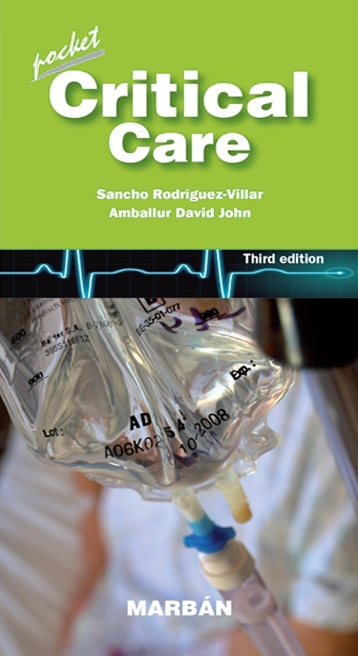 Paperback (ISBN: 9788416042913) - 1567 pages
Authors: Sancho Rdriguez (Ed.) and Manu Malbrain (Ch.) amogst others
A complete and concise textbook on critical care "Critical Care 2018" (MARBÁN) and its specially extracted version, "Survival Critical Care 2018" (MARBÁN), is a complete rapid readable synopsis of Critical Care Medicine written by noted specialists (+400) around the world and based on current evidence based guidelines.
The reference for Exam Preparation (EDIC, FFICM, CICM, ...), Clinical mastery of Critical Care Medicine. An essential tool to evaluate electronic information.  
A focused concise presentation on specific topics which together forms a solid fundamental base of knowledge of Critical Care. A compulsory resource of Critical Care Medicine, concise, highlighted, encompassing the theoretical basis as well as the practical management involved in caring for the critically ill patient in an efficient time and format.
Critical and Acute Care Ultrasound: THE POCUS book (EUR 25)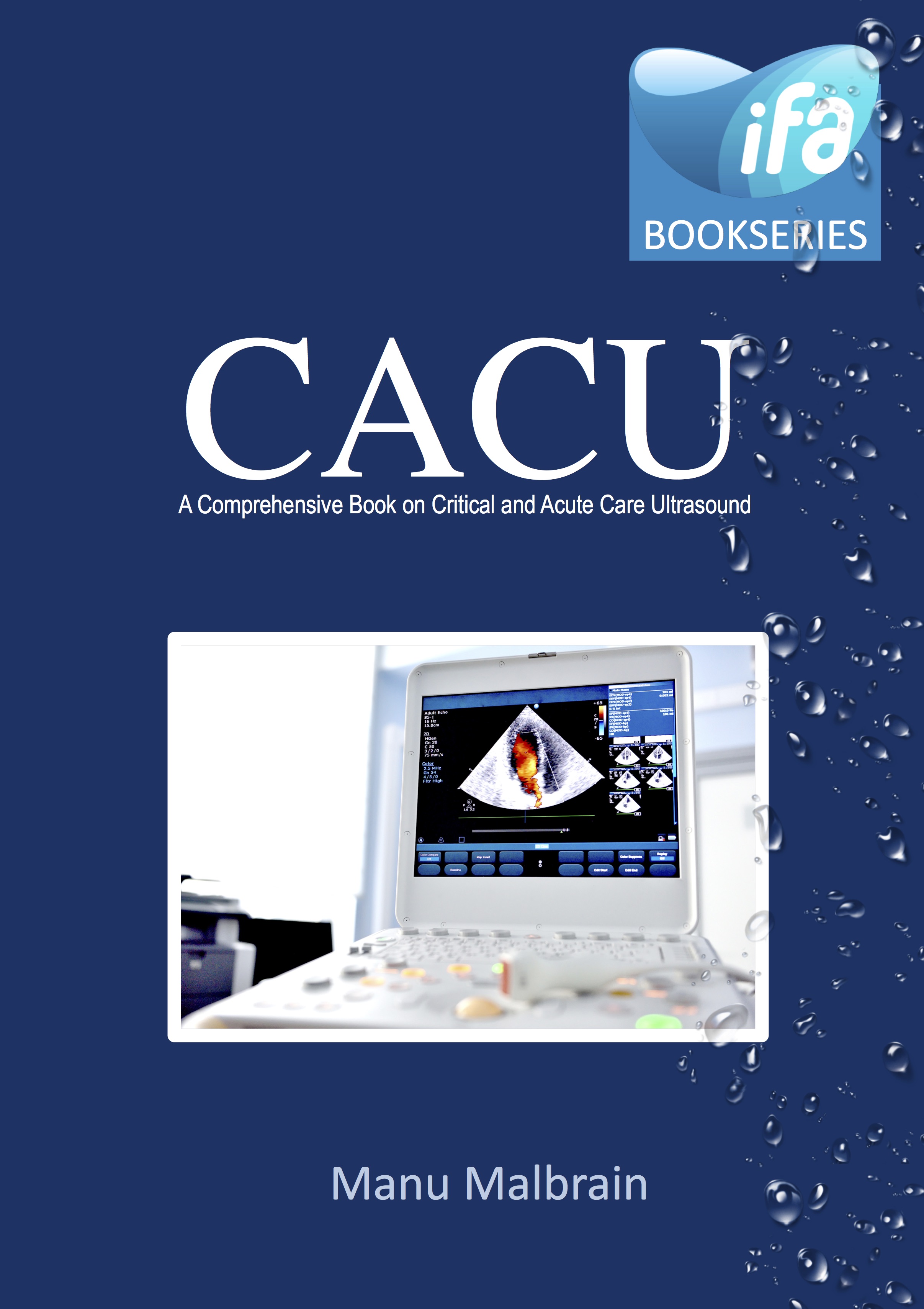 Paperback (ISBN: 000) - 150 pages
Authors: Manu Malbrain (Ed.)
Series: IFAD Book Series
This Comprehensive Book on Critical and Acute Care Ultrasound (CACU) summarizes the reviews published during the previous International Fluid Academy Days. The papers are published under the Open Access CC BY Licence 4.0. Critical and Acute Care Ultrasound together with point of care ultrasound (POCUS) is becoming a holistic and translational discipline and is considered as the modern stethoscope for the critical care and emergency care physician. Dr Roy Filly, Professor Emeritus of Radiology, and chief of the department of diagnostic sonography in Stanford predicted in 1988 that ultrasound would likely become the new stethoscope: "As we look at the proliferation of ultrasound instruments in the hands of untrained physicians, we can only come to the unfortunate realisation that diagnostic sonography truly is the next stethoscope: poorly utilized by many but understood by few" This book is edited by Manu Malbrain, Internist-Intensivist, Director of the Intensive Care Department at the University Hospital in Brussels (UZB), Belgium, he is Professor at the Brussels Free University (VUB) and one of the chairmen of the iFAD meeting.

Critical Care Survival Kit (EUR 30) - normal retail price EUR 42 + tax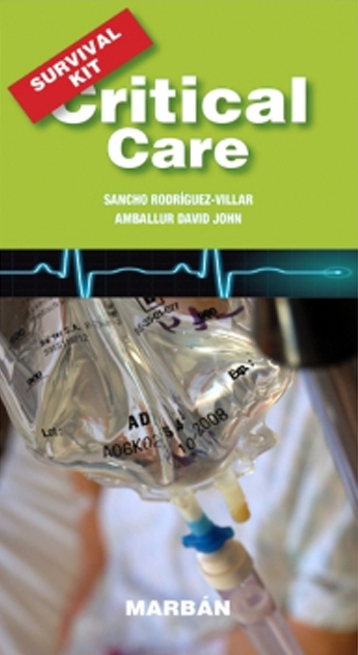 Paperback (ISBN: 9788417184407) - 576 pages
Authors: Sancho Rdriguez (Ed.) and Manu Malbrain (Ch.) amogst others
Especially extracted version with the most important topics in Critical Care Medicine.

When & Where

iMERiT vzw
Dreef 3
3360 Lovenjoel
Belgium


Thursday, November 23, 2017 at 8:00 AM

-

Monday, November 27, 2017 at 6:00 PM (CET)
Add to my calendar
Organizer
iMERiT: International Medical Education and Research Initiative
The iFAD started as local initiative from the pharmaceutical working group on fluids from the Ziekenhuis Netwerk Antwerpen. Today iFAD is integrated within the not-for-profit charitable organization iMERiT, International Medical Education and Research Initiative, under Belgian law and as such the iFAD Organising Committee strongly recognizes and values a constructive partnership with the industry. Read more on the website http://www.fluidacademy.org  

iFAD is an innovative Critical Care Educational meeting. This conference provides the highest quality of Critical Care education and is guaranteed to innovate and inspire. The iFAD Faculty is the most provocative, engaging, motivating and inspiring group of international educational speakers and as organizing committee we want to ensure we have the sponsors to match. Together, we make iFAD stand apart from other Critical Care conferences.