Sales Have Ended
Registrations are closed
Sorry! Enrollment is closed for now. Want to be first to know about the next one? Simply click here to add your name to the list.
Sales Have Ended
Registrations are closed
Sorry! Enrollment is closed for now. Want to be first to know about the next one? Simply click here to add your name to the list.
Description
The Life Business™ Workshop
Create a more satisfying life in just one day!
Stop choosing between Financial Security or The Life You Really Want!
You Can Have Both!
What is The Life Business™ Workshop?
The Life Business Class is an eight step workshop that helps you to discover your real values, passions, purposes, and create the vision for your ultimate life in a take-home workbook you can always refer to after the class is over.
The class is done in an expert facilitated one-day or 8-week session, in a guided group workshop format.
If Too Many "What If's" Are Holding You Back...
This Class Is For You!
Are You…
Uncertain about what the TRUE driving force is in your life?

Living for others?

Ready to make more money?

Unsure why you don't have more money left over?

Looking for better opportunities for you and your family?

Trying to figure out where to start?

Working hard, creating success on many levels, but wondering what is next?

Fearful that if you leave your current situation you will not find something better, so you stay where you are?
What's Included in the Workshop?
The Life Business™ Program is a guided workshop based on the book by the same title. It has helped more than 6,000 people in 6 countries from all walks of life. This guided workshop based on the book covers the first 8 steps to designing the life you really want - by treating it like a business in either our one-day or 8-week workshop.
After Your Enroll Check your email for your registration confirmation. It will include all the pertinent information about pre-workshop preparation, printing your tickets, check-in times, how to get to the class, parking, the workshop agenda, and more. You can also go straight to https://ilafp.com/classes/workshop-preparation/ should that email hit your spam folder, or you don't want to wait.
Breakfast & Lunch In the morning you'll be treated to coffee, tea and some snacks, and for lunch you'll have a great meal that will keep creative juices and inspiration flowing. (We'll be in touch about lunch options.)
An In-Depth Workbook That Is Yours to Keep We'll bring the supplies that will be used to create your vision, uncover your truth, and record your insights and plans. During the class you'll create a blueprint of your ideal life and you can refer to it when you need to, for as long as you like.
What Do You Need To Bring?
A positive spirit, a willingness to live a happier life and the desire to write down answers, insights, goals, and declarations. If you bring the commitment to yourself, we'll bring the secrets and shortcuts needed to succeed.
In fact, when you enroll, you'll get to download the pre-workshop Insight Questionnaire to find immediate insight and discovery, getting you ready to build your Life Business™ before you even show up
(The final five steps are optional, and conducted in two 1-on-1 sessions with me.)
About Your Instructor
Jerry Bergner is a teacher, trainer, problem solver, and personal productivity mentor who loves to coach people both personally and professionally in the course of his financial management career for the last 25 years. His passion is helping people to find their true path by understanding that there are opportunities to change their lives in an uncomplicated way when they decide to.
Jerry lives his life according to this program. He's been a financial planner for many years, and upon finding the book in 2007, he invested hundreds of hours into refining the program and the workshop.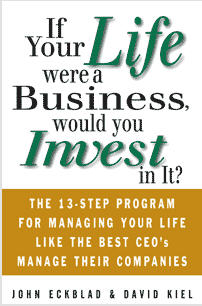 Some Frequently Asked Questions about the Workshop
Q: How many people have taken this workshop?
A: Over 200 in the last six years.
Q: Am I the right age for Create a More Satisfying Life in 1 Day?
A: We've had students in their 60s and students in their teens. Age is just a number!
Q: I'm just a mom/retiree/college student. This isn't for me, right?
A: Create a More Satisfying Life in 1 Day is not about what you do, it's about the quality OF that time.
Q: I'm not an entrepreneur, so how can I run my life like a business?
A: Create a More Satisfying Life in 1 Day shows you how CEOs approach business management. A degree or entrepreneurship is not required! No matter who you are, if you want a life full of passion and purpose, then you're right for this workshop.
Q: I'm not ready to work on my finances yet.
A: That's okay. Create a More Satisfying Life in 1 Day is dedicated to the first eight steps of the Life Business™ program. The final five steps cover finances, and that portion is done in a 1-to-1 setting that you can decide to schedule when you are ready.
Q: Can this workshop be done for our company with our internal team?
A: Absolutely.