Description
With the rapid passing of time, it increasingly becomes more challenging to be in control of our days.
Picture what your days would be like if you could take control of your time and resources and have the results you always wanted.
In 2018, with this webinar: yes, you can make it happen. I will help you to create "the success plan" that will take you step by step to achieve your goals.
I know myself that it can be pretty overwhelming when you want to achieve a goal, walking by yourself this road and without an action plan to execute it daily.
Further, talking with many I know they feel stuck even after working hard for many hours through the day. Some of the challenges they face are:
Not having a clear objective;
Not

knowing the next step;

Feeling what they are doing is not effective;

Unaware

how to manage their own time and resources;
Not sure how to increase their performance; or
Not having a plan at all to achieve their goals.
If any of those roadblocks sound familiar. Do not delay your success more!
Register now! I will be sharing with you THE 8 ELEMENTS THAT EVERY SUCCESSFUL PLAN MUST HAVE, so you can create a plan that allows you to:
Have a clear objective and a powerful why
Establish effectiveness to maintain an adequate approach
Inventory and manage your resources to control them
Add your personal touch to a plan that will lead you to success
Take action and self-lead your plan using the correct tools and motivation
Increase your intentionality taking your habits to next level
Measure your plan and performance to start developing systems to support your journey to success
Revitalize your life allowing yourself to complete your goal for the right reasons
In this webinar, you will find simple but powerful ideas that can change your life, realistic steps for you to take immediate action, practical exercises and a coaching support that will allow you to increase your intentionality to reach your goals.
Liana.
Mentor and Coach
"People don't plan on failing; they fail because they don't plan."
ORGANIZER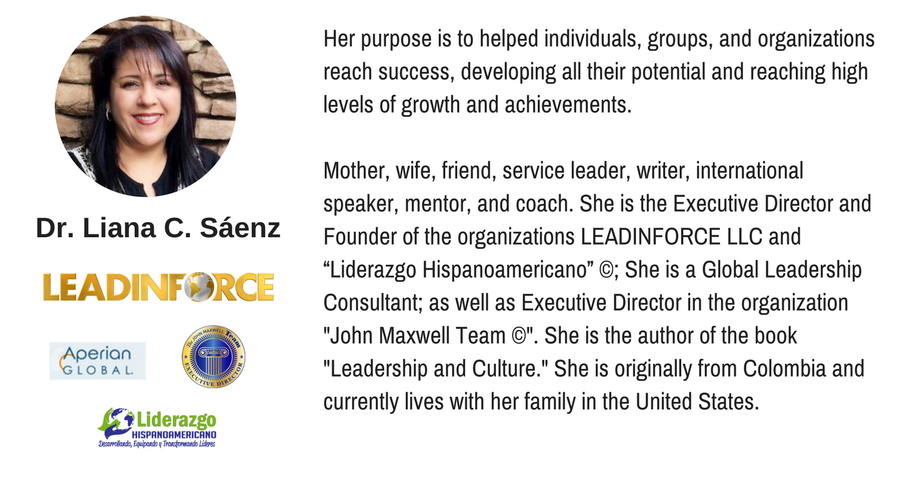 FOR MORE INFORMATION CONTACT US AT:
lead@drsaenz.com
www.leadinforce.com