IF THESE KNISHES COULD TALK - 2013 Art of Brooklyn Film Festival

Saturday, May 18, 2013 from 7:30 PM to 9:00 PM (EDT)
Event Details
The 2013 Art of Brooklyn Film Festival presents 
the World Premiere of
IF THESE KNISHES COULD TALK:
THE STORY OF THE NEW YORK ACCENT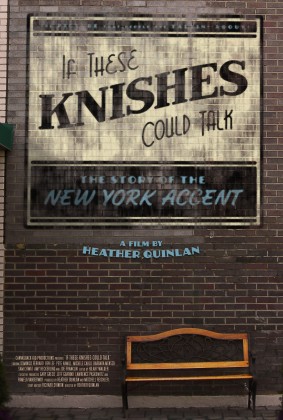 IF THESE KNISHES COULD TALK: THE STORY OF THE NEW YORK ACCENT (55 min. USA) 
Directed by Heather Quinlan | WORLD PREMIERE
On the surface, 'If These Knishes Could Talk' is an exploration of the New York accent: what it is, where it sprang from, and how it's evolved over time. But scratch that surface and underneath you'll find that the accent is just a starting point to delve into a larger question: What does it mean to be a New Yorker? Is it the accent? The swagger? All of the above? And how much of that swagger does New York still have, now that its high rents are stifling the accent and paving over the grit? If this trend continues, the Big Apple's voice may be indistinguishable from that of any other large American city. And then what would it mean to be a New Yorker?

So we've gathered some accent experts, official and non, to weigh in on what it means to tawk the talk in a city that may be slowly trying to quiet the noise--from actors in the Throggs Neck, to wiseguys in Dyker Heights, to Puerto Rican abuelitas on Avenue D. In-between, we'll explore what the future may hold for the accent with the changing waves of immigration and the continued flight into the suburbs.
_
When & Where

Maroney Theater at St. Francis College
180 Remsen Street
New York, NY 11201


Saturday, May 18, 2013 from 7:30 PM to 9:00 PM (EDT)
Add to my calendar
Organizer
"AN INDIE GEM THAT SHOWCASES THE BEST OF THE BOROUGH"
— INDUSTRY MAGAZINE
Founded in 2011, the Art of Brooklyn Film Festival (AoBFF) is the only independent, international festival to focus entirely on films and filmmakers that are Brooklyn-born, Brooklyn-based and Brooklyn-centric. We are as diverse, vital and international as the borough itself. And everyone is invited to our party. AoBFF produces Brooklyn On Demand, the only streaming platform dedicated to showcasing Brooklyn-centric indie film and media to a worldwide audience. BKOD features AoBFF alumni and much more — online and on Roku.
For full screening info including trailers and more go to aobff.org