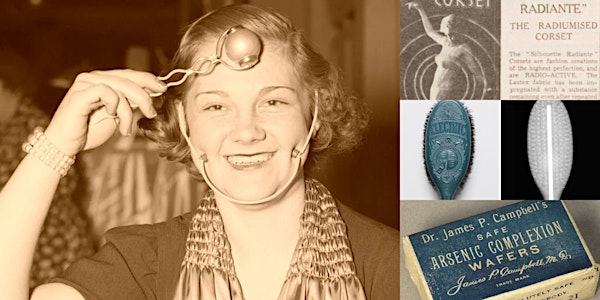 'If Looks Could Kill: Dangerous Beauty Throughout the Ages' Webinar
Can't make it live? Register and get access to the full replay for one week! New York Adventure Club | www.AdventureClub.com
About this event
Thanks to runaway industrialization and globalization by the mid-19th century, people looking to beautify themselves no longer needed to distill and compound treatments with their own bare hands — rather, they could select from an endless number of ready-to-use beauty products at their local store. But while many items were simply natural ingredients in a bottle, weak health regulations allowed a whole new class of beauty products to hit the shelves that were at best ineffective — and at worst, extremely dangerous. From toxic elixirs and topical substances to invasive procedures, this is the story of beauty through the 19th and 20th centuries, and the (often unwitting) risks many took in order to achieve it.
Join New York Adventure Club as we delve into the weird and dangerous history of beauty treatments and cosmetics, which ranged from electric face masks to deadly poison-laced soaps, creams, and tonics.
Led by historian Lucy Jane Santos, our virtual exploration of once popular beauty products that were more likely to cause you to blow up rather than glow up will include:
How dangerous beauty products were able to be sold in stores in the first place
The hair wash treatment so unstable it could lead to spontaneous combustion
How a group of Austrian villagers known as arsenic eaters caused a trend for arsenic-laced foods and soaps to beautify the skin, and how they could help one get away with murder
The Tricho System's utilization of X-ray technology for hair removal and the devastating long term effects on users' health
The crackdown on dangerous beauty products and early organizations who fought for stronger consumer protections
Afterward, we'll have a Q&A session with Lucy — any and all questions about the history of dangerous beauty are welcomed and encouraged!
Can't make it live? Don't worry, you'll have access to the full replay for one week!
See you there, virtually!
*Once registered, you will receive a separate, automated email containing the link to join this webinar
**For the best possible viewing experience, please ensure you're using the latest version of your internet browser — Google Chrome is the most compatible. Exact technical requirements and a webinar user guide will be shared in the automated confirmation email upon registration.
***A full replay will be available after the experience for all registered guests
About Lucy
Lucy Jane Santos is an expert in the history of 20th century leisure, health, and beauty.
After completing a BA in Egyptian Archaeology and a MA in Arts and Heritage Management Lucy worked for several private members clubs and societies in London including The Arts Club, the Authors' Club, and the International Wine and Food Society.
She has been a judge for the Historical Writers' Association Non-Fiction Crown, the recipient of the Stephen Joseph Research Award and was the Non-Fiction Writer In Residence for the Stay-at-Home! International Literature Festival (2020). She is a founder of the Art Deco Society UK and co-founder of the Cosmetic History and Makeup Studies Network.
Half Lives: The Unlikely History of Radium is Lucy's debut book and was shortlisted for the 2021 BSHS Hughes Prize, for books that bring scholarship to new readers by capturing the public imagination while conforming to the rigorous standards of academic research. Her next book, which is a history of the element uranium, will be published in 2024.
Lucy also works as a freelance historical researcher and consultant.
Testimonials
"Brilliant overview of the amazingly dangerous chemicals etc used within the cosmetic industry over the ages. Loved the info about the Maybrick trial." -Linde
"I love the content." -Barbara
"An excellent presenter." -Barbara
"Interesting history!" -Pamela
Disclaimer
By attending a New York Adventure Club experience, you accept our terms of service.
Categories: Virtual, Moments in History