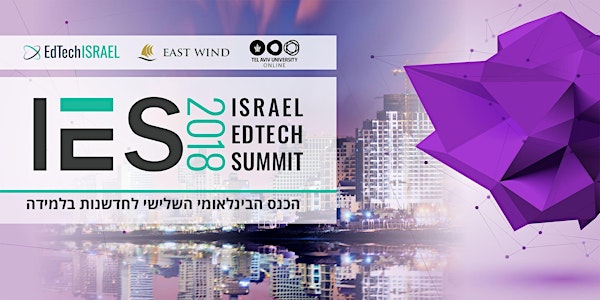 IES2018 - Israel EdTech Summit
When and where
Location
Yitzhak Rabin Center 77 Rokach Blvd Tel Aviv-Yafo, Tel Aviv District 61175 Israel
Refund Policy
Refunds up to 7 days before event
Description
המהפכה העולמית בהשכלה בעיצומה!
העולם משתנה בקצב שלא שיערנו. חלפו הימים בהם למדנו לתואר ועבדנו עד לפנסיה. האם בתי הספר עדיין רלבנטיים? האם תואר באוניברסיטה אכן מכשיר אותנו לעבודה?
הטרנספורמציה הדיגיטלית בתחום הלמידה וההשכלה יוצרת כיום טלטלה של ממש בעולם. החל מפתרונות לגיל הרך, וכלה בתמורות בשוק העבודה, השכלת מבוגרים, טיפוח ההון האנושי בארגונים ובמדינות. זהו תחום בו ההשקעות העולמיות הגיעו בשנת 2017 לכ- 9.5 מיליארד דולר, בשוק שהיקפו העולמי מוערך בכ- 220 מיליארד.
לכנס הזה מגיעים אנשים מהעולם ש״עושים את זה״, לא רק ״מדברים על זה״. היזם שהקים חברה לפני 10 שנים שהיום נסחרת בשווי של למעלה מ- 4 מיליארד דולר. הישראלי (לשעבר) שהקים אוניברסיטה יוקרתית שלא מקבלים בה שום תואר. 38 דוברים בינלאומיים שהתקבצו ובאו לישראל.
למעלה מ- 50 דוברים ישראליים מהצמרת של משרדי הממשלה, החברות העסקיות, האקדמיה והיזמות ישתתפו עם עמיתיהם מחו״ל בשיח על נושאים המעצבים את החיים של כולנו. עלייתו של הטאלנט. ההתמודדות עם השינויים בשוק העבודה. האם הבינה המלאכותית באמת משנה את כל חוקי המשחק?
מכירת הכרטיסים הסתיימה!
הכנס השנה הוא חסר תקדים בהיקפו ובכמות המשתתפים הצפויה. מהרו לשריין את מקומכם ולהבטיח חוויה מרתקת ומפגש עם מובילי התחום בארץ ובעולם.
מחיר כרטיס לשני ימי הכנס - 550 ₪
מחיר כרטיס חד-יומי - 380 ₪
שיניתם את דעתכם? רכשתם כרטיס יומי ורוצים להגיע לשני ימי הכנס? הוספנו אופציה לרכישת שדרוג כרטיס יומי לכרטיס מלא.
ההרשמה הסתיימה!
שימו לב - התשלום יכול להתבצע במרבית כרטיסי האשראי, ואינו מחייב חשבון פייפאל.
בחרו באפשרות ״תשלום באשראי״ -ותבחרו את ״ישראל״ בתפריט המדינות.
---
Join us for the 3rd edition of the Israel EdTech Summit !
IES2018 is the premier annual gathering where Startup Nation celebrates and displays EdTech innovation, and attracts EdTech visionaries, entrepreneurs, investors, thought leaders and ecosystem builders from around the world.
Exclusive EdTech & Innovation Ecosystem Tours are available June 3-5 for Speakers and International VIP Delegates.