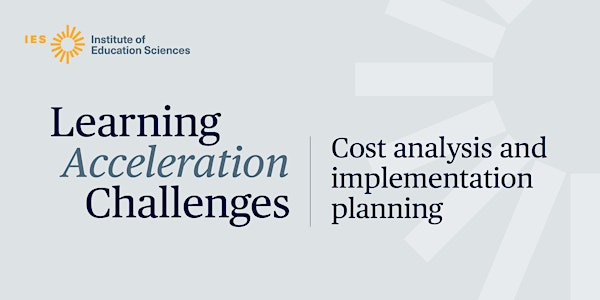 IES Learning Acceleration Challenges | Expert session 2
Join experts on August 30 for a virtual session on cost analysis and implementation planning.
About this event
Submissions are now open for the IES Learning Acceleration Challenges. The challenges are identifying and testing interventions to improve math and science achievement and will award up to $1.8 million in total prizes.
During the virtual session, experts will give guidance around cost analysis and implementation planning.
Speakers
Dr. Kiera Chase, Director, Instructional Design and Research, ConnectEd
Dr. Mingyu Feng, Senior Research Associate, WestEd
Dr. David Knight, Assistant Professor, University of Washington, College of Education
A video recording of the session, as well as a summary of questions and answers, will be shared following the event.
Other upcoming webinars
More about the Learning Acceleration Challenges
IES invites eligible intervention providers to submit proposals for innovative interventions by September 30:
The Math Prize seeks school-based, digital interventions to significantly improve math outcomes for upper elementary school students with or at risk for a disability that affects math performance. Interventions should specifically focus on fractions, and can also include prerequisite skills such as whole numbers and operations.
The Science Prize seeks interventions to significantly improve science outcomes for middle school students with low performance in science. Interventions may be digital, non-digital, or hybrid.
In Phase 1, entrants are invited to submit proposals for interventions that could be implemented in schools (both Prizes) or out-of-school-time programs (Science Prize only) during Phase 2. The duration of interventions may vary, but they must be implemented between November 2022 and April 2023.
Up to five finalists per challenge will be selected to participate in Phase 2 based on scoring by judges against the Phase 1 selection criteria. Each finalist will receive $25,000 at the end of Phase 1.
Learn more at ies.ed.gov/challenge.
Please contact the challenge team at Challenges.IES@ed.gov to request accommodations at least seven calendar days before the event. A recording and transcript of the virtual information session will be available after the event.