Description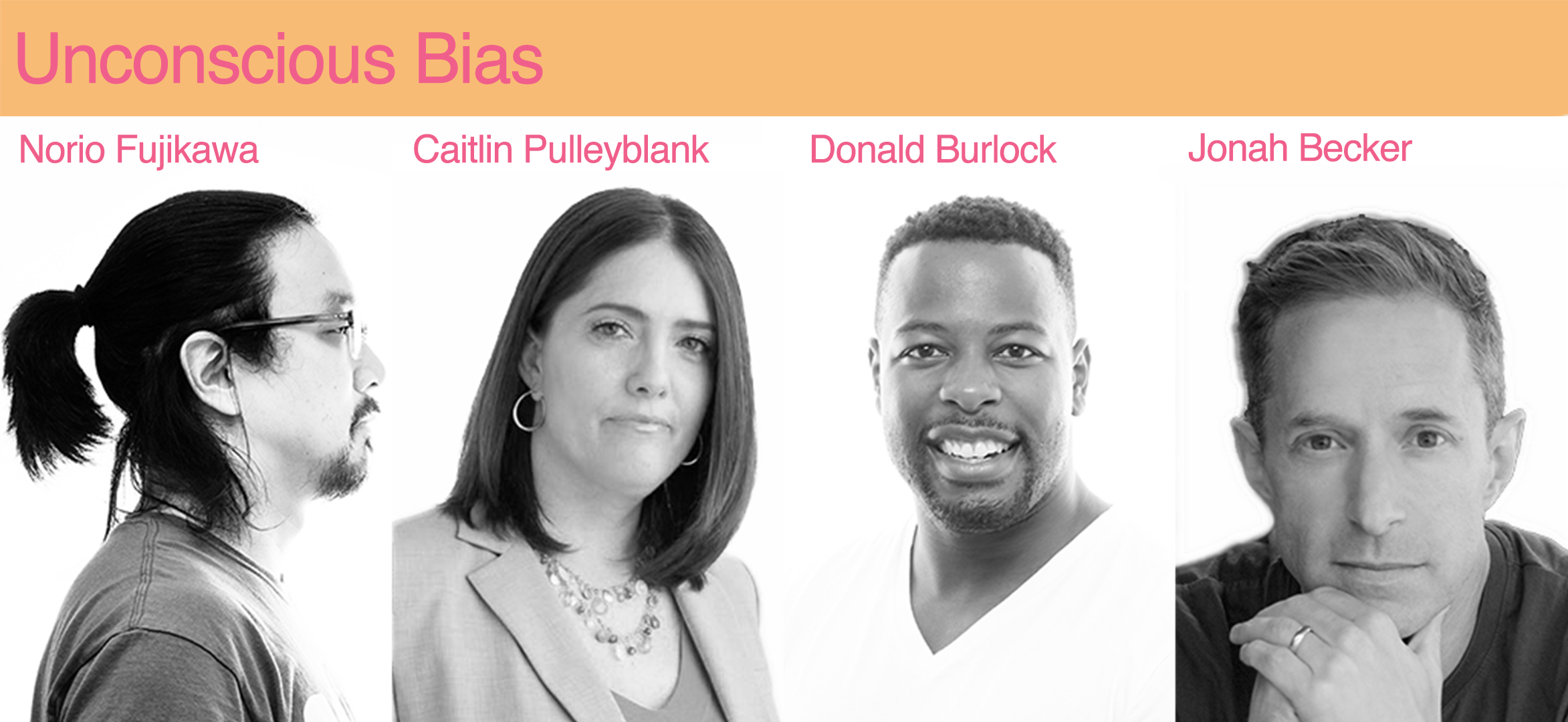 Join us for an informal, honest and inspiring discussion on the unconscious biases that exist in the design work place. We will discuss some of the systemic challenges, and the individual changes and strategies that other design professionals have implemented that lead to opportunities in establishing new positive behavior change for them, their teams and their own careers. Speakers include:
Norio Fujikawa
Executive Creative Director by day and professional illustrator by night, Norio brings over 20 years of design experience to every program he directs at Astro. Since receiving his degree from the Art Institute of Design in Chicago, he has collaborated with diverse clients such as Microsoft, Nike, HP, Disney, Samsung, Nissan and Sony, among many others. His passion for emerging technologies has him constantly looking towards the future while his keen awareness of user needs keeps him focused on the present.
Caitlin Pulleyblank
After fifteen years heading business strategy, talent and operations for start-ups, design consultancies, and media companies, Caitlin Pulleyblank has founded our colony. Since 2006, Caitlin has provided retained search, organizational design and innovation services for a broad range of innovative companies in the States, Europe and Asia, including: Fuseproject, Frog Design, Disney, SAP, Sapient Corporation, Idealbite.com, Newwest.net, GSI Commerce and MDC-Partners' portfolio of marketing and design companies – industry leaders such as Hello Design, Crispin Porter + Bogusky, Redscout and 72andSunny.
Open Colony works across disciplines (design, user experience, interactive design, technology, marketing, executive management, business development, client services, strategy, operations, human resources, content, and research) through a progressive, transparent, integrated model. Caitlin discovers talent, industry insights, and leadership in collaboration with a diverse board of industry, cultural and discipline experts.
Jonah Becker
Jonah Becker is VP of Design at Fitbit, where he leads the ID, UX, and UX Research teams to deliver on the vision of making everyone in the world healthier. Before joining Fitbit, Jonah was VP of Industrial Design at HTC, where he was responsible for roadmap, future vision, and branding programs across smartphones, VR, imaging, and wearables. Jonah was also President and Partner at One & Co, a San Francisco design agency acquired by HTC in 2008. At One & Co Jonah created successful, award-winning products for clients like Nike, Microsoft, Sony, Dell, and Burton Snowboards.
Jonah has a B.A. in Philosophy from U.C. Berkeley, and a B.F.A. in Industrial Design from California College of the Arts
Donald Burlock
Donald is a consummate problem-solver, focused on producing enterprise and consumer products and services that build advocacy for the brand while offering consumers sensorial, memorable experiences. His recent focus is organizing adaptive, interdisciplinary teams that drive cross-functional projects forward into the marketplace. Donald is passionate about evolving a brand's identity through a product's offering and increasing consumer engagement through the creation of intuitively designed physical and digital touch points.

Currently, Donald Burlock is partnering startups with teams of content creators, brand storytellers, and experiential designers through his agency, Forecast® Studios. Together they help teams of marketers, product managers, and technical integrators increase brand awareness, consumer engagement, and product differentiation in the marketplace. Through predictive and experimental 'give' strategies - Forecast Studios creates go-to-market campaigns for companies that leverage cohesive branded content.