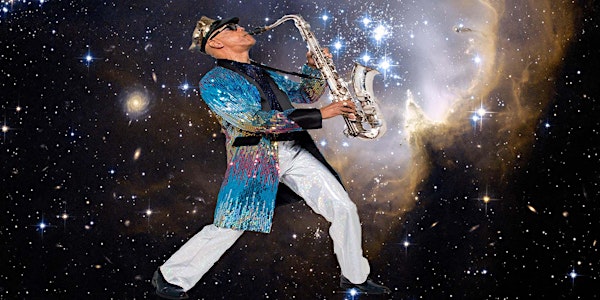 Idris Ackamoor ☥ The Pyramids, SK Kakraba, DJ Rani de Leon
Idris Ackamoor ☥ The Pyramids, SK Kakraba, DJ Rani de Leon
When and where
Location
Zebulon 2478 N Fletcher Dr Los Angeles, CA 90039
Performers
Headliners
Idris Ackamoor & The Pyramids
More Performers
About this event
"The solar depth of a Pharoah Sanders, the Afro - funk of a Fela Kuti, the mystical astral jazz of a Sun Ra and the political consciousness of the Art Ensemble of Chicago. An explosive mix." - DRAGONJAZZ.COM
---
IDRIS ACKAMOOR ☥ THE PYRAMIDS will continue their intergalactic musical odyssey with a global tour beginning with a return performance on Tuesday, June 18, 2019, at ZEBULON. Following the Zebulon show, the band will embark on an extensive US and international tour during summer and fall of 2019. The tour is a follow-up to their critically acclaimed 2018 tour following the release of "AN ANGEL FELL" on Strut Records of London, which was acclaimed as "ONE OF THE BEST ALBUMS OF 2018" by THE NEW YORK CITY JAZZ RECORD, RECORD COLLECTOR, THE QUIETUS and ALL ABOUT JAZZ Magazine, to mention just a few. Featured during the upcoming tour will be brand new compositions for an upcoming album to be released in 2020!
IDRIS ACKAMOOR ☥THE PYRAMIDS features the band leader on alto and tenor saxophones, vocals, keyboards and percussion, Sandra Poindexter on acoustic and electric violins, vocals and percussion, Bobby Cobb on guitar, George Hearst on drums, Gary Brown on acoustic and electric bass, and a special guest percussionist.
IDRIS ACKAMOOR is an alto and tenor saxophonist, multi-instrumentalist, composer, actor, tap dancer, director, and administrator. He is the Founder/Executive Director of the San Francisco performance company CULTURAL ODYSSEY that he established in 1979. He is also the Co-Founder and Artistic Director of the legendary jazz and world music ensemble Idris Ackamoor ☥The Pyramids, which is approaching its 50 year landmark since the founding of the band in 1972. The band's three independently-produced albums, "Lalibela" (1973), "King of Kings" (1974) and "Birth / Speed / Merging" in 1976 are now considered "classic" albums of the 1970s contributing to his "Living Legend" status as an originator of African-inspired jazz. "AN ANGEL FELL" completes a trilogy of albums since the reformation of the band, including the lauded "WE BE ALL AFRICANS" on Strut Records of London, and the bands critically acclaimed 2012 release "OTHERWORLDLY" on Disko B Records of Munich, Germany.
---
"Idris Ackamoor's reactivated spiritual jazz ensemble further cement their position as that rarity amongst returned bands, one whose current output has begun to eclipse the quality of their original recordings". - The Quietus
---
SK Kakraba is a virtuoso of the gyil, a master player and maker of this traditional xylophone that is the national instrument of the people of northern Ghana. Having been born into a family of gyil players, in an area of Ghana that is known for its many great musicians, SK formed a bond with the instrument at an early age. As a young boy, SK would often grab gyil beaters and try to copy the performances he was hearing. Under the traditional guidance of his family, SK developed his mastery of the instrument, as well as his knowledge of its rich musical repertoire.
SK's late uncle, Kakraba Lobi, was one of the first gyil players to tour, lecture and record internationally. In 1997, Lobi arranged a position for SK as a performer and instructor with the International Center for African Music and Dance at the University of Ghana, working under the renowned musicologist and composer J.H. Kwabena Nketia. With his work at the university and his contributions towards building a resurgent interest in traditional music in the local scene, SK's reputation as an artist began to grow.With a desire to share his culture, SK began touring internationally.
Since 2000, SK has performed at numerous concerts and festivals across Africa, Europe and North America. He has shared bills with legendary musicians Lee 'Scratch' Perry, U-Roy, Idris Ackamoor & the Pyramids; and with many other notable bands, including: Son Lux, Allah-Las and Black Midi.
As a solo artist, SK has released four albums: "Gandayina: Xylophone Music of Ghana" (Pentatonic Press, 2002), "Kanbile: Solo And Ensemble Xylophone Music Of Ghana" (Pentatonic Press, 2014), "Yonye" (Sun Ark Records/Drag City, 2015), and "Songs Of Paapieye" (Awesome Tapes From Africa, 2015). Critics and fans alike have hailed SK's releases and performances. In reviewing his song "Guun" from Songs of Paapieye, Pitchfork stated "Kakraba's polyrhythms are genius… There's a fluidity and flexibility of gesture here that's reminiscent of jazz, too, even though the gyil far predates that." The New York Times called his playing "…propulsive but never predictable." The LA Weekly profiled SK as "The man who might be the world's greatest xylophone player…" and described his music "…as hypnotic and otherworldly as you might expect — unfamiliar music, to Western ears, at its very best."
In 2012, SK moved to Los Angeles, and began to connect with local musicians to create new blends of traditional and modern music. The resulting collaborations have included performances and releases with artists working in a variety of genres, ranging from the experimental jazz of Dave Rempis, and Tim Daisy and Tony Buck (The Necks); the "space music" of Carlos Niño & Friends; and the synth pop of Empire of the Sun. In 2018, SK served as a teacher of ethnology and session instructor at the California Institute of the Arts. SK also continues to pass along his knowledge and love of the gyil by performing in schools, giving workshops to American music teachers and teaching seminars. SK's upcoming projects include working with music educator Doug Goodkin, on a book about gyil music adaptable to Orff instruments.
---
Rani de Leon has a solid reputation and extensive network from over 15 years of experience in events involving music, film, theater, and cultural arts. His passions in life are driven by the belief that arts & culture have a unique power in bringing people together for profound and unifying experiences. As a music and arts programmer, this inspires him to find new ways to engage audiences and approach shared space.
As a DJ for over 20 years, he is known for his signature blend of eclectic and accessible worldly sounds, jazz textures, and 'feel-good' roots & soul music. From the discerned dancefloor to the avid music listener, tasteful selections are on the menu for every occasion. He is founder of Soul in the Park, which brought international, soul and jazz audiences together in an unassuming venue for live music in Los Angeles. He is co-founder and resident DJ of Radio Afrique, a series of events focusing on music and film from Africa and the diaspora.
He is a member of Los Angeles-based web radio collective dublab, where he hosts a monthly radio show - Tizita Radio - highlighting music of nostalgia.
He is currently a performing arts curator/producer at Japanese American Cultural & Community Center, which includes Aratani Theatre and James Irvine Japanese Garden.