Description
Russian Academy of Sciences, Moscow Institute of Physics and Technology and Harbour.Space University Barcelona are proud to co-organize the 11th International Conference on Intelligent Data Processing: Theory and Applications (IDP 2016).
ABOUT
Started in 1989, Intelligent Data Processing is one of the oldest and largest big data conferences in the world. The conference has it roots in computer vision but eventually grew to cover a broader scope of topics:
- Computer Vision
- Data Mining
- Machine Learning
- Big Data Analytics
- Deep Learning
- Text Mining
- Social Networks Analysis
- Other Data Science Applications
Historically the conference focused on cutting edge research. As we move into 2016 we are transforming the event to have equal emphasis on both theoretical advances and real world impact that can benefit millions of people. We have separate but equally important research and industry tracks.
IDP 2016 is the leading conference focusing on how data, machine learning, deep learning, computer vision and analytics are changing not only business, but society itself. We invite leaders from the industry and academia to present at the conference and foster exchange of ideas.
The idea is to bring data scientists working on research together with those working in the field to accelerate adoption and testing of new approaches and techniques. The goal is to encourage ideas, success stories and challenges sharing among big data research and industry communities, present the latest technology advancements, connect with experienced data scientists in our community. As a result the conference will generate not only cutting edge research but also new products, features and technologies for companies, and new research problems for our academic colleagues.
WHY ATTEND?
IDP 2016 is a premier forum for the data science researchers and professionals to discuss, distribute and advance the state of research and development of the data analysis field. The conference facilitates the exchange of insights and innovations between the industry and the academia, each represented by leaders in their respective fields. The conference offers research and industry tracks in the areas of machine learning, data science, big data analytics, deep learning and computer vision.
FANTASTIC SPEAKERS
We have some fantastic speakers and panelists:
John Henry Clippinger / MIT Media Lab
Jane Zavalishina / CEO Yandex Data Factory
David Yang / Founder ABBYY and Findo
Leonid Zhukov / Principal Data Scientist at The Boston Consulting Group
Boris Polyak / Institute for Control Science, Moscow
Stephen Boyd / Stanford University
Michael Levin / Yandex Data Factory
Victor Lempitsky / Skolkovo Institute of Science and Technology
Konstantin Vorontsov / Moscow Institute of Physics and Technology
Sina Sohangir / Snapchat
Alexander Isakov / Pallantius / Harvard University
Amir Youssefi / PayPal
Kamran Elahian / University of California, Berkeley
Angie Ma / ASI Data Science
Pouya Tafti / Allianz
Alessandra Staglianò / ASI Data Science
Jordi Puiggali / Scytl
… and more.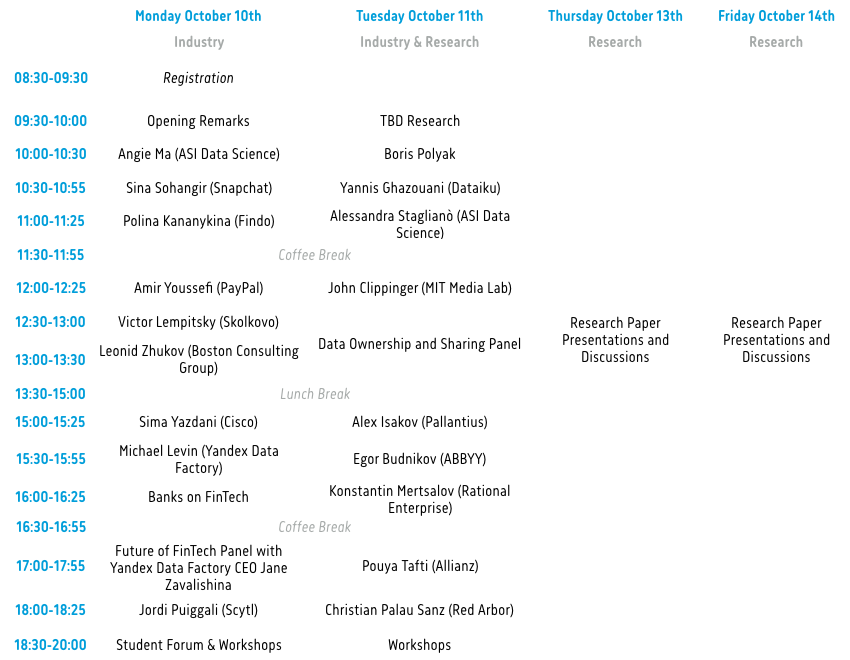 WHAT TO EXPECT
Join academics, experts and vendors from around the globe for three invaluable days of networking, educational sessions, breakout groups and of course, fun. The conference on Intelligent Data Processing is one of a kind - it's an event like none other - the knowledge sharing and collaboration that takes place is unprecedented. The community has a unique opportunity to come together, under one roof and share insights and best practices in big data.
GET INSPIRED
Network with big data professionals and experts. Work with your peers to develop new ideas and applications for big data.
LEARN
Data Science, Machine Learning, Big Data Analytics, Deep Learning, Computer Vision, Optimization, Case Studies, Deep Learning School and more.
DEEP DIVE
Pattern recognition, computational efficiency problems and optimisation, mathematical methods of analytical big data processing, signal processing and image recognition, applied data mining problems and more.
SHAPE THE FUTURE
Learn what your peers are doing. Walk away with practical tips and tricks on how to enhance your big data strategy.
KEY THEMES
Data Science, Machine Learning, Big Data Analytics, Deep Learning, Computer Vision, Optimization, Case Studies, Deep Learning School and more.
Organizer of IDP 2016: 11th International Conference on Intelligent Data Processing
We offer innovative university degrees taught in English by industry leaders from around the world, aimed at giving our students meaningful and creatively satisfying top-level professional futures. We think the future is bright if you make it so.
At Harbour. Space the protagonist is the student, because it's our students who are in charge of the future. Our mission is to nurture and accelerate talent, supported by the most knowledgeable and successful people in technology and design. Harbour. Space allows for brilliant ideas to flourish and produce solutions to contemporary societal challenges around themes such as the environment, health, energy and security.
Our immersive learning approach means realworld problems take centre stage in the classroom, not textbook challenges. Brilliant ideas are born in collaboration, through experimentation by crossing every possible academic boundary. We know this is true in business, now we're making it happen in our university.