Description
Design works, make it work for your business. Find out how Design can add value to your product, project, online presence, market & more. Learn more about Mind Over Matter, a national campaign with 189 top creative professionals across the country donating their time to raise funds for Aware.
Join us on August 30th for the launch of IDI Mind Over Matter 2018 in the Dean Hotel from 1 pm. We will be launching our business booking site where entrepreneurs, start-ups, and businesses from all sectors can book a one-hour consultation with Ireland's best Designers. Adding value to their business, product, market & more.
Enjoy a panel discussion with business leaders: Orlaith Blaney, Chief Marketing Officer of Ervia and Irish Water; Jack Teeling, Founder Teeling Whiskey; Andrew Casey - Founder Head Case Marketing. MC'd by Sean Gallagher entrepreneur, speaker and business writer.
Find out how Design can boost your business!
A light lunch and teas and coffees will be served from 1pm. Panel discussion begins at 1.30pm till 2.15pm.
Tickets are FREE but you must register.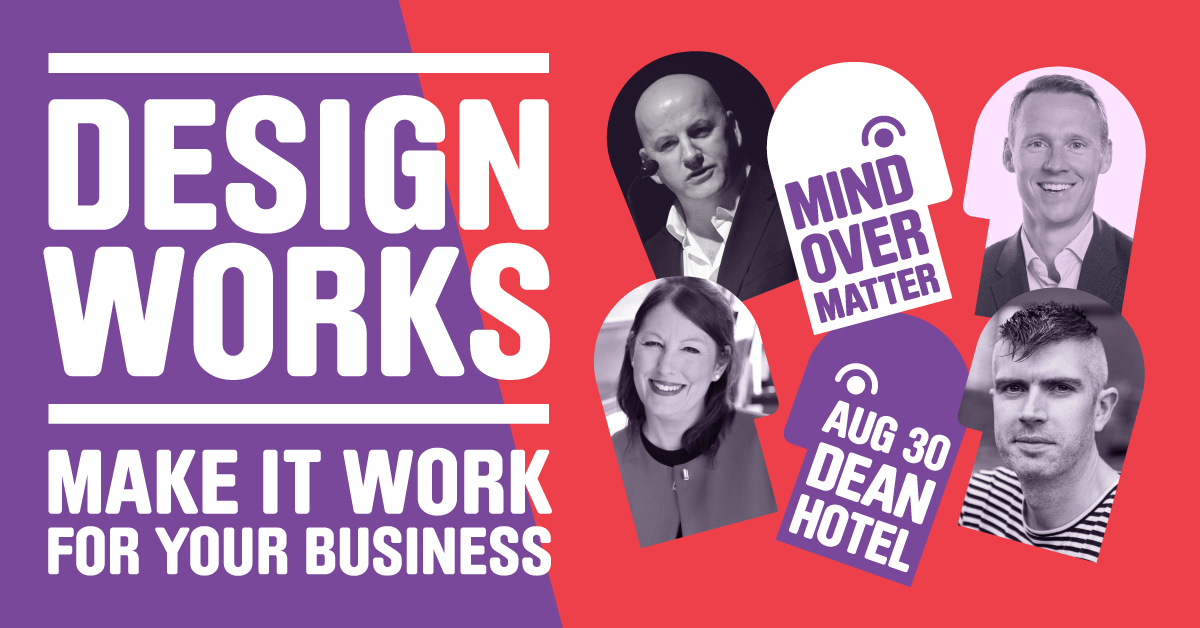 On 10th of October (World Mental Health Day) Designers from all disciplines are donating their valuable time across Ireland, with 100% of the fees go to Aware. Mind Over Matter is an initiative brought to you by the Institute of Designers in Ireland.
Booking site open from August 25th www.idimindovermatter.ie
Thank you to our valued sponsors without whom IDI Mind Over Matter would not be possible;

GOLD NATIONAL: Richards Dee www.richardsdee.com, Windmill Lane www.windmilllane.com, Headcase Marketing www.headcase.ie, PD Visual www.p-d.ie. FORA www.fora.ie
SILVER NATIONAL: JJ O'Tooles www.jjotoole.ie, Arboretum Group www.arboretum.ie, Dublin City Council www.dublincity.ie & Glasseye www.glasseye.ie

GOLD LOCAL: Tinyark www.tinyark.com, Compub www.compub.com