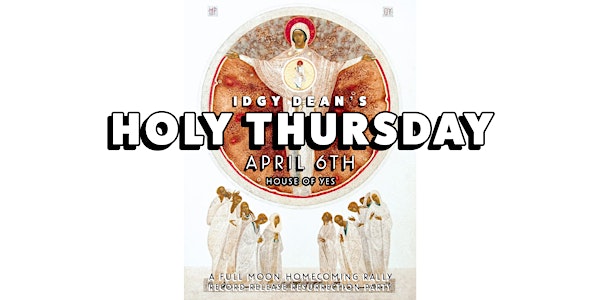 Idgy Dean's Holy Thursday
House of Yes presents Idgy Dean's Holy Thursday #BESTSHOWSEVER
Date and time
Thursday, April 6 · 6:30 - 9:30pm EDT
Location
House of Yes 2 Wyckoff Avenue Brooklyn, NY 11237
About this event
🌕 A Full Moon Homecoming Rally Record Release Resurrection Party 🌕
Bushwick's own Idgy Dean is BACK! After three years of monastic study at Harvard Divinity School, this psychedelic Master of Divinity is ready to PARTY AGAIN! If you know, you know…
Come witness her SECOND COMING under the PINK FULL MOON on HOLY THURSDAY to experience a very special ritual performance and resurrection.
This evening celebrates the official release of Idgy Dean's latest record: A Chronicle of Lightning Bolts
⚡️ I/M: A Chronicle of Lightning Bolts ⚡️ was Idgy Dean's final Harvard Divinity thesis project––a House of Yes-esque one-woman mystical rock opera of songs and visions composed during pandemic times. It is both an archive and an art show. A text and a testament. A performance and a prayer.
It is an opportunity for the monk and the reveler to come out and play.
This show was designed for and premiered in an historic 100-year-old chapel on the Full Moon Total Lunar Eclipse (May 16th, 2022) in Cambridge, Massachusetts. But it belongs now in our Brooklyn temple called House of Yes. It belongs to YOU!
There will be GLITTER. There will be GOD(s) & GODDESSES. There will be QUEER GLORY and ECSTATIC EXPERIENCES.
"Scripture is not a text… it is an event." -Charles Hallisey
Featuring Friends & Special Guests…
The Pop Music Miracle, Our Lady Tiffany Topol
Hildegard of Bingen via the Divine Voice of Daisy Press
Feats of Gravity & Grace by Françoise Voranger
A DISCOurse on the Theology of Love from Sister Nathania (aka Nathanology)
Mystical Movements by m i c c a
Glitter Blessings by Tash Kouri
Lunar Vibez from Gazoo to the Moon
Happy Hour Harp by Her Unholiness, Sister Hattie Rose
Immaculate Iconography by Ivanka Demchuk.
More TBA…
The Category Is…
HOLY WEEK HOMECOMING RALLY: American Beauty Cheerleaders, Hit Me Baby Catholic School Queers, Hollaback Girls, Personal Jesus Cowboys , George Michael's Faith, Madonna's Like A Prayer...
"Life is a mystery. Everyone must stand alone. I hear you call my name. And it feels like home."
21+
🎉 PARTY TABLES 🎉
YES! We offer table packages for groups, special celebrations or just because you're fabulous. Contact reservations@houseofyes.org to book yours! 🍾
⭐️ GET ON THE LIST ⭐️
❌CONTENT WARNING ❌
The performances and acts of artistic expression at House of Yes events may include portrayals of explicit actions, theatrical violence, bodily harm and physical risk that is often found in circus, sideshow or similar forms of performance art. The performances often explore adult subject matter. The views expressed in performances do not necessarily reflect that of House of Yes or its owners. We understand that these acts are not for everyone, so please use your own discretion. If you have questions about the content of our shows, please contact info@houseofyes.org
💜 SAFER SPACES POLICY 💜
House of Yes is a space for everyone to feel welcome. We have a zero tolerance policy for harassment, unwanted touch, and discrimination. Always ASK before touching anyone at our events. If someone is making you uncomfortable, speak to a security guard or ask for a manager. We will believe you, and we will help. All restrooms in our venue are gender neutral. The entrance to the venue is ADA accessible. Strobe lights are used during performances and parties. Find out more at houseofyes.org/SAFER
About the organizer
NO REFUNDS // Refunds will not be issued unless cancellation occurred on behalf of the event organizer.
TICKETING POLICY // All events are 21+ with valid ID. We only guarantee the validity of your ticket if purchased directly from Eventbrite or Resident Advisor. Any tickets purchased second-hand or via third party vendors cannot be validated or accommodated in the event of an issue (fake or duplicate tickets). Reselling a ticket above face value goes against the spirit of the event - Don't do it!