IDEX Istanbul 14th Dental Equipments and Materials Exhibition (CNR)
Description

IDEX is one of the largest trade fairs in Turkey and offers leading companies in the dental industry the opportunity to present their products to customers from all over the world!
With 30 years' experience, CNR Expo will be organising IDEX-ISTANBUL DENTAL EQUIPMENT and MATERIALS EXHIBITION for the 14th time from 27 to 30 April 2017. Located just across the international airport and with a rebooking rate of over 90 per cent, the CNR Expo centre offers a favourable platform for exhibitors. The number of exhibitors and visitors at IDEX has multiplied over the last four years.
As a showcase of technology and innovations in dental equipment with both local and global brands represented, IDEX has recently become the most significant exhibition in Eurasia.
In 2016, 358 exhibitors presented their products at IDEX, including 90 international and 268 national companies. Over 12,000 visitors, including almost 730 guests from abroad, attended the exhibition.
Health and dental care are among the most import-dependent industries in Turkey. The dental equipment import rate is 2.6 times higher than the export rate, amounting to US$52 million (€47 million) per year. The overall dental market in Turkey is currently valued at US$177 million (€160 million); and is growing steadily at a rate of 6-7 per cent annually. The number of dentists in Turkey has increased 78% in last 5 years. In 2016, there were about 25,000 dentists and 39 universities in Turkey had dental faculties. Turkey is also considered an emerging market for medical tourism. Total health care spending in Turkey is forecast to reach US$71 billion (€64 billion) by 2017.
Exhibitors from Germany, Pakistan, China, Korea, Italy, USA and Bulgaria already booked into 14th IDEX-ISTANBUL DENTAL EQUIPMENT and MATERIALS EXHIBITION.
Why should you exhibit?
Hosting the technology and innovations in the field of global oral and dental health apparatus and equipment IDEX, will be held between 27-30th April 2017.
IDEX is the world's third largest fair of the sector in the world which is supported by Turkish Dental Businessmen and Association (DİŞSİAD) and Pozitif Fair Organization
The biggest meeting platform for Eurasia Region (Arabian, Russian, Balkans, CIS Countries, North Africa, Caucasus)
With the continuous growing rates with 6 to 7 percent, Turkish dental market is currently growing faster than the biggest markets in the region. The total economic volume of dental market has reached to €150 million.
Discover Turkish Dental Market!
Total healthcare spending is forecasted to reach USD 69 Billion in 2016 in Turkey.
The size of overall dental market is estimated to be €150 million.
Turkish dental market is steadily growing with the rates of 6 to 7 per cent per year.
Number of dentists in Turkey has increased 78% in last 5 years, reaching more than 25,000 dentists in 2014 with the 38 universities having dentistry faculties.
Turkey as a "Emerging Medical Tourism" place generates over €1 billion from foreign patients mostly coming from US and Europe
The dental healthcare sector is booming in Turkey in recent years with the raise of public awareness campaigns, specialized faculties, hospitals and dental healthcare centers.
Number of oral and dental healthcare centers supported by government is increasing rapidly. Support of government on dental health creates huge potential for the investors.

Exhibitors Profile
Dental Units
Dental X-ray Equipment
Laser Devices
Dental Computed Tomography Devices
Autoclaves
Panaromic and Cephalometric Systems
Dental Compressors, Surgical Aspiration System
Detartaring Equipment
Filling Equipment with Beams
Amalgamators
Aerator Heads and Micromotors
Oral Camera and Digital Radiography Equipments
Endodontic Products
Implant Systems
Periodontal Surgery Equipment
Dental Diagnosis Systems
Laboratory Consumables
Sterilization and Disinfection Products
Aesthetic Dentistry Products
Disposable Products
Dental Furniture, Dental Office Software
=============================
15 sq meter​ DESIGN BOOTH & SPACE
=============================
- Wooden custom design
- 2 x Glass Tables
- 8 x Chairs
- 1 x LCD TV

- Counter & Stool
- Room with door
- Lighting

================================
Other Included Amenities
================================
- Hotel Accommodation: 5 nights for 2 person in nearby 5 star Hotel
5 min away from Exhibition Center (Wyndham, Radisson Blu)
- Airport transfer to Hotel
- WiFi for 2 person
- Catalogue Registration
- Email marketing activities to 400K visitor database

TOTAL PRICE: USD $ 7,999.00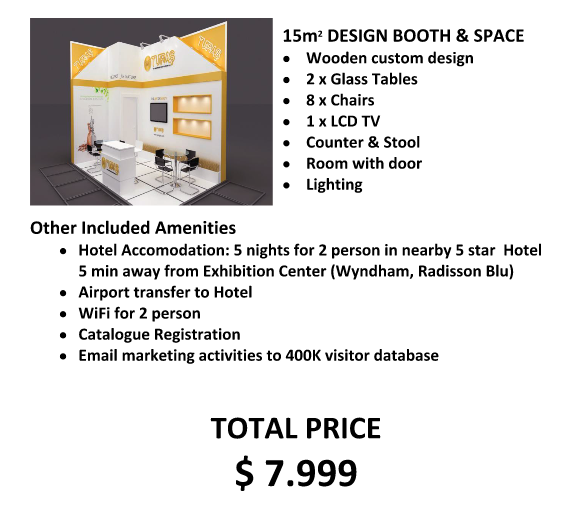 Please contact the event manager Marilyn below for the following:
- Discounts for registering 2 or more booths.
- If you company requires a price quotation.
Event Manager Contact: marilyn.b.turner(at)nyeventslist.com
You can also contact us if you require a visa invitation letter, after booth purchase.


NO REFUNDS OR TRANSFER ALLOWED ON BOOTH REGISTRATIONS
-----------------------------------------------------------------
This Event Listing is Promoted by
New York Media Technologies LLC in association
with CNR Holdings.
http://www.NyEventsList.com
http://www.BostonEventsList.com
http://www.SFBayEventsList.com
-----------------------------------------------------------------